The Screen Directors Guild of Ireland have bestowed a great honour on Mark Noonan's debut feature You're Ugly Too, with the film awarded the Screen Director's Guild Finders Series Award for 2015.
This award, which is given in conjunction with the Directors Guild of America, will see You're Ugly Too screened in the prestigious DGA Theatre on Sunset Boulevard in Los Angeles, on August 21st. The screening will be attended American distributors, filmmakers, and key industry personnel, with the aim of securing a US distribution deal for the film.
Written and directed by Noonan, the film stars Aidan Gillen as Will, who is released from prison on compassionate leave to care of his niece Stacey, after the death of her mother. An odd couple of sorts, they leave the city behind to pursue what they both hope will be a fresh start in the sleepy surroundings of the Irish midlands. The two bicker and fight as they adjust to their new life together and make tentative steps towards becoming an improvised family.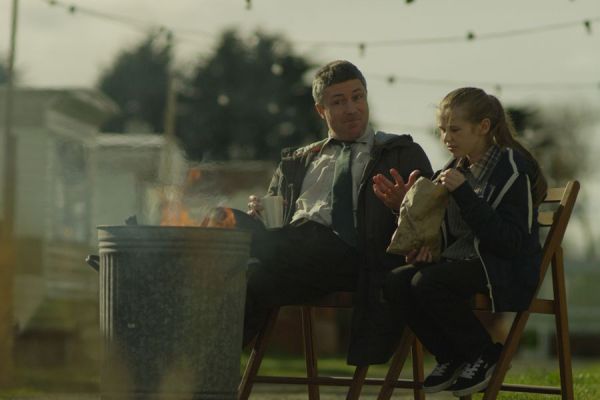 You're Ugly Too was recently nominated for the Best First Feature Award at the Berlin International Film Festival, where the film had its World Premiere in the Generation Kplus category.

Ahead of its Irish Release on July 24th, You're Ugly Too will screen as part of the Edinburgh International Film Festival this week, in the New Perspective Strand which celebrates work from emerging filmmakers. In July, the film will return home to screen as part of the much-loved Galway Film Fleadh.
Now in its tenth year the Finders Series Award has highlighted a host of great Irish cinema to international audiences, including John Butler's The Stag, Tomm Moore's The Secret of Kells, Frank Berry's Ballymun Lullaby, Ian Power's The Runway, and Ken Wadrop's beautiful His & Hers. Last year Terry McMahon's hard-hitting Patrick's Day was the recipient.
You're Ugly Too was produced by John Keville and Conor Barry for Savage Productions and was filmed in counties Dublin and Offaly. The film was funded by Bord Scannán na hÉireann/the Irish Film Board. Element Pictures Distribution will release the film in ireland from July 24th.