The King is a stunning film, that is great for fans of Shakespeare, for fans of history, and fans of good cinema.
The King stars Timothée Chalamet, Joel Edgerton, Sean Harris, Lily-Rose Depp, Robert Pattinson, and Ben Mendelsohn.
The film is about young Hal (Chalamet). He is the wayward son of King Henry IV (Mendehlson). When his father dies he must take up the throne and he doesn't want any of it. Whether it be the power he wields or the treacherous people around him Hal has a lot of pressure on him.
To try and bolster the legitimacy of his reign and to deal with lingering issues with other monarchs he decides to invade France, making it a part of England, something his father could never do.
Long live The King
I adored The King. From its breathtaking cinematography of the sweeping battlefields of England and France to its crushing score The King is a hell of a cinematic experience.
The cinematic scope of the film is encapsulated in the battle scenes spread across the film. One element that I was impressed by was the reality of the battlefield. Knights in full plate move like actual men in full plate. There is no grace or glory here, it's muddy and it's bloody and I was enthralled by it.
Complimenting the battles is an incredible score. If I can describe the feeling it would be that the score gave off a sense of weight. It encapsulates the sense Hal is likely feeling as a newly crowned King. The battle scenes are also improved by including that sense of weight and pressure and it's impressive, especially when the battles need to feel claustrophobic.
A Royal Cast
Director David Michôd has a fantastic court of characters within The King. Chalamet performs admirably as Hal. He gives a weighty and stoic performance as the young Royal. He gives a somewhat muted performance in the sense that he hits all his marks. Being emotional when he needs to be but he never felt extraordinary. The most human performance and admirable performance comes from Joel Edgerton who plays his friend and military advisor Falstaff. He gives a rooted in the dirt performance. Falstaff is clearly a man who has seen some shit and Edgerton sells it. He's brilliant.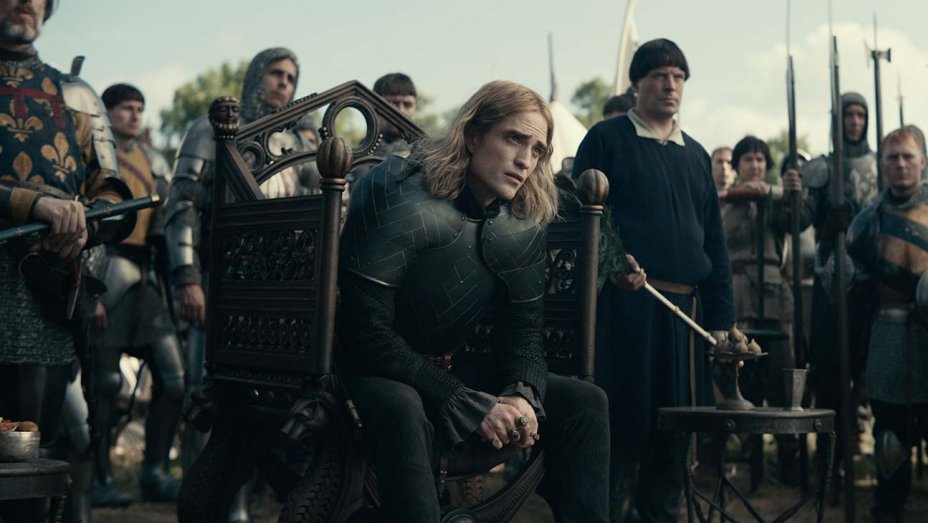 But these two pale in comparison to my favourite character, the Dauphin played by Robert Pattinson. When I describe to you that he enters the film as an anime villain with a full-on flamboyant presence I want you to understand that this is my favourite part of the film. When the Dauphin was on screen I couldn't take my eyes away. He was absolutely incandescent and I do not use that word lightly.
All I can is that The King is a stunning film. It's great for fans of Shakespeare, for fans of history, and fans of good cinema. To really enjoy it check it out when it hits cinemas. The battles will impress and the score will pop but if you miss it The King will also be hitting Netflix soon.
Stay tuned to Scannain for more news, reviews, and interviews.