John Butler's new coming-of-age drama Handsome Devil will have its Australian premiere in Perth, as part of PIAF's Lotterywest Festival Film: Season Two. It is joined in the line-up by Irish/Norwegian co-production The King's Choice.
With his shock of red hair, proclivity for old rock songs, and general oddness, Ned is a certified outcast in his rugby-crazy, all-boy boarding school. Ned doesn't even dislike rugby, but that doesn't stop him from being an easy target. His mind is set on expulsion or escape, until the arrival of a new English teacher and a new roommate, a surprisingly sensitive rugby player with more than a few secrets, sets Ned on a path towards finally allowing himself to be heard.
The young cast is led by Fionn O'Shea and Nick Galitzine (one of the 2015 Screen Stars of Tomorrow), with support from Andrew Scott (The Stag, Sherlock), Moe Dunford (Vikings, Patrick's Day), Michael McElhatton (Game of Thrones), Ruairi O'Connor, Jay Duffy, Mark Lavery, and Jamie Hallahan. The film also features cameo performances from Ardal O'Hanlon, Amy Huberman, Norma Sheahan, Mark Doherty, and Hugh O'Conor.
Handsome Devil director John Butler will be joining audiences in Somerville over the first weekend in March for Q&As under the stars.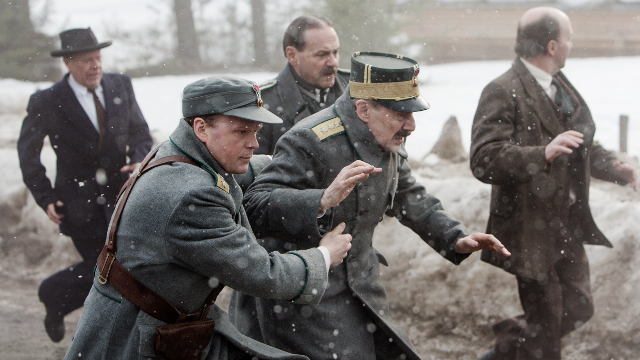 On the 9th of April 1940, German troops invade Oslo. The king of Norway is faced with a choice, which will change his nation forever. This is a film about real events, which turned a brave man into the people's king.
The King's Choice, which was written by Harald Rosenløw-Eeg and Jan Trygve Røyneland, stars Jesper Christensen, Anders Baasmo Christiansen, and Tuva Novotny. Newly appointed Irish Film Board project coordinator Lesley McKimm co-produced for Newgrange Pictures, alongside Finn Gjerdrum, Stein Kvae, Jackie Larkin, Henrik Zein, Malene Ehlers, and Madeleine Ekman.
The film received backing from the Irish Film Board, Windmill Lane Pictures, Norsk Filminstitutt, Copenhagen Film Fund, Film i Väst, Film3, Eurimages, Svensk Filminstitutt, Nordisk Film & TV Fond, Coficine, Jesper Christensen, Nordisk Film, Paradox Rettigheter, Beta Film, Danmark Radio, Nordisk, Norsk Rikskringkasting, and Svensk Television.
The Lotterywest Festival forms part of the Perth International Arts Festival. PIAF curates and presents an annual arts festival of the highest international quality. They aspire to create new work and stimulate discourse about Western Australia and their place in a complex and political world. The Festival's ambition is to lift audience expectations and opportunities for Western Australian arts practice, contributing to a vibrant and resilient culture.
PIAF's Lotterywest Festival Film: Season Two is on from February 10-March 5. Details at perthfestival.com.au.