A brand new poster has been released for Scream 4, Dimension Film's return to Woodsboro. It's actually a rather clever poster too, considerably better than the name Scre4m that is the alternative title for the project.
The movie takes place on the tenth anniversary of the original Woodsboro murders, and sees Sidney Prescott return home for the first time in years. Pretty soon there's a new killer on the loose with a fresh new take on the Ghostface history.
Scream 4 sees the return of original stars Neve Campbell, Courteney Cox, David Arquette, as well as director Wes Craven. The original cast is bolstered by a group of new stars including Hayden Panettiere, Rory Culkin and Emma Roberts. The screenplay was written by Kevin Williamson who wrote the scripts for both Scream and Scream 2.
Scream 4 is released April 15th.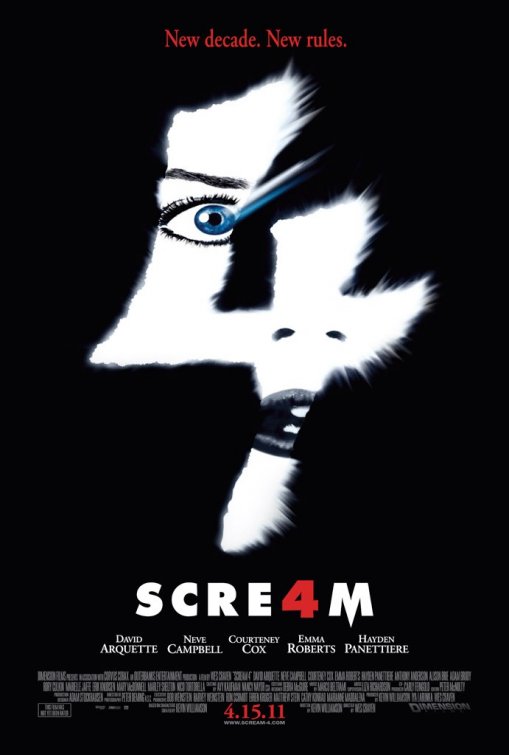 Source: Yahoo
Synopsis:
Sidney Prescott (Neve Campbell), now the author of a self-help book, returns home to Woodsboro on the last stop of her book tour. There she reconnects with Sheriff Dewey (David Arquette) and Gale (Courteney Cox), who are now married, as well as her cousin Jill (Emma Roberts) and her Aunt Kate (Mary McDonnell). Unfortunately Sidney's appearance also brings about the return of Ghostface, putting Sidney, Gale, and Dewey, along with Jill, her friends, and the whole town of Woodsboro in danger.