Parasite, Bong Joon-ho's 2019 Palme d'Or winner doesn't bother very much with moral values. Except perhaps to demonstrate their flexibility. Though the South Korean film — a firm favourite among the critics on the Cannes Croisette — does loosely hang its narrative on a sense of social injustice by contrasting a family of down at heel have-nots with another family surfing on top of a wave of extreme prosperity. Ki-Taek's family, all unemployed, live in a grimy apartment situated between basement and first floor levels of a building, offering an eye level view of drunks pissing on rubbish bins. He's an unemployed driver, his wife an ex-shot putt champion/housekeeper; his adult son, Ki-woo, has failed his university entrance exams more than once and his sister, the younger daughter, is artsy and unconventional with a flair for forgery. They're a fecklessly resourceful bunch down on their luck until a smart friend of Ki-woo's passes on a tutoring job to him. His sister's help with some creative diploma graphics, he gains access to another world giving grinds to the daughter of Mr. Park a young IT billionaire. He and his family live in a modern architectural treasure with floor to ceiling windows looking onto a landscaped garden. Ki-Woo does well at his tutoring and Mr. Park's daughter also quickly develops a crush on him. A new door of opportunity opens when the preciously pretty Mrs. Park decides her young son also needs an art tutor to help develop the boy' nascent painterly genius. It is a simple enough twist to get Ki-Woo's sister the job while concealing they are siblings. She handles the interview session with aplomb. So now, without much scheming, two of the cuckoos are in the nest as their ruthlessness kicks in. First they finagle a scandal to get the chauffeur fired and have Ki-Taek replace him. An even more deviously vicious plot is imagined to have Ki-Taek's hard-nosed wife replace the trusted housekeeper, all the while concealing the fact that they are a family. The Parks are nice people and only rarely exhibit the haughty condescension common to their moneyed caste when judging what is admissible or not among underlings. It's not as if they deserve retribution. But Ki-woo's family, now that they have tasted good fortune, prove themselves to be relentless survivors who will cross a lot of lines to hold onto their newfound gains, if their underlying secret is threatened. From here the mild social satire comic drama careens out of control, providing a helter-skelter of twists and turns that just can't end well. By now director Bong Joon-hoo has grabbed us and cleverly suspended our disbelief; we'll willingly swallow some of the more outlandish story elements to sustain the cascading momentum.
Parasite is a dexterously written, tightly directed smorgasbord of surprises where entertainment and cinematic virtuosity trumps any pretext of morality.
Atlantics by Mati Diop won the Grand Prix, or second prize, which left more than one critic bemused. It is a first film by the French director, whose father is Senegalese and whose uncle is a reputed African filmmaker. Atlantics is the feature extension of Diop's short which tells the fateful tale of young Senegalese men who cram aboard fishing boats to seek fortune by clandestinely migrating to Spain. This feature film adaptation stays at home with the girls and women left behind by these desperate young men. Here the moral story is more than clear. Workers are cheated by ruthless employers and are forced to take desperate steps by leaving Africa. Diop's tale has at its heart a love story between the lovely young Ada and Souleiman, her impecunious boyfriend and one of the cheated workers. She is also promised in marriage to the wealthy scion of a business family and when Souleiman takes the fateful boat she is left to her unhappy fate. In an interesting twist the doomed shipwrecked sailors spirits return in the form of djinn, supernatural creatures from Islamic mythology. In Atlantics, these spirits occasionally occupy the bodies of the women left behind who then, zombie-like, walk by night and take revenge on the crooks whose cheating forced the young men to leave. Suleiman's djinn does it differently. And a young policeman, Issa, is deeply suspicious that Suleiman has returned and is responsible for a fire in Ada's new marital home. Little does he know how right and how wrong he is. It is an ambitiously convoluted tale that doesn't quite rise to the cinematic needs of the narrative's magic realism intentions. In fact there was a strong sense of amateurism, in both the writing and technical execution that could keep a class of film students busy for a semester picking it apart.
This is far from the case with Celine Sciamma's masterfully directed Portrait of A Lady on Fire, which was widely perceived as the most impressive of the four female-directed films in Competition. Like the film or not, one couldn't but be impressed by the steady directorial hand exhibited by Sciamma. It is a slow-burn seduction story set on an island in Brittany in the 18th century, where a female artist is to paint the portrait of a lady in view of her upcoming marriage. However, she must carry out this task without the knowledge of the subject. Was it the insistence, then, of her female gaze that triggered the sentiments of passion in her muse or was it already on the cards? Lady on Fire 'only' garnered the Best Screenplay prize, almost as a consolation, while many critics saw in it a true contender for the Palme. It did also pick up the Queer Palme.
The other female-directed film to pick up a prize was, unexpectedly, Little Joe by Jessica Hausner. It won Best Performance by an Actress for Emily Beecham in the subtly stylized almost dystopian fable. She plays Alice, a horticultural scientist leading research into the use of modified pollen in producing happiness. Hausner's style is very deliberately stilted and the dialogues have a theatrical deadpan delivery creating a distance for the viewer that not all overcome. In the end she delivers a rather profound message about the intoxicating blindness of artificially induced happiness.
Antonio Banderas picked up the Best Actor prize for his brilliant, barely dissimulated composition of Almodovar himself in Pedro Almodovar's autobiographical Pain and Glory. In a bountiful crop of good films, this was yet another contender that many would have been happy to see take the Palme.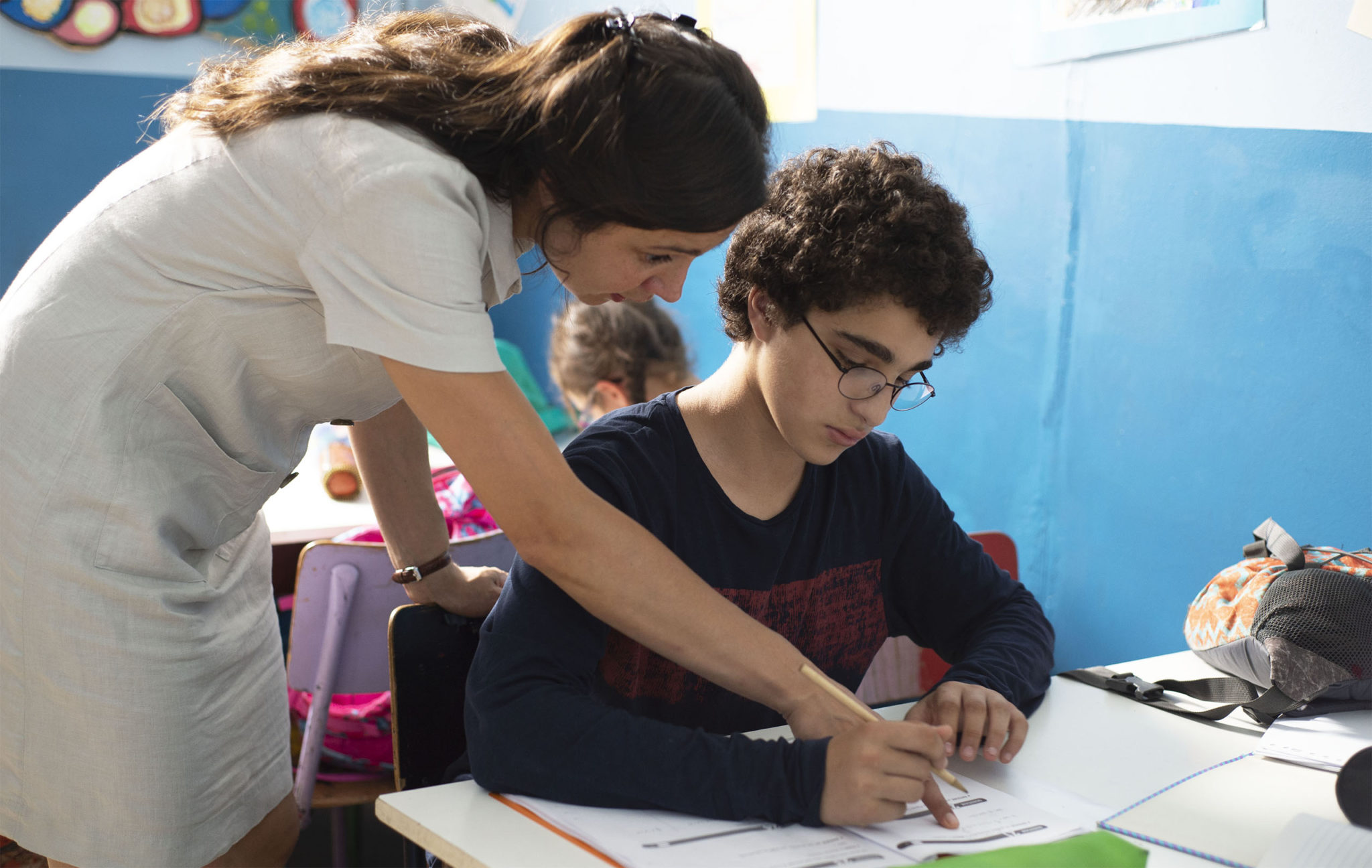 The Dardenne Brothers, Jean-Pierre and Luc, in a return to form, were awarded the Best Director prize for Young Ahmed. A succinct and simply effective film that introduces a tantalising suspense as to how it will end, almost from the beginning. A young Muslim from a modern family learns to refuse to shake hands with women, see apostasy in every female and plan a fateful stabbing…
Two other films, quite different in style but exhibiting a common anxiety about social justice and political dominance, shared the Jury Prize. Les Miserables tells the contemporary tale of a running stand-off between cops and kids in a housing project in the Paris suburbs. Directed Ladj Ly, a Malian born Frenchman who, like Mati Diop, adapted it from a short on the same subject, it packs a powerful punch that becomes cinematically stronger as it moves forward, feeding on its own narrative and tightening the drama to reach an artfully ambiguous conclusion.
The Brazilian director Kleber Mendonca Filho, teamed up with Julliano Dornelles to direct Bacurau, a strange near future dystopian tale where a village's existence has somehow been removed from the map. A matriarch has died and the local population is presented in all their idiosyncratic guises and glories. We learn elliptically that sinister forces are also at work in the region. It is also revealed that the district has been designated as a killing zone for wealthy nihilistic American hunters. What follows is worthy of the best spaghetti westerns with an intellectual subtext.
Somehow, the jury needed to include Elia Suleiman's It Must Be Heaven, which received an extended ovation at its gala in the Lumiere Theatre, so they invented a Special Mention Award. Many would have appreciated more though it did also take the FIPRESCI critics award for best film in Competition. Bathed in an irony all of his own, Suleimen, playing himself, though (almost) never speaking, surmises on the comedy of a being a Palestinian filmmaker in quest of an idea of home. Falsely simplistic in ways that are reminiscent of Jacques Tati, Buster Keaton and the French cartoonist, Sempé, it achieves some impossible cinematic sequences along the way, between gag and deep meaning, such as extensively empty vistas of summery Paris streets and a Keystone Cops chase scene in Central Park, New York, before returning to the non-home of his native Nazareth.
Yet another film totally worthy of a big prize was Quentin Tarantino's Once Upon a Time in Hollywood. But it got none. Many loved it for the love story of Hollywood that it is, and who better to take us on such a journey than movie geek, Quentin. Some would quibble or complain about his exploitation of the Charles Manson story and Sharon Tate's brutal murder, but Tarantino eases the pain by showing her, played by a memorable Margot Robbie, in extended cameo and in all her wonderful innocence, while we follow the stories of Brad Pitt's stuntman and sidekick to Leonardo DiCaprio's action actor on the wane. At the crucial moment, Quentin slides some doors and changes history giving us a good TV western shootout ending where the bad guys… (oops spoiler averted!)
But Quentin did accept one prize on behalf of Brandy, Brad Pitt's dog in the movie and a key player in the film's outcome. This was the Palme Dog awarded every year for the Best dog on screen. He will surely pick up some more conventional honours and box-office as the cinema year unspools.