The Awards season is now underway, kicking off with the strategically celebrated 77th Golden Globes, awarded by the Hollywood Foreign Press Association. This year the burgeoning question was just how many awards would the massively nominated Netflix actually take and thus further blur the lines between Cinema-cinema and TV-cinema. There was somewhat of a reprieve …until the Oscars at least.
The French have their own International Press awards, organised by the Academie des Lumières —with which Scannain is pleased to be associated. They award the classic full gamut of prizes called Les Prix Lumières —named after the Lumière Brothers who sold the first cinema ticket in 1895. Because of France's protective exhibition scheduling, films made primarily for streaming sites cannot qualify for awards.
Thanks to a new partnership with Canal+, the Prix Lumières ceremony will take place on January 27th at the fabled Parisian venue, l'Olympia.
Thanks to this same determined cultural policy, the French film industry is by far the most prolific in Europe, producing and co-producing the 300 French films released in 2019. The full detailed statistics for 2019 releases will be available at the end of January. Despite clichés, there is no such thing as a typical French film: in terms of variety and genre, they range from auteur-ish musings to bawdy comedies and pretty much everything in between.
Underlining this diversity —on the quality end of the scale— five films are nominated for the 25th Prix Lumieres Best Picture:
François Ozon's Grace à Dieu/By the Grace of God is his 19th feature in 20 years. More prosaic than his usual style, it is heartfelt and controversial in that it tells the true story of child abuse in the Catholic Church in Lyon; it took the Silver Bear in Berlin.
Next is J'accuse/An Officer and a Spy by Roman Polanski, which won the Silver Lion in Venice. A period drama, it recounts the infamous Alfred Dreyfus anti-Semitism case at the turn of the last century. Here the controversy —already begun in Venice— centres on the person of the director and his past sex crimes, creating stark divisions among film fans regarding separating the art from the artist.
Renewal comes with Les Miserables by Ladj Ly, which took the Camera d'Or for best first Film in Cannes along with the Jury Prize. It is an insightful, funny and tense film that packs a wallop. Set in the muggy immigrant suburb of Montfermeil during the hot summer of 2018 just after France had won the World Cup. It pitches cops against tearaway kids and elaborates the troubled tapestry of diversity on the tougher banlieus of the City of Light.
Celine Sciamma's Portrait d'Une Jeune Fille en Feu/Portrait of a Lady on Fire already took Best Screenplay and Queer Palm at Cannes along with many other prizes throughout the year. In 'Portrait' Sciamma demonstrates the most assured of directorial hands with an impressive aesthetic and great originality. Lady on Fire does also tick the female director box in a totally deserving way. It should be noted that France has always had the highest proportion of female directors, averaging over 25% in recent years.
Another French art-house favourite Arnaud Desplechin, like Ozon, delivers a more conventional tale in an artful style with Roubaix, une lumiere/Oh Mercy! Starring French favourite Rochedy Zem, it is essentially a police procedural, telling a somewhat idealised story of an almost too perfect cop in the economically grim environs of Roubaix in Northern France.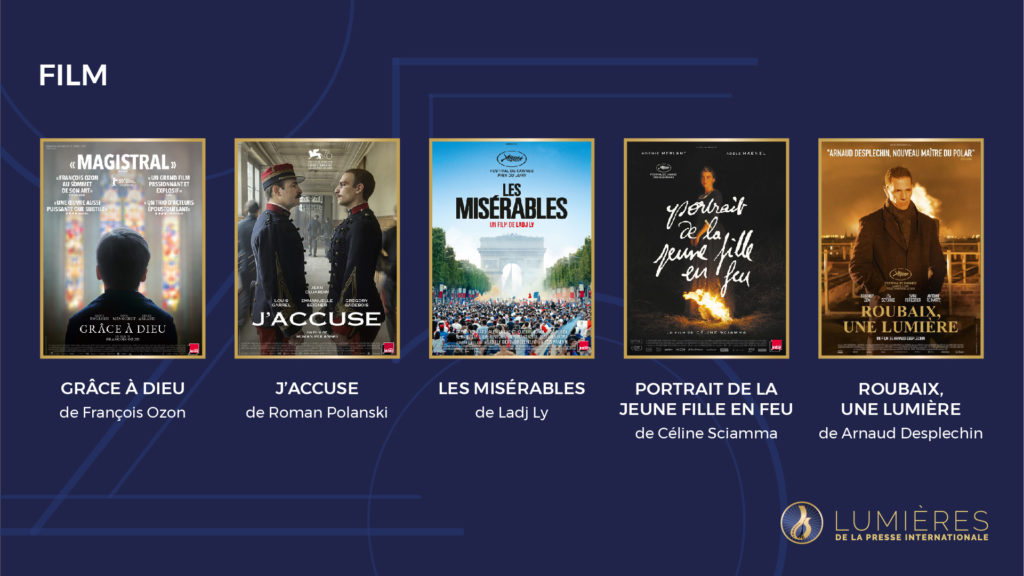 As is often the case the Best Director nominations include the same films with one exception: Ozon's less stylised than usual Grace à Dieu is replaced by the animation film Jeremy Clapin's J'ai Perdu mon Corps/I Lost my Body. It is a fantastical story, typical of the French bande dessinée tradition, telling the tale of a severed hand seeking to re-find its body. Despite this surreal, gruesome premise it is a beautifully poignant love story at heart, directed with brio, and entirely worthy of crossing-over into the "real film" category of contention.
Many of these films and others compete in the other standard categories, including best acting newcomers.
One prize particular to the Lumieres is Best International Coproduction, which rewards the best French minority co-production (minimum 30%).
France is also unique in the number of foreign films that it finances and is very often behind the most creative cinema across the globe, from China to Chile and of course including former colonies, la Francophonie. French funded films always figure prominently in the EFA Awards as well as all the top festivals and many smaller national cinemas benefit from "piggy-backing" on the French industry advantages, both in terms of funding and commercialisation. The Irish industry might also find advantages from a more pro-active strategy there.
This year's five co-production nominees are the excellent Bacurau from Brazil by Kleber Mendonça Filho and Juliano Dornelles, the wryly political It Must be Heaven by Elia Suleiman from Palestine, Le Jeune Ahmed/Young Ahmed by the always pertinent Luc and Jean-Pierre Dardenne; all three of these films took prizes in Cannes. Also from Belgium is Laurent Micheli's Lola Vers La Mer/Lola, a transgender family melodrama, and finally Papicha by Mounia Meddour, an Algerian story about female emancipation through a fashion show.
As well as rewarding excellence, awards ceremonies, like major film festivals, are essentially promotional events. They also reflect trends in a given country or industry. Because of France's steadfast defense of true cinema, streaming films are not about to be nominated anytime soon for the Lumieres or Césars (French Oscars). In France le cinema is also a place.
Many regret not being able to see The Irishman, Marriage Story or the Two Popes in cinemas as an event rather than a sliced up TV experience. On the other hand France's strict exhibition defenses do little to help find compromise.
But just like at Cannes, France will be at the forefront of forcing the commercial/cultural debate and arguing for the optimization of the cinema vs streaming dilemma.
For more visit http://academiedeslumieres.com/