Coming out this Friday on Netflix is The Mitchells vs. the Machines. This new animated film from Sony Pictures Animation. This studio is best known for its work on films like Cloudy With a Chance of Meatballs, Hotel Transylvania and most recently Spider-Man: Into the Spider-Verse.
The story of The Mitchells vs. the Machines is about Katie (Abbi Jacobson) and her family, in particular her relationship with her father and how it has slowly deteriated over the years. She is a film fan and has quite a quirky sense of humour. Meanwhile, her father Rick (Danny McBride) is an outdoorsman, think Nick Offerman with a less confident attitude. He doesn't understand his daughter's interest in film and worries about her future. So when Katie is accepted to the film college of her dreams he seizes this last opportunity to rebuild their relationship by driving cross country with her.
Unfortunately as the whole family is travelling across the country a robot apocalypse occurs and it falls to the Mitchells to save the world.
Yum, yum, good
The Mitchells vs. the Machines is a gorgeous film. Vibrant colours, clashing styles of animation and emotive characters make this film a visual wonderland. This film has its own distinct visual personality. I cannot praise the animation department enough.
The film also has an eccentric and bouncy score which compliments the animation well. Now the film does have issues narrative-wise. The message of technology is bad because it stops us from living in the present as well as disconnects us from everyone is an old and tired one. Thankfully it is not the primary message of The Mitchells vs. the Machines. To me the main message is to always be there for those you love, understand them, have their backs and it's a message delivered well.
First time director and co-writer Mike Rianda has told a wonderful story. The Mitchells vs. the Machines is simply a technical wonder filled with genuinely emotional moments woven into some of the most madcap jokes I have seen in a long time. I was laughing and crying almost in equal measure.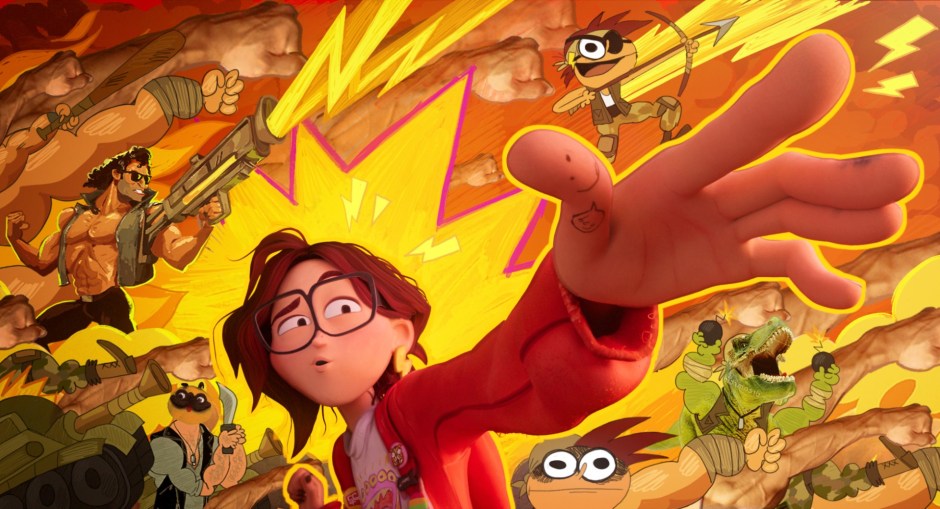 The Mitchells and the machines
Many people will find a connection here. The family themselves are an odd bunch but they are odd in the truest sense of the word. Katie has a wonderful relationship with her little dino obsessed brother Aaron. There is no clichéd sibling animosity, just love. Rick and Linda are a wonderful couple and treat each other with such a wonderful warmth it will make you smile.
The cast as a whole is played to perfection with each character, big or small, bringing something memorable to the film. A particular highlight of mine came halfway through the film. This scene can only be described as nostalgia weaponised into a horror. I won't spoil it but once you see it you will know what I mean.
With a visual style unlike anything else out there and an emotional story that will resonate with audiences around the world, The Mitchells vs. the Machines is one of the best films of 2021.
Check it out with your whole family this Bank Holiday weekend. Stay tuned to Scannain for more news, reviews and interviews.