5
Phenomenal music, outstanding performances brought together by a potent and stellar cast
Ma Rainey's Black Bottom is the latest adaptation of an August Wilson play. Many will remember his play Fences being adapted and it starred Denzel Washington and Viola Davis. Many film fans adored this film and now Viola Davis is back showcasing Wilson's work. This time she plays Ma Rainey.
This absolute belter of a blues singer was known as the "Mother of Blues" and if Davis' performance is even half of what the real Ma was like then she must have been quite the woman. Starring alongside Davis is Chadwick Boseman in the role of Levee. Levee is a man looking to place his flag in the industry seeing Ma's generation as something to be respected but that's really it, he wants to push the boundaries of the art.
The setting of Ma Rainey's Black Bottom is a studio in Chicago on one fateful day for Ma. She is recording her music for her manager and is having a battle of wills as she is vying for the control of her music. Not helping the situation is Levee, whose ambition is causing strife within the band as well as with Ma herself.
He is continually butting heads with his fellow bandmates over every matter under the sun and revelations are revealed as the day goes on due to the mounting stress everyone is feeling.
Ma Rainey's Black Bottom-One, two, you know what to do
Ma Rainey's Black Bottom is a brilliant film. From a technical point of view, it is poignant, memorable and its themes are prevalent, especially today for artists out there. The era that Ma and Leeve live in is one that is sweltering and full of passion and it's an intoxicating one. The music is impressive, the score of the film is alive and the colours are vibrant and almost vibrating off the film.
With regards to the performances from the cast I couldn't say a single negative about any of them. Every character had their moment to shine. Davis and Boseman much like their respective characters felt like they were constantly at war, trying to outshine the other. It was like being swept up in a tornado. I just watched on in awe as they performers did what they do best.
They were not alone though, Glynn Turman, Colman Domingo and Michael Potts the other members of the Ma's band helped fill this studio with even more character. From their performances, you can tell there is a lot of life lived in that small studio and not all of it has been good. These three wise men play it smart and you're listening with rapt attention.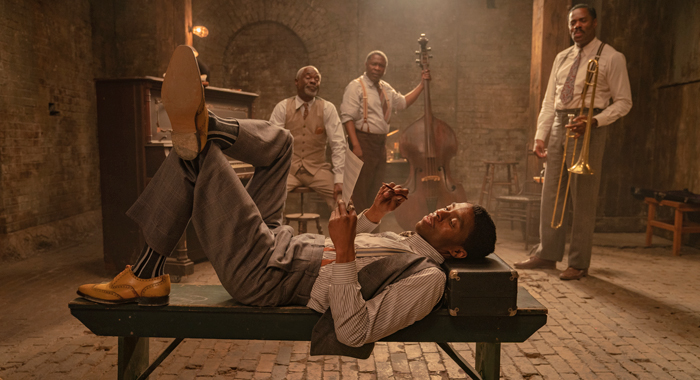 Just need to get the band together
Director George C. Wolfe should also be celebrated for crafting such an exemplary adaptation. The film clocks in at just 94 minutes and it is the perfect length. You understand the characters, their motivations and you empathise with their individual plights. It's a masterclass in how to build a compelling narrative without wasting your audiences time.
Ma Rainey's Black Bottom is an absolutely brilliant film and is a sobering reminder of the talent that was Chadwick Boseman. He pours himself into this film and it's bittersweet that we won't see anything else from him.
Check out Ma Rainey's Black Bottom when hits Netflix. It is a must-see.
Stay tuned to Scannain for more news, reviews and interviews.