Irish actor Domhnall Gleeson was in Dublin last week for the European premiere of his latest film, The Little Stranger, at Light House Cinema.
The Little Stranger is directed by Lenny Abrahamson and written by Lucinda Coxon, based on the novel of same name by Sarah Waters. Will Poulter plays Roderick Ayres, a disfigured Royal Air Force veteran, who has inherited the 18th century Hundred Halls, where he lives with his mother (Charlotte Rampling) and sister (Ruth Wilson). The film follows Dr. Faraday (Domhnall Gleeson) the son of a housemaid, who has built a life of quiet respectability as a country doctor. During the long hot summer of 1948, he is called to a patient at Hundreds Hall, where his mother once worked.  The Hall has been home to the Ayres family for more than two centuries.  But it is now in decline and its inhabitants are haunted by something more ominous than a dying way of life.  When he takes on his new patient, Faraday has no idea how closely, and how terrifyingly, the family's story is about to become entwined with his own.
The Little Stranger is produced by Potboiler Productions' Gail Egan (The Constant Gardener) and Andrea Calderwood (The Last King of Scotland), and Element Pictures' Ed Guiney (Room). It is executive produced by Cameron McCracken for Pathé, Daniel Battsek for Film4, Andrew Lowe for Element Pictures, Celine Haddad for Screen Ireland / Fís Éireann, and Tim O'Shea for Ingenious.
Scannain caught up with Gleeson on the red carpet.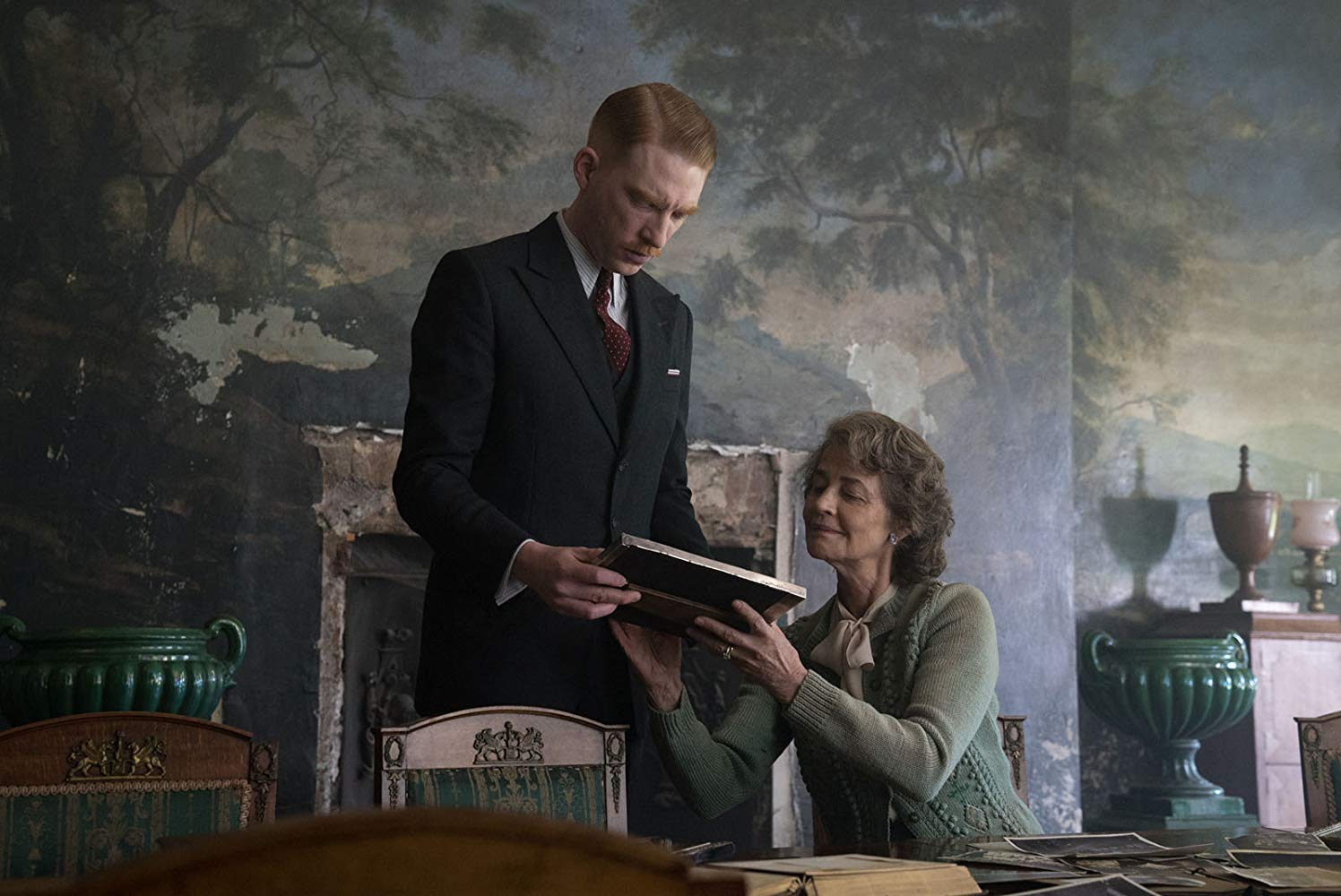 What's it like to be back home premiering a film in Dublin?
It's a special thing. We have one of the best filmmakers in the world in Lenny Abrahamson. He's from the same city that I am from. One of our producers and the composer of the music are Irish. We have lots of Irish elements here. And then we also got to bring over these amazing actors, Ruth Wilson and Will Poulter. It is special to have us all in Dublin because there's a big Irish element to the film, despite the fact that it is English. It makes me feel very proud.
How did you find the accent this time around?
This English accent I found was a tricky one. Lenny wanted something different so it's a mixture of Warwickshire and also working class, and then it's a period accent because it's the late 1940s, but then also he aspires to be posh. So yeah, it was a tricky one, but I had an amazing dialect coach called Joan Washington who helped me through it, and I think it's been holding up under scrutiny, which is good.
Is there anything that you do to get yourself into an accent?
I have a poem that I do in the morning. I have a few phrases that I go over and over, and then I tend to keep the accent up during the day just to make sure that I don't slip out of it too badly.
You're at the stage where you can choose your own roles so why this one? 
Number one was Lenny. He called me and told me about a script and I was "Yes". That was all I needed. Then secondly it was a different sort of character for me. So that was a chance to explore something different. And then as it went on more and more people came to the project: Ruth, Charlotte, Will, Liv. These people are great people. As it went on it just got better and better.
I believe that when Lenny sent you the script that he had a different character in mind for you, but that you really wanted this role. Why Faraday?
There was something different about Faraday. He just had an anger and he seemed so repressed. He seemed so desperate for love. He seemed lonely. We have all felt all of those things at times. And also I knew that it would be a chance to work with Lenny every day. That's what you want. The best people you want to be around all of the time. Lenny is the best people, and on this, I got to be around him a lot. It's a special thing.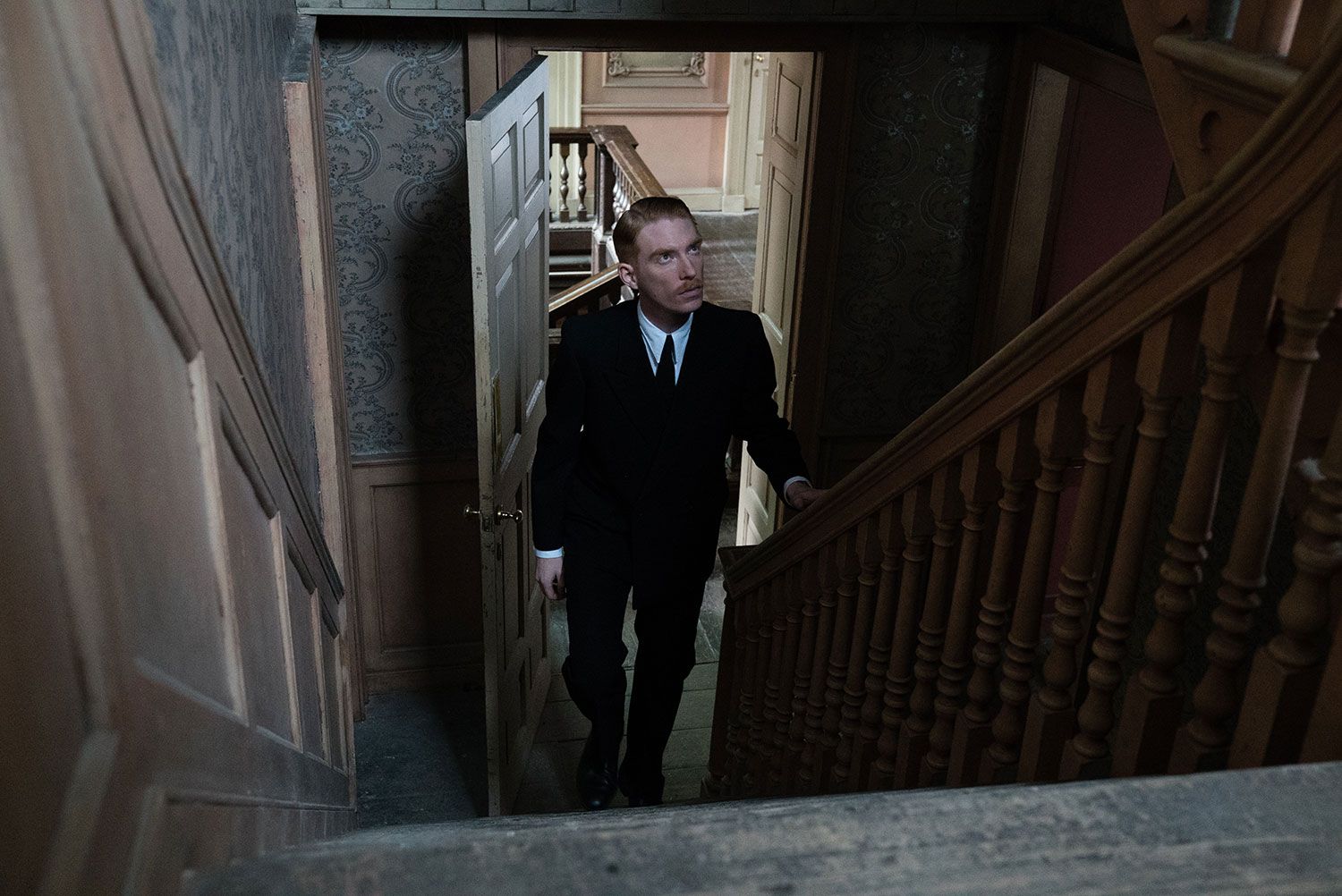 Was there something nice and familiar about being back working with Lenny again after Frank?
What's amazing about it with Lenny is that it didn't feel less special as time went on. A lot of the time the more you do something the less it feels special because you get used to it. Every day working with Lenny was still like "Holy shit I get to work with this amazing director again" because you know that he makes you better. There are a few people in my life that I know that working with has made me better and Lenny is one of them. I would do it for the rest of my life if I could.
Did you have to learn any of the medical jargon to play the role?
There were a couple of jargony words, but that was okay. I'd done loads of research. I'd read loads of stuff and had gone into these old libraries that store old memoirs of people and their notes from when they had consulted with patients. So I was well-versed in it enough. But it's great because you get to say it and not have to have done any of the training. Somebody else has done all of the research and you can pretend you are a doctor. That's amazing.
Would you think that you'd like to direct a feature like Lenny?
If I knew how Lenny did it then maybe I could be a great director, but I'm not there. I don't know how he does it. He talks to you with an openness, and understanding, with compassion and empathy, and is hilarious and he makes you feel at ease and he makes you feel like you are part of something special. And that you can bring something special to it. I don't know what it is, but it's amazing and addictive and it makes me want to do it more.
How important is that rapport for actors?
It's a funny thing. You read all the time about actors and directors not getting on and sometimes there are great performances in there. For me, the best performances reveal something of yourself. No matter how many accents or character stuff is going on, or no much you change the way you look, there will be something of yourself in there. And if you're not finding it then Lenny finds it. I'm happy and I would much rather work with somebody that I go into work ready to say "Here's everything that I have and if you ask me to do anything then I will because I trust you", rather than guarding yourself from somebody, which I'm fortunate has not been an experience I've been in.
How much of you then is in Dr. Faraday?
Definitely some. We've all been sad. We've all been lonely. We've all wanted people to love us. We've all been in love and had people who've loved us back. We've all felt that there are things that we wanted that we can't have and we've all felt that we deserve things that maybe we don't. So the best and the worst of myself is in there somewhere, and it's all mixed up with something I hope is a bit darker.
Does inhabiting a character like this mess with the psyche?
It's all very uninteresting for a lot of people generally. I had a great time making the film. And then at the end of it, I just didn't work for a very very long time. I just couldn't. I don't know. Obviously, you carry something of the person. You spend more time being the person than yourself as there are 12 hour shooting days. He has a lot of loathing. He hates himself and he hates other people. But I also liked him and that confuses you too. By the end of filming, I just wasn't able to work again. It was the only time that I've ever taken time off because I've needed it. It felt like the well was dry. So I don't know what we did or how Lenny worked me but I am proud of my work on the film and even more to be able to do this.
Are there other roles that you're interested in exploring?
So much of it depends on the person who is calling. Trust is such a huge thing. If somebody interesting calls with something that I feel that I connect to…because you never know what you are going to connect to and what you are not…if you really connect and the person is right then I'm there.
What is your hope for the film?
I just hope that we can get people to see it. It has been marketed a little bit as a ghost story over yonder and that hasn't really worked. I hope that people understand that it is a drama directed by Lenny Abrahamson, and for me, that's all I need to know. That gets me to the cinema.