Western Region Audiovisual Production Fund (WRAP Fund) has announced the projects which have received offers of support since the fund's foundation in late 2017.
As part of its production investment, WRAP has supported five projects to date including three feature films, one animated feature and one documentary which will undertake production across the West, creating opportunities for local talent.
It is anticipated that the projects backed by WRAP funding so far will generate in excess of €4m spend in the region generating a significant return of investment of 8:1.
Previously announced as a recipient of funding is Nick Rowland's Irish-made drama Calm With Horses,which is currently in post-production and will be presented to buyers at the Marché du Film at the Cannes Film Festival later this month. Set in rural Ireland, the film follows ex-boxer Arm who has become the feared enforcer of the drug-dealing Devers family while trying to be a good father to his autistic five-year-old son. Torn between these two families, Arm is asked to kill for the first time, and his attempt to do the right thing endangers everyone he holds dear. Daniel Emmerson produces for DMC Films, with DMC founders Conor McCaughan and Michael Fassbender as executive producers. The film is a co-production with Element Pictures and Film4 with Rory Gilmartin and Kate Glover acting on their behalf. Other executive producers include Ed Guiney and Andrew Lowe of Element Pictures, Sam Lavender and Daniel Battsek of Film4, Celine Haddad of Screen Ireland, and Sarah Dillon for the WRAP Fund. Finance comes from Screen Ireland, Film4 and the WRAP Fund.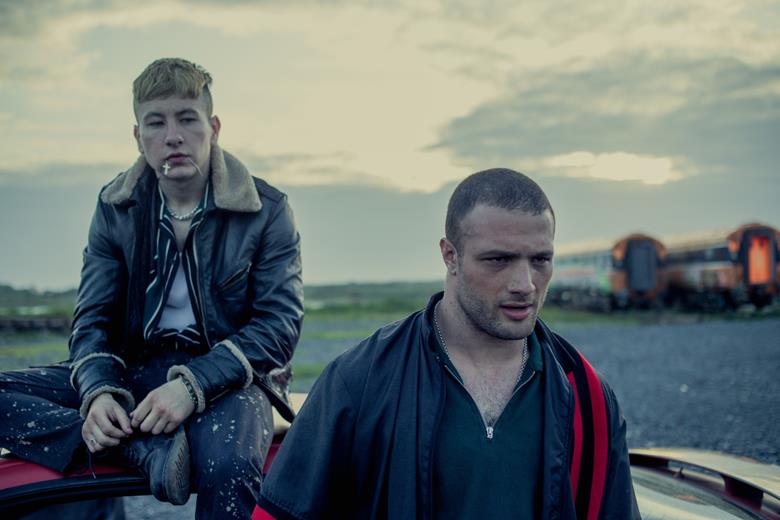 One of the new feature film announcements is Matt Bissonnette's Irish/Canadian co-production Death Of A Ladies' Man, which begins shooting across Galway in late May. The film stars Irish actor Gabriel Byrne as a hard-drinking, womanising, university poetry professor and Antoine-Olivier Pilon (Mommy). The title is inspired by the work of Canadian musican Leonard Cohen and his 1977 album of the same name. Cohen was supportive of the project prior to his death in 2016, and his management continue that support. Bissonnette (Passenger Side) also wrote the script, which is produced by Ireland's Martina Niland (Float Like a Butterfly) for Port Pictures and Canadians Corey Marr for Corey Marr Productions and Marie-Claude Poulin for MCP Productions. The film has received financial support from Monte Rosso Productions, Bell Media's The Harold Greenberg Fund and The Movie Network (TMN), and The Canadian Broadcasting Corporation (CBC).
The other feature to have received backing is director Phil Sheerin and writer David Turpin's new Irish genre film The Winter Lake, which has just completed production in Sligo. Alienated and wistful, Tom (Anson Boon) has relocated from the UK to Ireland , with his Irish-born mother, Elaine (Charlie Murphy). While exploring the dilapidated farm, Tom comes across the farms turlough (a seasonal lake),at the bottom of which he discovers the skeleton of an infant .Not long afterwards he and Elaine become involved with Ward (Michael McElhatton) and Holly (Emma Mackey), the father and daughter from then neighbouring farm. While Elaine makes tentative steps towards a relationship with Ward, Holly learns of Tom's secret discovery. Inexorably the network of lies and secrets begins to unravel pulling Tom into a violent confrontation with the darkest parts of human nature. The Winter Lake sees producers Ruth Treacy and Julianne Forde of Tailored Films reteam with their The Lodgers partners Epic Pictures Group, a film that was also written by Turpin. The film is co-produced by Anne-Marie Gelinas of Canada's EMAfilms, with funding from Screen Ireland, Epic Films Group, Telefilm Canada, the WRAP Fund, and Creative Europe.
The one documentary supported is Ciaran Cassidy's Screamers, which is in pre-production and will be shot across Donegal and Sligo. The documentary centres on a radical female-fronted commune based in Ireland's north west for over four decades. It is produced by Ireland's Dot Television, Marcie Films, and Littlewing.
Also supported is Ooops! Back In The Deep End, an animated feature by directors Sean McCormack and Toby Genkel which is in production in Galway City. The film is a sequel to Two By Two   – Ooops ! The Ark Has Gone. When best friends Finny the Nestrian and Leah the Grymp are finally reunited with their parents on board the ark, they quickly realise that there is no sign of the high waters retreating just yet. Life at sea is not easy, food is bland and stocks are running low. An uneasy, fragile peace between carnivores and herbivores, could break down at any second. What is to become of Finny, Leah and the rest of the animal kingdom? The film is produced by Moe Honan of Moetion Films with co-producing partners Germany's Ulysses Filmproduktion and Luxembourg's Fabrique d'Images.
In addition to its production investment, WRAP is announcing the recipients of the first round of development investment to assist local producers to develop projects that can undertake production within the region. This was as a result of a call out with a deadline of October 2018. Companies based in Clare, Donegal, Galway and Mayo have received support. These are:
To Hell Or Hibernia: a feature film developed by Mayo production company Hardy Films and written by Mike Cockayne (Mayo) and Vincent Cleghorne
Trace: a feature film developed by Galway production company Magamedia and written by Ray Lawlor (Mayo)
St. John: a television series developed by Galway production company Danú Media and Dearg Films and written by Brian Reddin
Weekend: a television series developed by Donegal production company Slipway Films and New Decade TV and written by Tara Hegarty (Donegal)
The Wee Littles: an animated television series developed by Clare animation studio Magpie6 Media, created by Cliff Parrott (Clare) and Christina O'Shea (Clare) and written/directed by Emma Hogan (Clare)
The Western Region Audiovisual Production Fund is an initiative of the Western Development Commission and the Galway Film Centre with the support of the local authorities of Clare, Donegal, Galway City, Galway County, Mayo, Roscommon, Sligo and Údurás na Gaeltachta.
WRAP is committed to strategic investment that encourages regional production and development activity across the film, television drama, animation and gaming sectors, to support local talent, create sustainable employment, build the audio-visual infrastructure and contribute to the cultural veracity of the West of Ireland. The fund of €2,000,000 is available from 2017 – 2020.
The WRAP Fund is also the only funding project in the Republic of Ireland which is open to the games sector. The deadline for applications for funding in the games sector was March 8, 2019 and an announcement of the games funded will follow once they are selected.
We are delighted to be announcing the projects in receipt of investment and it is exciting to see the caliber of applications we are receiving. This is reflective of the general standard over the last few years in Irish film, television and animation with Irish talent making its mark on a global stage at the world's leading film festivals. WRAP is delighted to give a platform to local talent telling stories. WRAP is focused on continuing to drive the success and growth of the screen industries in the West through targeted strategic support with the backing of our stakeholders.
Sarah Dillon, Development Manager – WRAP Fund
Developing the audio visual sector as part of the Creative Economy is a key goal of the recently published 5 year strategy for the WDC. As the lead agency for the Creative Economy under the Government's West Regional Enterprise Plan, we already see the benefits a dedicated fund such as the WRAP fund can bring to a region: high-caliber projects adding €4m extra spend to the local economy together with invaluable training and experience for local talent interested in working in this industry.
Tomás Ó Síocháin, CEO – Western Development Commission
The WRAP Fund is a game-changing initiative for the region in terms of the opportunities it provides to talent across film, TV, animation and games. It also represents a unique collaboration between the eight local authorities, Galway Film Centre and the WDC, each with the foresight to support the Audiovisual Sector at a time of unprecedented opportunity for the region.
Alan Duggan, Manager – Galway Film Centre