The Art of Racing in the Rain is a story we've seen before but with enough important twists and turns on the track to impress.
The Art of Racing in the Rain is a tale about a dog known as Enzo (Kevin Costner) who hopes to someday to become human. He watches his master Denny (Milo Ventimiglia) with envy as he learns about life and all its beauty and tragedy.
As the film opens Enzo is chosen by Denny out of a litter of many little puppers. For some reason, Denny felt a yearning to find a puppy and Enzo called out to him. Sensing a kinship the two become instant friends. Denny brings Enzo around him as a kind of mascot. Denny is a race car driver who dreams of Formula 1 glory. Enzo finds the race track a second home and is there with Denny through and through.
I won't go any further as to head further into the story is to spoil this touching "tail". All I will tell you is Amanda Seyfried joins them soon into the film as Eve and with her comes a new dynamic in the relationship.
A unique pup in a crowded litter
Fans of Marley & Me will instantly feel a familiarity with The Art of Racing in the Rain. From the way the trailer sets you up to the opening shot with Enzo, there is a sense of deja vu. However, these are but fleeting moments as the film explores more human trials and tribulations. There are no slapstick moments where Enzo is overly hyperactive and causing mayhem for his owner. Instead, we see how Enzo watches and learns from his owner and friend Denny.
It's an interesting idea to give Enzo a voice, and who better than the warm, fatherly voice of Kevin Costner. Costner gives a touching performance as he muses about his life with Denny. His interpretations of life are fascinating as they give the audience a believable idea of what a dog may be experiencing.
For example, Enzo is worryingly left alone for 2 days due to a family issue and he thinks out how humans are better than dogs in many ways but dogs have many abilities and designs that make them suitable for more rough situations. The film shows this in real-time with Enzo's narration and it's quite smart.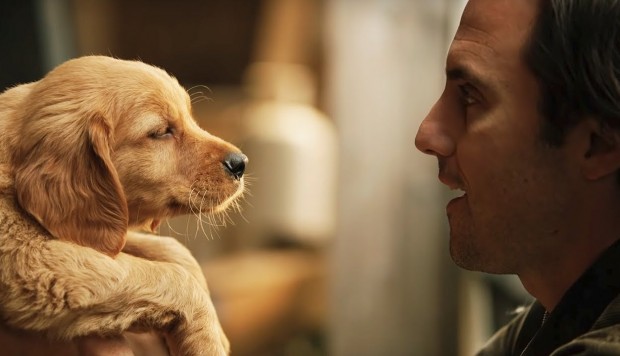 It even goes into an issue that may happen when your dog gets to a stage where they are malnourished and though the scene itself is weird at first it eventually comes back around and works, in my opinion at least. If you're wondering what scene all I'll say is this, it involves a stuffed zebra.
With respect to the other performances, everyone is solid. Milo Ventimiglia is brilliant, saying so much with just a gesture to his furry friend. The two of them are a great double act. Amanda Seyfried as Eve is also brilliant. She has the unenviable task of being the other woman, at least in the eyes of Enzo, and she rises above it. You come to care for her as she becomes a part of Denny's and Enzo's lives.
Man's best friend
The film also looks stunning. The scenes are crafted well so to allow you to take in the beauty of what Enzo is experiencing at that moment. There are particular moments where the emotions are palpable all due to the impressive cinematography on show.
If there were any issues it would be the cramming of several storylines into the film. The Art of Racing in the Rain is less than 2 hours long and has at least 3 subplots running through it. With the main plot that follows Enzo this can make the film feel bloated.
The Art of Racing in the Rain is a story we've seen before but with enough important twists and turns on the track to impress. I can't gush about this film enough. It brought me to tears, had me smiling from ear to ear and most importantly of all, entertained me.
It's not being talked about nearly enough. Plus with the blockbusters starting to wind down for the year The Art of Racing in the Rain is a suitable palette cleanser.
Stay tuned to Scannain for more news, reviews and content.