We have opened our doors to Guest Editorials. For our first we are delighted to host Irish author Sarah Maria Griffin. Caution this contains spoilers for Star Wars: The Force Awakens. You have been warned!
[quote style='1′ cite='http://lithub.com/men-explain-lolita-to-me/' title='Rebecca Solnit, Men Explain Lolita To Me']You read enough books in which people like you are disposable, or are dirt, or are silent, absent, or worthless, and it makes an impact on you. Because art makes the world, because it matters, because it makes us. Or breaks us.[/quote]
It's easy to feel tiny in the front row at the IMAX. All of my peripheral vision was screen – was rolling desert landscape and interstellar arctic tundra, was stars and the pew-pew-pew of spacecraft revolution.
I had reservations going into Star Wars: The Force Awakens. I'd learned to set my standards low for blockbusters – a feminist education and worldview means I can't just take off my Equality Goggles and Enjoy The Film Even If It's Three Hours Of White Men Talking. The feminist gaze isn't just a lens: it's a conversation that continues, that we can have with every item of media we encounter. It's rare that I can just choose to stop having that conversation with a film. If the film refuses to speak to me, then I walk away feeling emptied. Feeling tiny. During the trailers that led up to that iconic black screen with the small blue lettering that invited us to a galaxy far, far away, I steeled myself further. Here we go.
Deadpool: a man becomes a superhero and remains kind of quirky instead of becoming brooding and isolationist. Imagine that, like.
The Revenant: Leonardo De Caprio is a caveman looking for his son. Oscar bait.
Batman Loves Superman, with no more than a cursory glimpse of the Wonder Woman I've been waiting to see on the big screen my whole life.
I was reminded why the box office wasn't for me. Why science fiction, why superheroes, why quests weren't for me. Roe McDermott, film critic at Hotpress, had recently awarded the film five out of five stars:
[quote cite='http://www.hotpress.com/Star-Wars/features/filmreviews/Review-of-iStar-Wars-The-Force-Awakensi/16337566.html' title='Roe McDermott – Hotpress']J.J. Abrams and screenwriter Lawrence Kasdan have perfectly balanced the old and new, the humour and heartbreak, and have updated the white, male-dominated universe to one filled with equals, not merely in the reductive sense of physical strength and skill with a lightsaber, but equal in vulnerability, in ambition, in need for love and deep reservoirs of courage. The characters in The Force Awakens are equals in their humanity.[/quote]
McDermott and I are old friends. We have a decade of long conversations about women in cinema behind us, and I trust her opinion and taste – but I was apprehensive, still. Worried, even, that the oncoming three hours would lead to three months of arguments with men at parties about why a film they loved left me out in the cold – again. Worried that this story would be the same as every story. I slid 3D glasses over my eyes and resigned myself.
As expected, the initial orchestral swell had both me and my partner clinging hands and full of tears. There is something powerful about revisiting childhood at this scale, about the impact of fanfare. I expected to settle past the nostalgia burst and into the dull of Men Talking For Three Hours. 
Then, there was the bait and switch. Poe a dashing X-Wing Pilot, best of his kind. Finn, who frees himself from the violent, faceless bind of his life as a Storm Trooper. Poe's hero mantle is passed onto Finn. We have never met either of them on screen before, and they are immediately likable. Where we expect Poe to flourish, he pulls a vanishing act. That was something, surely, at least. A change in tradition. Finn makes for a warm, empathic leading man, even amongst a powerful ensemble of iconic characters.  
Rey – another new face, is in the desert, bandaged head-to-toe. Her robes are off-white, they nod to Skywalker, suggest purity. She scavenges. She lives alone in the belly of a fallen AT-AT. She notches the days that pass on the wall, a litany of strikes. In the quiet, while the huge sun sets, she puts on a fighter-helmet and looks out over the horizon. She hears the flustered bleeps and bloops of a droid, and rescues him – and her adventure begins.
It dawned on me extremely slowly that Rey was, in fact, not a love interest, or a B-Plot. I was on the edge of my seat, waiting for a gold-bikini scene. Waiting for her to have been written as all feist, no capability. Waiting for her to give up, already having given up on characters like her written by men a long, long time ago.
Finn takes her hand. She scolds him, twice – why does he keep doing that – then, when she realises (when we realise) it's not just mere flirtation, but that his experience has earned him an understanding of how large-scale attacks work: she takes his hand instead. She won't be led anywhere. They'll be working in tandem.
Their back and forth is an ongoing delight, it lacks all of the forceful coercion of early Han/Leia interactions. Rey is more than competent, she's downright gifted. She's got a fluent understanding of piloting and repair: one that baffles the men around her – and more than a few critics, given the ongoing uproar amongst film-dudes and nerd-dudes alike. I read the Mary Sue allegations, scan Twitter and roll my eyes – She's a self-insert, she's no better than Bella Swan. She's over powered, she's unrealistically competent – she detracts from the authenticity of the story – I read these criticisms, scan Twitter and roll my eyes – in these remarks I feel the same unwritten sentiment over and over again. She's a girl. She's a girl. A Mary Sue is a derogatory term and trope used to traditionally describe characters in fan fiction, largely women, who are inserted by the author to represent themselves. A Mary Sue is, effectively, women writing themselves into an existence they have not seen enough of.  
In an essay for iO9, Charlie Jane Anders addresses and deconstructs the Mary Sue complaint for what it really is: 'Over time, the term "Mary Sue" has broadened until it means "any female character who is unrealistically talented or skilled." Which is insane for a couple of reasons: It makes this "trope" so vague as to be meaningless, and this is also purely a way at tearing down female characters who are good at stuff.'
It struck me how many times the word 'girl' was called over action to describe, or seek, or note Rey's participation throughout the story. Han Solo, all raised eyebrows, notes her as girl again and again. Kylo Ren smashes up a whole dashboard full of Serious And Complicated Looking Stuff with his red, crucifix looking lightsaber when informed that one of their Stormtroopers had absconded with the Skywalker-Map-Bearing-Droid and a girl. They've got the girl. The girl is getting away.
The word carried but each time it was used I did not feel it diminutive, as I usually do when men use girl to describe a fully grown woman. I stopped questioning why they didn't say woman instead. It's the same looseness of tongue that led C3PO to call Leia Princess, rather than General (and trust me, I nearly screamed with Actual Delight at that plot point). It's force of habit, how almost no man in the plot can believe her ability. The girl? The hero. 
When I was growing up, a 90's Super Nintendo Controller wielding little brat, all I wanted was adventure. Slowly and resolutely I learned that there were terms and conditions placed on my participation. That there were compromises that needed to be made in order for me to be brought along with the lads on the quest. Stay quiet, stay nice, stay small. Find compromises. My childhood was full of loud, bright video games in which I had no place. I played the Legend of Zelda and imagined Link, the protagonist, as a girl. Caught the solid 150 Pokemon in 1998, you know. Named my boyish sprite Sarah. Compromises. I wrote stories where girls were adventurers because I couldn't find enough of them in my own life – I still write these stories, to this day. Because I have been sick of compromising for too long.
Rey does not compromise, and is not written into this story as a compromise.
The awakening of the Force within Rey does not come via some terrible punishment, or some personal trauma that she has to overcome. She is not Black Widowed here, where her true power is revealed to come from her most profound wounds. Rey is given a luxury that comes so easily to male heroes – she simply turns a corner, finds a magical item (Luke Skywalker's Lightsaber, no less) and it awakens the Force in her. Just that. No searing infertility, no rape, no revelation of past abuse, no heartbreak, no sacrifice. No heroine who's validity is defined by what she has sacrificed, in the way of Katniss handing up her life for her sister, becoming a martyr for a revolution. In the way of Ariel, handing over her power to speak in order to walk on land. No poison apple, no needle on a spinning wheel here. Rey is Bilbo and the One Ring. Bastian in the bookshop. Harry, opening a letter. Rey doesn't even get the mild inconvenience of being bitten by a radioactive spider to gain her powers – see you later, Peter Parker. 
Not only this, but Joseph Campbell, eat your heart out – she refuses the call to that power, just as many heroes running the Monomyth before her have. Though, as Laurie Penney noted earlier this week in her essay, What To Do When You're Not The Hero Anymore for the New Statesman – 'Campbell reportedly told his students that "women don't need to make the journey. In the whole mythological journey, the woman is there. All she has to do is realise that she's the place that people are trying to get to".'
Rey is the place I, as a viewer, have been trying to get to for almost as long as I have been a reader, a viewer, a girl with a controller in her hand, desperately trying to connect to another world. I do not have to blur my eyes or name Rey for myself, here.
Rey is not defined by her pain, but her power. Hers is not a conversation about suffering. Her power comes from her courage and her participation, not from her trauma. In many ways, you could have sliced off her three ponytails and called her Ray and nobody would have known the difference. We all still probably would have had a fine time, the movie would smash at the box office, the world would continue undisturbed. But they didn't. She remained a girl and the show went on – we left her on a stunning, silent cliffhanger, and we'll see her again.
There is so much bargaining involved with being a woman in science fiction: often there can be only One Woman Of Importance on a same-faced backdrop of male characters. One gal on the team – a Smurfette, a token. A Leia. Notably, this year, Vulture put together this video compilation of every word of dialogue spoken by a woman who wasn't Leia in the original Star Wars Trilogy. The airtime totals at 63 seconds. You'd need four times that to get a decent slice of toast off the grill.
The Force Awakens begins to step up to this problem. Sure, the only conversation of note between two women is when Rey and Maz Kanata (Lupita Nyong'o's oracle, a funny and warm answer to the Yoda of Star Wars past) – and given that it's about Luke Skywalker, it technically doesn't pass the Bechdel Test – but Gwendolyn Christie looms tall as the silver-clad Captain Phasma, and Carrie Fischer reprises Leia with great depth. There are motions towards intersectionality, too – incidental characters are notably more diverse than the usual white, male background smattering of control panel operators, engineers and soldiers. Jessica Lachenal at The Mary Sue notes and cheers for Jess Pava, an Asian X-Wing pilot who appears briefly during the attack on Starkiller Base – 'I was watching an example of the type of character I could be. And that was magic.'
She's right, too. It is does feel like magic: and like any good magic trick, it made me want more. In the next story of this arc, I want to see more. I want the follow through: I want to know what happens to Jess Pava. I want more diversity, more women's voices, more conversation. I want more not because I am disappointed, I want more because I liked what was beginning. Because it hinted at what was possible – what could lie ahead. 
The backlash from male viewers and critics across social media means we have to underscore the imperfection of this film. The dismissive 'meh'. Many of the reviews of and essays about Star Wars written by women that have cropped up over the last month stammer a moment to reassure the reader that they aren't saying the film is perfect. We have to say, 'Well, it's not perfect,' as though to downplay our excitement or undermine our relief. As though to promise, oh no, I didn't enjoy it that much. Perhaps this is an earnest critique, perhaps the 'Not perfect' is a compromise, a nod to male fragility, an pre-emptive evasion of their dismissal. McDermott refuses this, places five out of five stars on the piece. She notes that it gives us hope.  
As an engaged viewer, I'm not looking for perfection in cinema – I'm just looking for art that participates in conversation. I'm looking for reprieve, escape, entertainment. A flash of something magic. I want to go somewhere else for three hours and come back safe, changed, and better for the journey. And isn't that what cinema is supposed to do, what art is supposed to do – affirm our place in the world, fill us with questions and courage and confidence. I went into the IMAX feeling tiny amongst the spaceships, and somehow, left feeling taller. That's magic. That's something to be excited about.
And maybe if this is just the first flicker of an eyelid in a larger awakening, if this is the first step into fantastic landscapes populated by women of all kinds – then maybe the future of cinema really is something to look forward to. Maybe that galaxy isn't so far away. 
Edited by Sarah Waldron, titled by Roe McDermott.
[infobox style='regular' static='1′]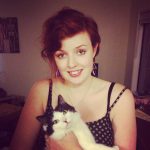 Sarah Maria Griffin is a writer from Dublin. She doesn't live in San Francisco anymore. Her collection of essays, Not Lost, was released by New Island Press in 2013, and her first novel, Spare & Found Parts, is forthcoming with Greenwillow Press (Harper Collins) in Autumn 2016. Given the choice, she will still always put her own name in on a character select screen. She tweets @griffski.[/infobox]