British star Will Poulter jetted into Dublin from working in Budapest for the European Premiere of Lenny Abrahamson's The Little Stranger at Light House Cinema last Wednesday.
The Little Stranger is directed by Abrahamson and written by Lucinda Coxon, based on the novel of same name by Sarah Waters. Poulter plays Roderick Ayres, a disfigured Royal Air Force veteran, who has inherited the 18th century Hundred Halls, where he lives with his mother (Charlotte Rampling) and sister (Ruth Wilson). The film follows Dr. Faraday (Domhnall Gleeson) the son of a housemaid, who has built a life of quiet respectability as a country doctor. During the long hot summer of 1948, he is called to a patient at Hundreds Hall, where his mother once worked.  The Hall has been home to the Ayres family for more than two centuries.  But it is now in decline and its inhabitants are haunted by something more ominous than a dying way of life.  When he takes on his new patient, Faraday has no idea how closely, and how terrifyingly, the family's story is about to become entwined with his own.
The Little Stranger is produced by Potboiler Productions' Gail Egan (The Constant Gardener) and Andrea Calderwood (The Last King of Scotland), and Element Pictures' Ed Guiney (Room). It is executive produced by Cameron McCracken for Pathé, Daniel Battsek for Film4, Andrew Lowe for Element Pictures, Celine Haddad for Screen Ireland / Fís Éireann, and Tim O'Shea for Ingenious.
Scannain caught up with Poulter on the red carpet.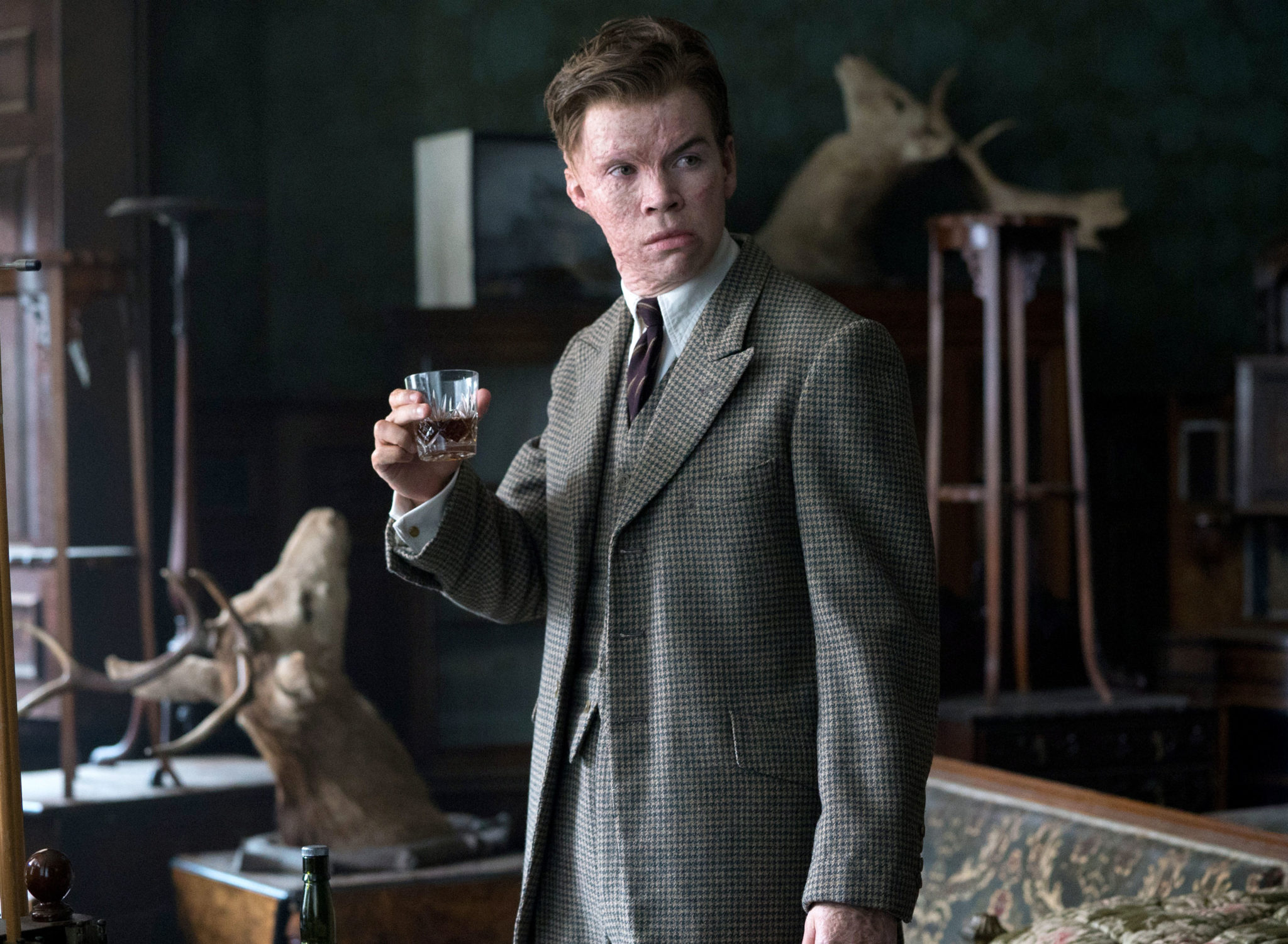 Are you an honourary Irishman yet? This your second film with an Irish director after Glassland with Frank Berry. 
I'm probably not deserving of that title. If I could pick a second home it would be Ireland.
You recently stood up for Ireland on Twitter…
I had to. Somebody described Jack Reynor as British and just wasn't right. I had to correct that. I'm very upset that Jack is no longer on Twitter. I respect the hell out of the fact that he has removed himself from social media, but social media misses healthy, informed voices like his.
There's a lot going on with your character: mental illness, disfigurement, stress, and the burden of masculinity. How as an actor do you begin to unravel that?
I think that its interesting that you touched on a lot of the things that are in the concoction that is Rod. Like the film, Rod is a very textured, layered character, emotionally speaking. He has a lot going on and is wrestling in the dark. Some fairly toxic masculinity rules that he felt that he needed to abide by. The obvious PTSD from the crash that he experienced. Then as a burn survivor and in the kind of environment that he is in, he felt that he had to be confined to the home. And then also i think that we are dealing with a period in British history, post World War II, where there are some major social shifts. And those that belonged to aristocratic society were dealing, for the first time, with the fear of losing dominance, of losing status, and of losing financial wealth. Seeing him deal with that was also a reality. So a lot of things going on. Then, of course, there's the supernatural elements that are harder to explain. But all of that was taking its effect on him.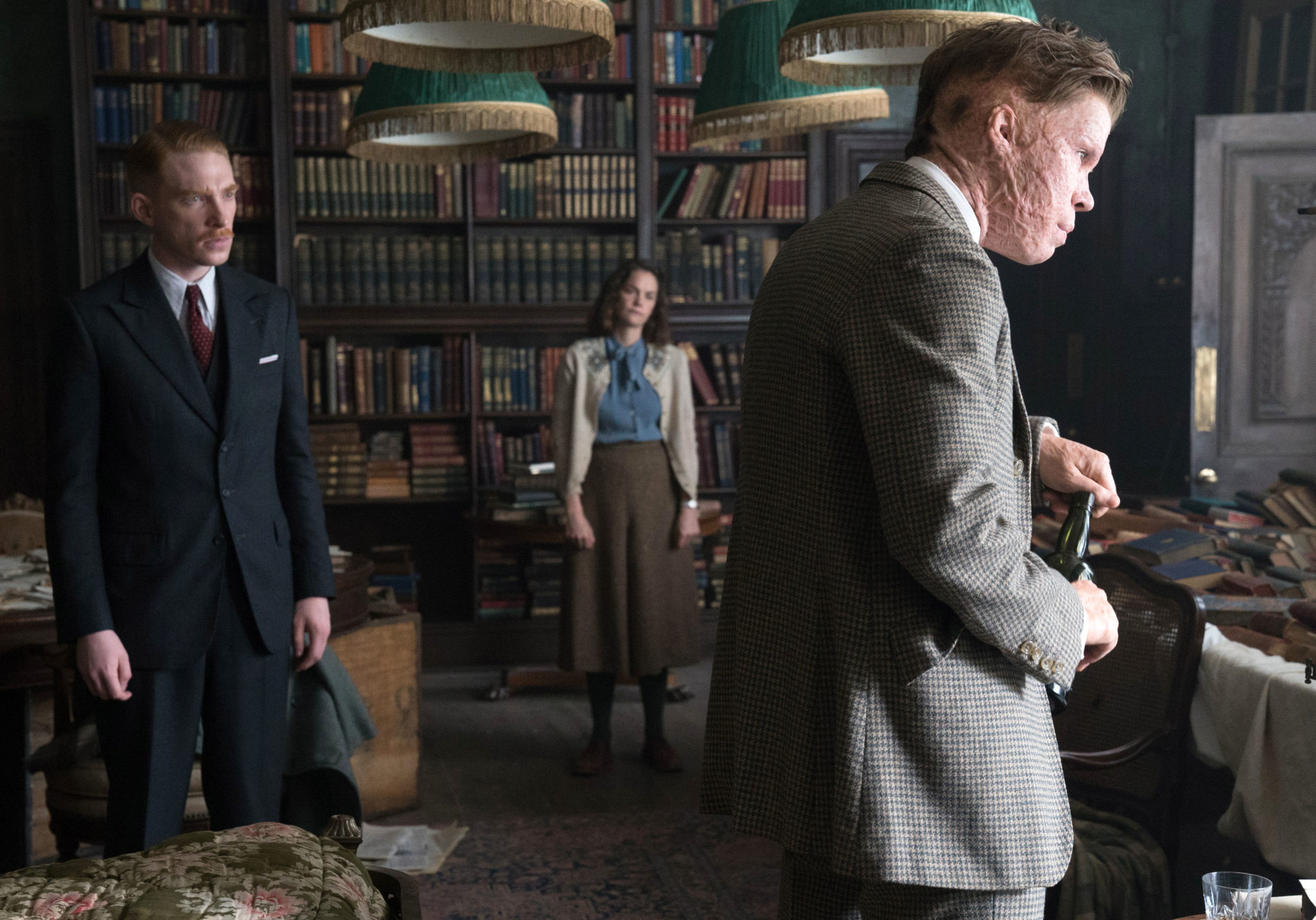 You had to spend six hours a day in the make-up chair for this. Did that not zap the energy from you before you even starting filming?
It was tough. I became best friends with black coffee and my iPod. I'm still pretty good friends with those two things, to be honest. That was a little bit tough, but I was in the best hands in the industry. That team was so incredible. Barrie Gower, Sian Grigg, Duncan Jarman, that whole team were just an amazing bunch who really really did so much to make me feel as comfortable as possible. And to make that process as painless as possible.
Your face is one of the tools of your trade. How hard is it to express yourself when you have that much prosthetic on you?
It's interesting. In some ways I felt like half the work was done for me. Half the expression, half the character's interior was being projected, in lots of ways, through the work that the makeup team did in advance of me even properly stepping into the role. I felt very grateful. it felt like cheating a little bit. I owe half of the performance to them, for sure.
What sort of research did you do to get into the character, particularly the emotion of it?
Like every film, I feel that the research can be compartmentalised quite a bit, in the sense that you have the technical elements that refer to the history that that film has in and around it, sometimes there's the unique skills or craft that my character might have, the sociopolitical climate, and then you have the emotional side of things. Sometimes those things are more tied up together than others, but I try to compartmentalise like that. To know the history of the character and the time that it is set in, and then, aside from various skills or tools that they may have, look at the emotional side and the sensitive fibres that make up the character.
You have mentioned that Lenny Abrahamson was a director that you were keen to work with. Had you gone forward for films of his before?
I haven't had that opportunity, but I've watched all of them. I'm a fan and I've admired them. I've always wanted to work with him so to work with him in this capacity, and then with Domhnall as well, it was a very special one to be a part of.
The Little Stranger is out nationwide on September 21st.