Irish language drama An Klondike will soon begin airing on TG4, beginning on the 8th of September at 21.30. Before then the film version will open in select cinemas, starting with the Eye Cinema in Galway, from Friday, August 28th.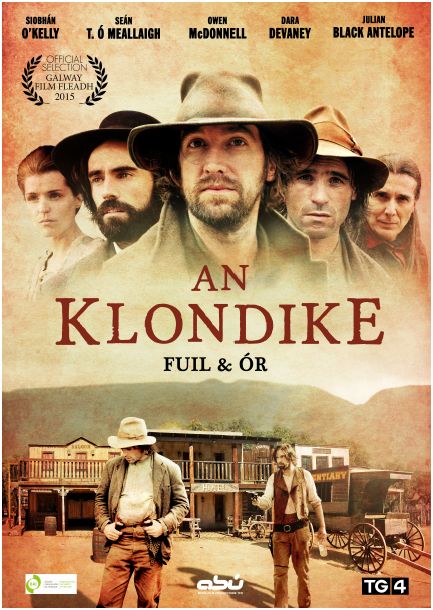 The first western to be entirely filmed in Ireland (Sergio Leone's Duck, You Sucker! filmed scenes in Dublin and Howth in 1971), An Klondike follows the Connolly Brothers; three Irish emigrants who travel from Montana to the Yukon during the Klondike gold rush of the 1890's in the hope of striking it rich. The film sees the Connolly brothers pitch up in the town of Dominion Creek where they become embroiled in a deadly feud with Jacob Hopkins, the man who runs the town.
The Connolly brothers are being played by Owen McDonnell, Dara Devaney and Sean T. Ó Meallaigh. Other cast members include Siobhán O'Kelly, Séamus Hughes, Steve Wall, Ned Dennehy, Robert O'Mahoney, Megan Riordain, Bríd Ní Neachtain and Native American actor Julian Black Antelope.
An Klondike is written by Marcus Fleming, director of photography is Colm Hogan, costume designer is Triona Lillis, with music is by Steve Lynch.  As part of the production the mining town of Dominion Creek was constructed on the grounds of the Glengowla mines outside Oughterard in Co. Galway. Production Designer Padraig O'Neill and his team spent months researching and designing each building that makes up the town.
The film is produced by Galway based company Abú Media, with financing coming from the BAI, TG4 and Section 481 Tax credit. The Irish Film Board provided development funding for the project.
The film played as the Closing Film at this year's Galway Film Fleadh, where it received an outstanding response, and it has been put forward for consideration as Ireland's entry in the Foreign Language Film category at next year's Academy Awards.
[quote title="Dathaí Keane, Director"]Being a Western, made in the West of Ireland, we decided that it was only fitting that An Klondike should begin its cinema run here in the West.[/quote]
[quote title="Pierce Boyce, Producer"]The project was entirely filmed here in the West and was made by a Galway based company, Abú Media. so we're delighted that Galway audiences are the first to get to see it on the big screen.[/quote]
An Klondike screens nightly at the Eye Cinema at 7pm from August 28th.