The Galway Film Fleadh has announced that Lance Daly's epic Western Black '47 will close the 30th festival with a gala screening at Town Hall Theatre on July 15th. The film will screen in the Galway on Film strand at the Fleadh, which highlights films which feature Galway people and the city and county. Four additional films have also been announced for the strand: Treasa O'Brien's Town of Strangers and Keith Walsh's When All Is Ruin Once Again, which both will have their world premieres at the Fleadh; and Dónal Ó Céilleachair's The Camino Voyage and Niall McCann's The Science of Ghosts, which both premiered at the Audi Dublin International Film Festival earlier this year.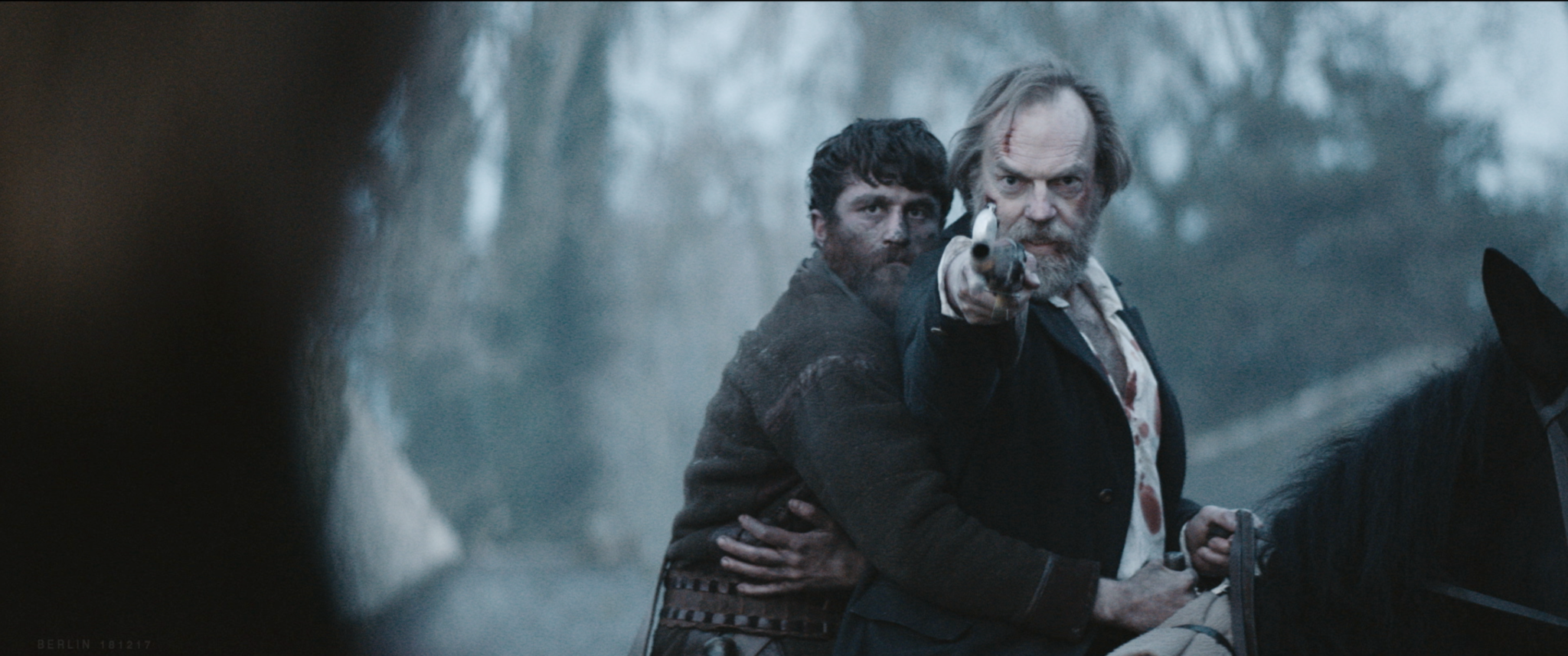 Black '47, which is an action movie set during the Great Irish Famine, stars James Frecheville (Animal Kingdom),  Hugo Weaving (Hacksaw Ridge, The Lord of the Rings, The Matrix and Transformers franchises) and Jim Broadbent, (Oscar® winner for Iris) and the prolific Irish screen and stage actor Stephen Rea (The Crying Game, Michael Collins, Interview with the Vampire). The film also has a strong young Irish cast including Barry Keoghan (Dunkirk, The Killing of a Sacred Deer), Moe Dunford (Vikings, Patrick's Day) and Sarah Greene (Noble, Penny Dreadful).
It's 1847 and Ireland is in the grip of the Great Famine that has ravaged the country for two long years. Feeney, a hardened Irish Ranger who has been fighting for the British Army abroad, abandons his post to return home and reunite with his estranged family. He's seen more than his share of horrors, but nothing prepares him for the famine's hopeless destruction of his homeland that has brutalised his people and where there seems to be no law and order. He discovers his mother starved to death and his brother hanged by the brutal hand of the English. With little else to live for, he sets a destructive path to avenge his family. Hannah, an ageing British soldier and famed tracker of deserters, is sent to stop Feeney before he can further stoke the fires of revolution.
Black '47 is directed by Lance Daly, who was winner of the Galway Film Fleadh's Bingham Ray New Talent Award (2013). The screenplay is written by PJ Dillon (Rewind), Pierce Ryan (Standby), Eugene O'Brien (Eden) and Lance Daly (Life's a Breeze, Kisses). It is produced by Macdara Kelleher for Fastnet Films, with Tim O'Hair, Arcadiy Golubovich and Jonathan Loughran. Financing comes from Primemeridian Entertainment, the Irish Film Board, the Luxembourg Film Fund, Wildcard Distribution, Altitude, BAI, TV3, Eurimages, Umedia, Samsa Films and Fastnet Films.
It's great to be coming back to the Galway Film Fleadh with Black '47 – which is actually set in Connemara and tells a story of the Great Famine that is particularly relevant to the West – and we're thrilled to have such a prestigious slot in this year's amazing programme. I'm hopeful that the "Connemara Irish" and Maumturk Mountains featured in the movie will give it an extra boost with the local audience! The Fleadh has always been an important place to meet fellow filmmakers and celebrate Irish cinema, and I can't think of a better launch pad for our film ahead of its September release.
Lance Daly, Director
An epic 2,500 km modern day celtic odyssey, The Camino Voyage/Iomramh an Chamino is directed by Dónal Ó Céilleachair. It features Breanndán Ó Beaglaoich, Glen Hansard, Liam Holden, Brendan-Pháid Ó Muircheartaigh and Writer and Poet; Domhnall Mac Síthigh (1951-2017).
For hundreds of years people sailed from Ireland to A Coruña in Northern Spain and walked the camino to Santiago de Compostela from there. This inspiring crew have done their own version of this historical voyage in a Naomhóg (a traditional West Kerry curragh). Every community that they have connected with en route opened their doors – and their hearts – to this crew, and the men have in exchange, inspired them with their courage, endurance, storytelling, music, poetry and song in a coming together of people in the most fundamental and ancient of ways. This intimate documentary charts the trials and tribulations of a voyage that in the words of Domhnall Mac Síthigh, took "sweat, blood and blisters to complete while deepening and renewing friendships, creativity and spirituality in the process".
The Camino Voyage/Iomramh an Chamino is an Anú Pictures Production in association with Phoenix Films and is funded by Údarás Craolacháin Na hÉireann/The Broadcasting Authority Of Ireland and with the participation of TG4, RTÉ agus Bord Scannán Na hÉireann /The Irish Film Board. It is produced by Martina Durac and Dónal Ó Céilleachair and the Executive Producers are Pádraig & Síle Ó Laighain. The film is dedicated to the memory of Domhnall Mac Síthigh (1951-2017).
Director Niall McCann's observational drama, The Science of Ghosts, centres on a well-known Irish musician, Adrian Crowley. While being interviewed by a film crew for his latest album, an interruption causes Adrian to ponder – what would a film about his life be like? Could it ever really reflect who he is? His imagination takes him – and the audience – on a journey as he becomes a ghost visiting his own life, past and future. What emerges is a humorous and original take on the power of storytelling.
When All Is Ruin Once Again by Keith Walsh is an experimental, poetic documentary about the transience of life set in South Galway/Clare during the recession years. The action takes place between the openings of two new huge stretches of motorway that bypass a landscape drenched in folklore, legacy, memory, character and experience. Using a rhythmical narrative and featuring local people with striking imagery, the film explores who we are, who we were and where we are going. When All is Ruin Once Again is the second feature documentary from director Keith Walsh to play the Film Fleadh, after 2012's Apples of the Golan.
Town of Strangers takes the audience on a journey in the company of outsiders making their home in Gort, a small town in County Galway. These tales were inspired by an open invitation from filmmaker Treasa O'Brien, who auditioned a blend of migrant workers, hippies, Travellers, blow-ins and newly-arrived refugees, whose private worlds we are ushered into, sharing their dreams and desires. As the characters act out their innermost fears and hopes through poetic leaps of imagination, a deeper connection to their experiences is revealed, sometimes funny, sometimes sad, always moving.
Writer/director David Gleeson's previously announced Don't Go,which makes its World Premiere at Galway, will also feature in the Galway on Film strand.
The film stars Melissa George and Stephen Dorff as Ben and Hazel, a married couple who have recently lost their young daughter. After relocating to a small beachside town in Ireland, Ben begins to have vivid, mysterious dreams about his little girl, which he starts to suspect may hold the key to bringing his daughter back to life. Don't Go is directed by David Gleeson and was shot in Spiddal, Co. Galway.
It has been a wonderful experience shooting this film in Spiddal. We were honoured to work with this calibre of cast and an extraordinary crew who enabled us to create something very special.
Nathalie Lichtenhaele, Producer
The 30th Galway Film Fleadh will take place across Galway city from 10th to 15th July. Over the past 30 years, Galway's local film festival has grown to become an internationally renowned celebration of independent film and the premiere destination for Irish filmmakers to debut their work. In celebration of this milestone, this year's Film Fleadh will have the biggest line-up of feature films, documentaries, animations and filmmaker talks in years, as well as continuing to foreground the best in cinema produced in and around Galway. Popular film programmes including music documentaries, family films, human rights cinema, short films and LGBTQ+ cinema will all return with some of the boldest emerging voices and some Fleadh-favourite directors too.
Tickets for the above mentioned films are now on sale at www.galwayfilmfleadh.com.
All of the films announced so far for Galway Film Fleadh 2018:
| | | | | |
| --- | --- | --- | --- | --- |
| Wednesday, July 11th | 18:00 | The Camino Voyage | Town Hall Theatre | Tickets |
| Wednesday, July 11th | 20:00 | Science of Ghosts | Town Hall Theatre | Tickets |
| Wednesday, July 11th | 22:00 | Possum | Pálás Screen 1 | Tickets |
| Saturday, July 14th | 12:00 | Town of Strangers | Pálás Screen 1 | Tickets |
| Saturday, July 14th | 14:00 | When All is Ruin Once Again | Town Hall Theatre | Tickets |
| Saturday, July 14th | 16:00 | Katie | Town Hall Theatre | Tickets |
| Saturday, July 14th | 20:00 | Don't Go | Town Hall Theatre | Tickets |
| Sunday, July 15th | 16:00 | Captain Morten and the Spider Queen | Town Hall Theatre | Tickets |
| Sunday, July 15th | 20:00 | Black '47 | Town Hall Theatre | Tickets |