Fís Éireann / Screen Ireland has announced the funding awards made by the Board for the second quarter of 2018 across film, documentary and animation, in the categories of development, production and distribution. This is the first round of funding for the organisation since it rebranded from Bord Scannán na hÉireann/the Irish Film Board (IFB).
A high-level breakdown of the figures sees €5,629,900 allocated for the period, with 34 projects sharing development funding of €670,525, 15 projects sharing production funding of €4,849,375 (with 7 non-defined commitment offers), and 3 projects sharing distribution funding of €110,000.
Production Funding
In Irish Production €3,565,000 was made available to 6 productions, including one award for Completion Funding and three Quantified Offers which were allocated a Provisional Offer of Commitment in a previous round of funding.
The largest offer of €800,000 went to writer/director Aoife Crehan's The Last Right, a comedy drama with Deadpan Pictures. The film sees a reluctant man drive a stranger's corpse across Ireland against the wishes of the police, finding love, and mending family relations along the way.
€800,000 also went as a quantified offer to Blinder Films for Kieron J Walsh's The Domestique, written by Ciaran Cassidy.  It's 1998, the infamous year when the opening stages of the 'Tour de France' are relocated to Ireland – and news breaks of the massive drug scandal permeating the sport. Dominique 'Dom' Chabol has been one of the best 'Domestiques" (support rider) for the last 20 years. It's a sacrificial role – setting pace, blocking wind, and providing support, to enable the team's sprinter to victory – for domestiques, winning is not on the table. But at the start of the Tour, Dom is unceremoniously dropped. His best mate Sonny, the team masseur, fails to reassure him about his future. A chance liaison with Lynn, a young doctor, softens the blow, and with her help Dom starts to accept – and even enjoy – the idea of civilian life… But as he gears up to go home and to face his estranged sister, a massive doping error leaves a teammate literally pissing blood… Dom is thrown back in the saddle – and realises it's now or never if he ever hopes to be more than a domestique… The Domestique is being produced by Katie Holly for Blinder Films, with co-producers Jesus Gonzalez-Elvira for Calach Films, and Nicolas Blondeau and Robin Kerremans for Caviar Films. Earlier this year the production received €1,200,000 in support from the Film Fund Luxembourg and €1,985,000 from Belgium's Screen Flanders.
€750,000 was awarded to Lorcan Finnegan's new Irish thriller feature Vivarium, which is currently shooting in and around Dublin with stars Imogen Poots and Jesse Eisenberg, The film focuses on a young couple who follow a strange estate agent into a new development to look at a house. The development is brand new but completely devoid of life, and when they attempt to leave they soon find that they can't find their way out of the maze of houses. Vivarium is produced by Brendan McCarthy and John McDonnell for Fantastic Films, with Belgium's Frakas Productions and Denmark's PingPong Film as co-producers.
Joe Lawlor and Christine Molloy a.k.a Desperate Optimists' Rose Plays Julie was awarded €650,000 for producers Samson Films. The film tells the tale of an adopted girl who seeks out her birth mother only to be told her mother has no desire to meet her. Undeterred she sets out from Dublin to London in an effort to confront her birth mother, and face her own identity.
Irish actor Eoin Macken's feature directorial debut, Here Are the Young Men, was offered production support of €550,000 for TYM Productions. The film, which is based on the novel by Rob Doyle,  follows Dublin teenagers Matthew, nihilistic Rez, and the deranged Kearney, who leave school to a social vacuum of drinking and drugs, falling into shocking acts of transgression. It is produced by Richard Bolger (Cardboard Gangsters).
Completion Funding of €15,000 was given to Instigator Films and director Brian Lally of The Curious Works of Roger Doyle. The film, which premiered at the Galway Film Fleadh earlier this month, studies the life's work of the "godfather of Irish electronica," Roger Doyle, and closely observes him presenting one of his most ambitious musical projects to the general public – his first electronic opera. The film follows Roger from August to November 2016 as he prepares for the staging of his opera, Heresy, in Dublin.
Two Provisional Offers of Commitment were made to World 2000 and writer/director Rachel Carey for Cutters, and to Price Film Productions and writer/director Siofra Campbell for The Price.
In Documentary Production, €325,00 was divided between 3 projects and 5 others received Provisional Offers of Commitment.
The largest offer of €175,000 went to Marcie Films and writer/director Emer Reynolds (The Farthest) for Songs for While I'm Away.
John Kelleher Media and director Ross Whitaker (Katie) were given a Quantified Offer of €100,000 for Full Circle, a feature documentary that begins with charismatic Glaswegian performance artist Stephen Skrynka and his lifelong obsession with the 'Wall of Death'. This obsession leads him to training and performing with renowned wall rider Ken Fox and, in turn, to discovering the story of Longford men Michael Donohoe and Connie Kiernan. In 1979, Connie and Michael had constructed a ramshackle 'Wall of Death' on their farm outside Granard, inspiring the much-loved feature film Eat the Peach. Now, forty years on, Skrynka has appeared in Granard and presented them with an audacious proposal: construct a new 'Wall of Death' and fulfil their dream of performing for the public. Unlikely as it may seem, construction is starting on the wall and Connie and Michael, now in their sixties, are getting ready to ride again.
€50,000 was offered to Underground Films for Angeliki Aristomenopoulou and Andreas Apostolidis's Once in a Lifetime. The film explores the continent through the lens of the Erasmus mobility program, to offer a timely portrait of our past, present and future. The documentary captures the journey of five Europeans who leave the comfort zone of their country, to prove to themselves that they can survive in a foreign environment, overcoming their fears and adapting to different educational systems, cultures and mentalities. In parallel, we meet the first generation of Erasmus graduates (1987-1997) who help us understand how Europe has evolved in the last 30 years. The film is produced by Anemon Productions (Greece) in co-production with Seppia (France) & Underground (Ireland).
Five Provisional Offers of Commitment were made to Inland Films for Tadhg O'Sullivan's To the Moon; to Bandit Films for Johnny Gogan's Prisoners of the Moon; to Underground Films for Kim Bartley's Pure Grit; to Gambit Pictures for Gary Lennon's Piano Dreams; and to Wildfire Films for Alan Gilsenan and John Gormley's Suds: The Father of Globalisation.
Four awards totalling €750,000 were offered to Creative Co-Productions. The largest of these was €250,000 to Port Pictures for writer/director Matthew Bissonette's Death of a Ladies Man. The film stars Irish actor Gabriel Byrne as a hard-drinking, womanising, university poetry professor, Antoine-Olivier Pilon (Mommy), and Brian Gleeson (Rebellion). The title is inspired by the work of Canadian musican Leonard Cohen and his 1977 album of the same name. Cohen was supportive of the project prior to his death in 2016, and his management continue that support.
€175,000 was awarded to Samson Films for Lina Luzyte's The Castle, which is currently filming in and around Dublin. Lithuanian Monika (15) and her mother are struggling musicians in Dublin when they're invited to play in a Galway Castle. To get money to go Monika kidnaps her Granny for ransom money. But what looked like a big break turns out to be a hotel dinner gig. Heartbroken, Monika plays – until finally realizes she needs no stage to shine.
€175,000 was also awarded to Gábor Rohonyi and Monika Mecs' Gingko, produced by Park Films. Based on real events that happened 17 years ago, the story will explore how one can move on following a tragic situation. Hungarian director Gábor Rohonyi said his film was inspired by a violent car accident: an Irish driver kills two Hungarian children on the road. The Hungarian parents and the driver's family meet only once, with their distinct calvaries forming the backbone of the screenplay. The film is a Hungary/Ireland co-production.
Parallel Film Productions (Brooklyn) received €150,000 for writer/director Philippe Falardeau's My Salinger Year. Based on the novel by Joanna Rakoff, it's the story of English literature student Joanna, who is hired by a publisher to answer the famous writer's fan mail.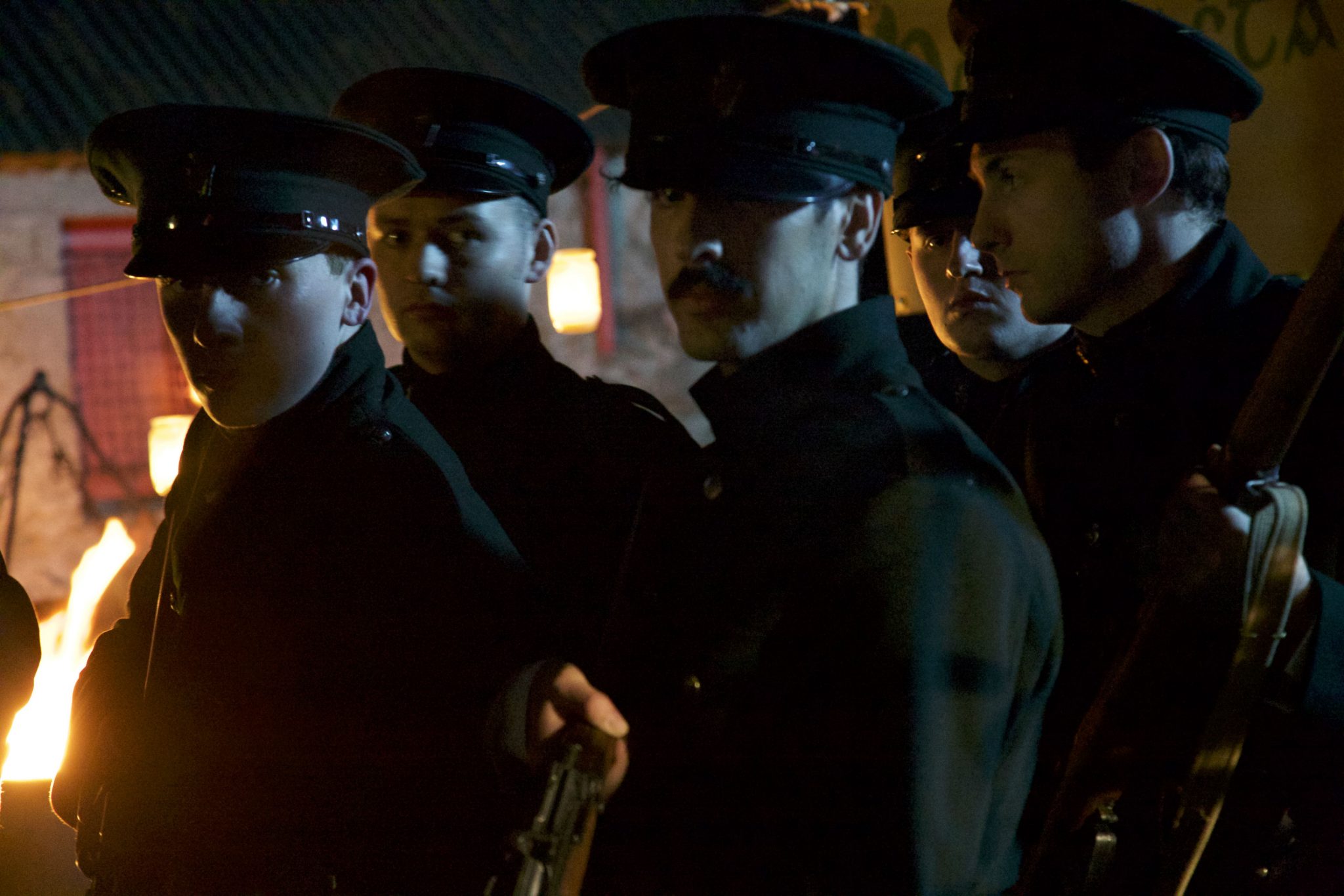 Additional Production funding of €9,375 was awarded to Tom Collins and De Facto Films for work on his feature Aithrí/Penance. The film sees Peter Coonan play Father Eoin O' Donnell, a young firebrand priest, who uses his influence over his parishioners, and in particular a teenage boy called Antaine, to promote violence against the British in the lead-up to the 1916 Rising. O'Donnell and Antaine meet again in Derry in 1969 where both men are forced to re-examine their shared past and the deadly events that have been set in motion as a result.
In Animation Production, Turnip & Duck were awarded €200,000 for Colm Tobin and Aidan O'Donovan's Critters.TV, a 15 episode series directed by Ian Benjamin Kenny, in association with Crossing The Line Productions.
Development Funding
The largest funding section (in terms of project numbers) in any round is Project Development, with 26 future fiction films sharing €520,350. Emer McLysaght and Sarah Breen's adaptation of their own novel Oh My God What A Complete Aisling was awarded €36,000 for producers Element Pictures. That book was itself adapted from the popular Facebook page 'Oh My God, What a Complete Aisling' and tells the story of the quintessential country girl in the big smoke.
Maudie director Aisling Walsh's next project, a Swedish/Irish co-production called Dr Glass, was offered €20,000. The film is based on the classic Swedish novel by Hjalmar Soderberg, and tells the story of Dr Glass, an introspective, stylish intellectual who shields himself from his life and his past with a cool and clinical veneer. His life and values are thrown into turmoil when he falls obsessively in love with Helga and finds himself at the heart of a complex and shifting moral and romantic dilemma. To be produced by Fantastic Films, Makar Productions and Solid Entertainment.
Rioghnach Ni Ghrioghair and 925 Productions were offered €12,550 to help adapt Ni Ghrioghair's short film NEON into a feature. The film sees a sacrificial population tasked with carving out a clean passage with neon lights between pockets of surviving civilisation. One 'runner' dares to race for her life against all the odds. NEON is a break-neck cyberpunk action sci-fi set in a future decaying world. The filmmakers have made the short available as a proof-of-concept for the feature (see above).
Good Favour and Mammal director Rebecca Daly's next film A High Place, co-written with frequent collaborator Glenn Montgomery, was awarded €33,500 for producers Sixty Six Pictures. Montgomery is also the writer on Fastnet Films' Midnight Choir, which was awarded €12,000. It will be directed by Mark Noonan (You're Ugly Too).
Director Frank Berry, recent winner of best film at the IFTA's for Michael Inside, was offered €30,000 for If You'll Have Me, to be produced by Subotica. Emer Reynolds, who most recently gave us the brilliant documentary The Farthest, returns to directing duties for Patashnik, which is written by Gavin Burke. The film was awarded €20,300 for producers Samson Films. Gavin Burke is also the writer on Tailored Films' Dead Cities, which was awarded €15,600.
Treasure Entertainment were awarded €26,500 to develop Sarah Francis and journalist Una Mullally's abortion drama Get The Boat. The film was previously offered Screenplay Development funding of €14,000 in Quarter 1 of 2017.
Three awards of €25,000 were made to Metropolitan Film Production for Juanita Wilson (Tomato Red)'s Right of the Boom; to Black Sheep Productions for Ailbhe Keogan (Run & Jump)'s Ping Pong; and to Ripple World Pictures for Clare Dowling and Hilary Reynolds' Nine Lives: The Book of Learning.
Song of Granite director Pat Collins was offered two awards for upcoming films, €22,400 for The Aran Islands, written by Collins, Eoghan MacGiolla Bhride and Sharon Whooley for Harvest Films; and €21,500 for That They May Face the Rising Sun, an adaptation of John McGahern's novel of the same name by Collins and Eamon Little for South Wind Blows. That film will tell the story of Joel and Kate Ruttledge, a London couple who move to rural Ireland in search of a different life.
Noble director Stephen Bradley was awarded €20,000 for The Safe, written by Owen O'Neill for Danman Films. Two recent Irish horror creative talents return, The Cured director David Freyne with Beards, awarded €18,550 for Tailored Films; and The Lodgers writer David Turpin with The Foundling, which was awarded €16,500 for Tailored Films. Turpins' Fifty Thousand Words was also awarded €13,250 for Kennedy Films.
Other awards went to Parallel Film Production and writer Conor MacNeill's The Laughter of Our Children (€20,000); Horizon Pictures and writer Orlagh Collins' No Filter (€19,500); Feline Films and writer/director Nathalie Biancheri's Wolf (€16,400); Black Sheep Production and writer/directors Ronan and Rob Burke (Standby)'s Hanging From The Rafters (€15,900); Savage Productions and writer/director Brendan Muldowney (Pilgrimage)'s House of the Dark One (€15,000); Tiger Darling Productions and writer/director Michael Kinirons (Strangerland)'s Blackbird (€14,000); and Samson Films and writer/director Margaret Corkery's Alice Wants an Ice Cream (€13,900).
In International TV Drama Development €29,850 was awarded to production company Black Sheep Productions (Standby) for ten-part period drama The Encounter, written by Marcus Fleming (An Klondike). €27,000 was also awarded to Underground Films (One Million Dubliners) for Famine Girls, written by Screen Star of Tomorrow Farah Abushwesha (The Last Photograph) and Oscar-nominee Naomi Sheridan (In America).
Older Than Ireland and The Irish Pub makers Atom Films were one of four companies awarded Documentary Development funding in this round, receiving €15,000 for director Alex Fegan's The Irish Wedding. Two further awards of €15,000 were made to Underground Films for Catherine Bainbridge's White Privilege AKA What's Up White People, written by Bainbridge and producer Rachel Lysaght; and to Coco Televison for Ruan Magan and Briona Nic Dhiarmada's From This Small Island.   Below the Radar Films were offered €8,325 for The Sheriff, written by Claire Burgoyne and to be directed by Grace Sweeney.
Two projects were awarded Animation Development funding, Pewter Animation's Lily's Little Acre, written by John Dawson; and Treehouse Republic's Atom Town, written by Colm Tobin (Brain Freeze) and Aidan O'Donovan, and to be directed by Graham Holbrook.
Distribution Funding
Two recent releases were awarded Distribution Support for their distributors: Element Pictures Distribution received €75,000 for Nora Twomey and Cartoon Saloon's The Breadwinner, written by Anita Doron and novelist Deborah Ellis; and Eclipse Pictures received €20,000 for Thaddeus O'Sullivan's part-fiction part-documentary Citizen Lane, written by Mark O'Halloran.
Direct Distribution funding of €15,000 was offered to Blinder Films for the forthcoming release of Sinead O'Shea's documentary A Mother Brings Her Son to be Shot.