Chris Weitz is returning to the family drama with A Better Life, and we get a poster to celebrate.
After two largely CGI filled movies in The Golden Compass and The Twilight Saga: New Moon, Weitz is going back to the type of movie that brought him success in the past. His adaptation of Nick Hornby's About a Boy was one of the better movies of the early 2000s, so this move is very welcome.
The movie tells the story of Carlos Galindo, and ordinary Mexican man who tends gardens for the rich of L.A. Wanting more for his son he works hard to better his situation, but when a business opportunity goes sour his life takes an unexpected turn.
Originally titled The Gardener, A Better Life stars Demian Bichir, of Ché and Weeds fame, alongside some less recognisable names such as Dolores Heredia and Carlos Linares. The movie does not have a release date as of yet, but with Weitz' pedigree that should only be a matter of time.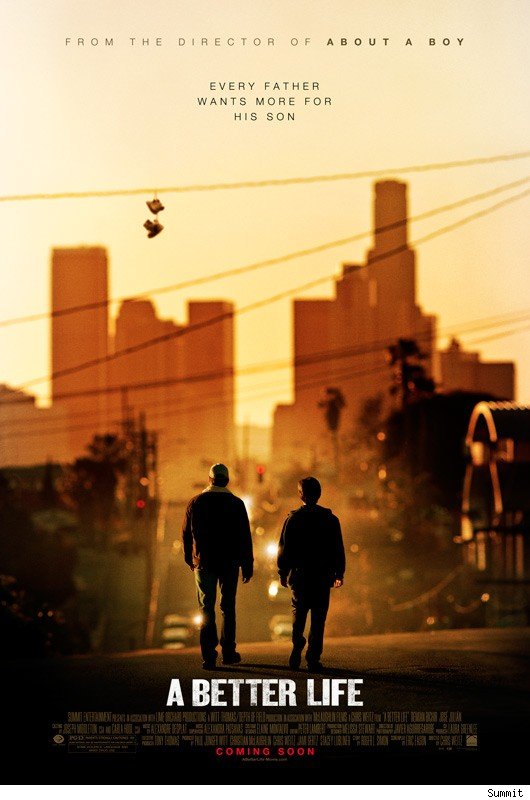 Synopsis:
Carlos Galindo (Demian Bichir), a simple, decent, 40-year-old Mexican man, doesn't ask much from life – just to keep tending the yards of L.A.'s wealthy and to give his estranged son  Luis (Jose Julian) a better life than he had. But when a business opportunity that would have allowed him to take control of his destiny is stolen from under his nose, his life is thrown into chaos. Directed by Academy Award nominee Chris Weitz, A Better Life is an original, moving and, at times, heart-pounding drama that follows father and son as they scour L.A. in search of a stolen pickup truck that represents their only chance of a better life and of healing the growing riff between them.

When Galindo's boss offers to sell him his pickup truck and gardening business, Galindo has no choice but to refuse – even though it will mean going back to begging for work on a street corner. He simply can't afford it. But when his sister Anita (Dolores Heredia) comes through with a last-minute loan, Galindo suddenly finds himself with a shot at the American Dream,. Not for long, though. On the first day of his new life, while he is high in a palm tree pruning fronds, hew newly hired helper, Santiago (Carlos Linares), makes off with the pickup – and with it, Galindo's shot at a better life for himself and Luis.

What follows is a colourful, often nail-biting odyssey as Galindo and Luis make their way across an urban landscape as full of surprises as it is diverse, piecing together clues as to the whereabouts of Santiago and the pickup. The stakes could not be higher: like the new green fronds on the palm trees Galindo prunes and so carefully leaves intact, Luis is extremely vulnerable – always in danger or falling into the gang-banger lifestyle that surrounds their East L.A. home. That's something that Galindo, "A Better Life," will do anything to prevent.