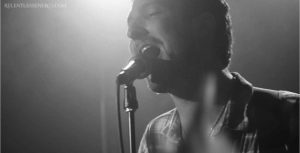 Some of my favourite films are documentaries. Every year around Oscar season, I always look at the various shortlists to check out which key non-fiction films I may have missed. I always find something insightful and interesting that I might not have otherwise seen. I'm also passionate about music, and as a result, am greatly drawn to music documentaries. There's so many great ones, it's hard to choose a favourite among the likes of The Last Waltz, Heart of Gold, No Direction Home, and even Anvil.
Now in its second year, the Relentless Energy Drink Short Stories competition has selected James Henry's film Frank Turner: The Road as its first film for 2011. Turner, was formerly in post-hardcore band the Million Dead, but has now struck out on his own as a solo musician. It's been difficult for Turner to go back to basics, and it is these challenges that James Henry beautifully presents in his 5 and a half minute film (which you can watch in full below).
Henry chose Turner as the focus for the film as "Frank had a great story to tell", and that it tied in superbly with Relentless's "No Half Measures" guideline for their Short Stories competition. Henry watched a lot of music documentaries in the lead up to making the film, and was particularly drawn to Gimme Shelter, among many other greats.
Amazingly, the film was written, recorded, edited, and compiled in just two months, and that quality is reflected in the final footage. Turner "enjoyed the process from start to finish, particularly filming the live performances." However, Turner was never distracted by Henry's camera, as there would be so many fans there filming it already. "Most of the footage of me performing is quite crap, recorded on mobile phones, and it's nice to have something in so great quality of my performances."
The film follows Turner on tour, and that nomadic sense, or lack of place can be seen throughout. "As a musician, as an artist, I'm based around touring and live shows, and the film encompasses that sense of being on the move," Turner said. The director and star are hopeful for the film, and want fans to gain something from having watched it. "Hopefully people come away from watching it feeling inspired and gaining an insight of the life of Frank Turner," admitted Henry. While Turner thinks it'll please both long-time followers of his music, as well as newer converts. "I think my fans are going to like it, I think it'll go down very well. It ticks a lot of boxes. I think it's very flattering. I think people who watch it, that may have only found my music, may be inspired themselves."
Both director and star describe the film in hugely positive ways, and you get the feeling that they really loved the project. They speak with a real sincerity, and the film itself is a true reflection on Turner's life on the road. "Everything he has written and recorded seems a genuine reflection on his life," Henry claimed. "It's all about real people. There's a truth there. It's not calculated. It's an expression. It's honest."
Frank Turner: The Road is exactly that. A perfectly honest take on the life of a hardworking musician. In that respect, it's probably closer to Anvil than Gimme Shelter, as Turner strives to get his music heard by the world. It's a fantastically insightful movie for just a short film, and is highly recommended.
Frank Turner: The Road is the first of five films that will be released by Relentless Energy Short Stories over the course of 2011. More information: Short Stories 2011.