Captain Underpants: The First Epic Movie is an unconventional comedy that perfectly encapsulates the freedom & joy of childhood.
Based on the best-selling books from author Dav Pilkey, Captain Underpants: The First Epic Movie is an animated comedy about two best friends who in an attempt to stop their principal from separating them forever transforms him into the greatest superhero of all time, Captain Underpants.
Everyone remembers those lazy, hazy days of youth where Summer lasted forever, days were brighter, and your best friends were with you until the bitter end. This is what makes Captain Underpants: The First Epic Movie such an absolute delight. The characters are charming, the setting is vibrant and lush with colour, and the comedy is strong even if it's massively juvenile.
The two leads of Captain Underpants: The First Epic Movie are Harold (Thomas Middleditch) and George (Kevin Hart) two best friends who bring joy to their whole school in the way of pranks they pull on the faculty. Their archenemy is in the oval shape of their principal Mr. Benjamin Krupp (Ed Helms) who rues every day as they wield their weapons of mischief. One day they go too far, and Krupp decides on the worst possible punishment he could inflict on them, separating them. The two lads freak out as they both fear their friendship will likely be lost if they're not together in the classroom. So with a magical hypno ring, George hypnotises Krupp into becoming a better man, a man with a sense of justice, a man who wears only underpants.
Captain Underpants: The First Epic Movie is an enjoyable film filled with memorable characters, genuine belly laughs and a magnetic rapport between its two lead characters. David Soren brings an incredible sense of wonder in this film. The relationship between George and Harold is just so charming and genuine that you can't help but feel that nostalgic pull to the simpler days when you were with your best friend making up stories and living in other worlds filled with adventure.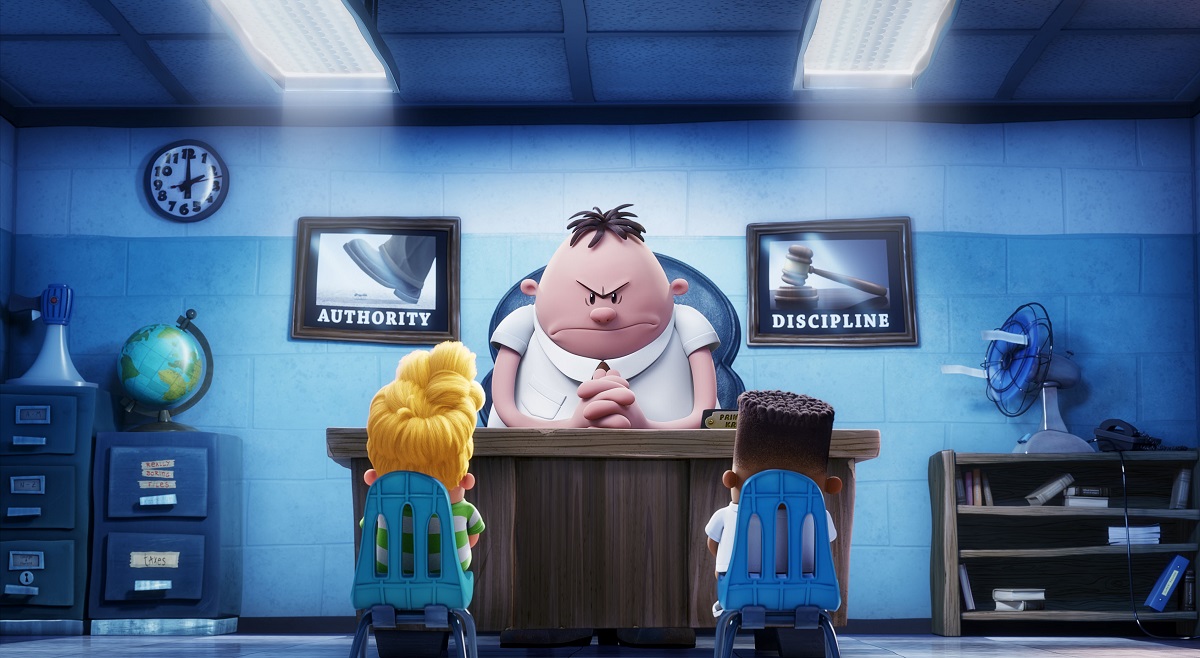 The rest of the cast are just as funny, Ed Helms as Mr. Krupps/Captain Underpants is adorable and as he shifts between the two personas, we get some ridiculous comedic moments that are perfectly executed thanks to the pitch perfect animation quality. This is another of the best elements of the film; the animation is of a very high quality. The film shifts between several different styles of animation and each one offers a fascinating new perspective on the story and the relationships within the story. There is a particular scene where Harold is telling a story about how they'll forget their friendship once they're separated, and he tells it through a sock puppet and the animation shifts to sock puppets, and it sucks you further into the film because this is a child's imagination.
If there are any issues with the movie, it's that it may not interest a certain age demographic, this is a movie for children, and if you find it funny, then that is a bonus because many of the jokes may not hit home with older audiences. This is the only problem as this film is aimed at children and it will engage children, help them learn about the relationships that make up their lives and not only that it teaches them to engage their imagination which is always a good thing.
Head out this weekend with your family, head along and see Captain Underpants: The First Epic Movie and relive those beautiful days of childhood with your little ones.