Irish boxing phenom Katie Taylor is the subject of award-winning documentarian Ross Whitaker's latest film, appropriately titled, Katie. On offer at the Galway Film Fleadh earlier this year, as part of last month's IFI Documentary Festival, and in general release this weeknd, Whitaker's take on this hometown girl's personal and professional struggles makes for a good story, and is quite powerful despite being very predictable to those of us who watched this story play out in Irish newspapers when it first happened.
Born and raised in Bray, Katie Taylor showed early signs off athleticism, and went on to box and play association football, Gaelic football, and camogie in primary and secondary schools, as well as being a member of the Bray Runners athletic club. Despite reportedly being offered athletic scholarships by some American schools, Taylor elected to attend UCD based on her academic and not her sporting achievements. But when her boxing career began to take off, she was forced to leave UCD before receiving her degree.
Through hard work and rigorous training with Peter Taylor (her father, and also her trainer), Katie rose up through the amateur boxing ranks at a time when women's boxing was little known, and even less respected. In fact, it's largely due to Taylor's gold medal victory in the 2012 Olympic Games in London that women's boxing began to enjoy some notoriety. Not only was London 2012 the first time that women's boxing was a part of the Olympic games, but Taylor's win was Ireland's first ever Olympic gold medal.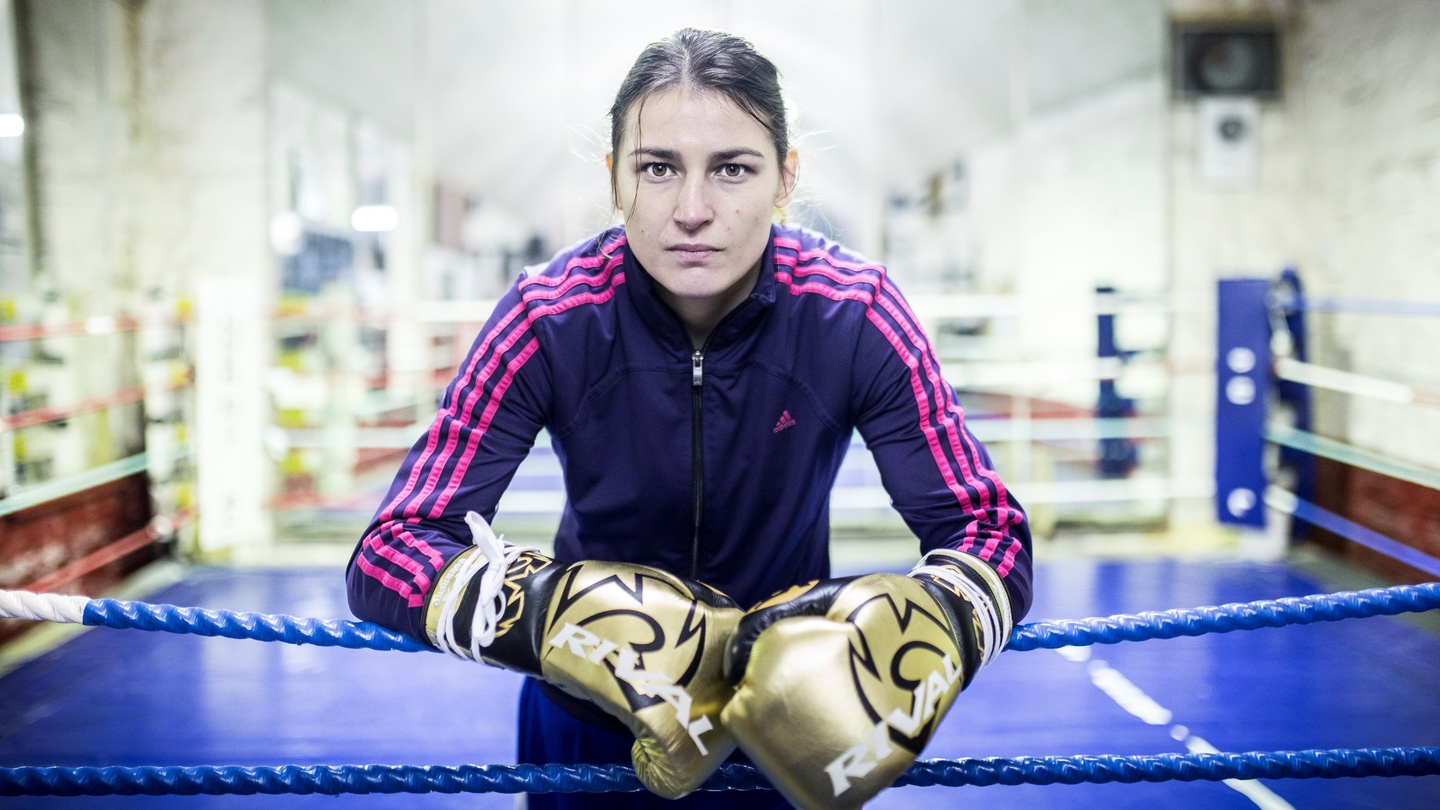 Post-Olympics, Taylor's career went through a four-year series of ups and downs, resulting in a disappointing quarter finals defeat in the 2016 Olympic Games in Rio. Later that year she turned pro, and has enjoyed a 10-0 record, and what appears to be a renewed personal and professional vigor. Katie Taylor's story is definitely one worth telling, as it, so far, appears to have a Hollywood ending.
Whitaker's documentary takes viewers from Katie's earliest days in Bray, through her rise in women's amateur boxing, her two Olympic appearances, her move to the United States, and into her professional boxing career. Whitaker shows particular tact and sensitivity by not prying too deeply into the prurient details of her agonizing split with her father/trainer. That moment in time was famously (and shamelessly) played out in the pages of the Irish broadsheets. It was a time that saw Taylor on the ropes both personally and professionally. During this time, she elected to focus on her boxing, and moved to America, away from her remaining family support members. Still quite young, she grappled with living on her own for the first time, training with someone other than her father, a fading amateur career, and the need to make a living. But, as always, she rose to meet those challenges.
Fortunately for boxing fans, and, most of all, for Katie herself, hard work and persistence paid off. Taylor's rise in professional boxing has made her a darling of HBO Sports, and seen her hold multiple boxing titles. She's currently (Oct. 2018) the reigning world champion, possessing both the WBA and IBF women's lightweight belts.
In the end, Whitaker's film is a steady, reliable, no frills account of Taylor's life and career. The film is inspiring, not so much as a film, but as a tale of human strength and resilience.