Spider-Man: Far from Home is an enjoyable movie, but not quite as charming as the character and cast deserve,
Spider-Man: Far From Home is the next step in Peter Parker's formative years as a superhero & the final film of Phase 3 of the MCU.
Starring Tom Holland as Spider-Man/Peter Parker with much of the returning cast of Spider-Man: Homecoming this latest outing sees Peter trying to keep his feet on the ground after the Earth-shattering events of Avengers: Endgame.
All Peter wants to do is travel Europe on his science trip with his bestie Ned (Jacob Batalon) and maybe, just maybe tell MJ (Zendaya) his true feelings for her. Unfortunately, Peter is conscripted by newly returned Nick Fury (Samuel L. Jackson) to fight in a battle against interdimensional elementals. Helping in this new quest is the mysterious Quentin Beck (Jake Gyllenhaal) a new hero for a post "Blip" world (this is the phrase people who've returned give to Thanos' "Snap").
Spider-Man: Far From Home is an interesting film. It has the unenviable task to follow up Endgame and that's a lot of pressure for one film, its cast, and its director. Jon Watts returns with a story about a Peter Parker who doesn't know if he wants to evolve from friendly neighbourhood to world saviour and it's a story that's been told in the comics and is quite a fascinating narrative angle to choose.
Unfortunately, Watts and his cast are more interested in traipsing around in their own version of EuroTrip than to truly embrace this pressure that Peter is dealing with.
For the first third of this film, I was bored. There were few high swinging escapades, it was mainly Peter trying to get alone time with MJ who he has miraculously fallen in love with since the events of Homecoming. There's no reason given nor is there a reason how it happened but Peter is completely smitten with MJ and it's his primary goal to give her a meaningful gift in Paris. While this is all going on he is ducking and dodging his class so he can receive secret missions on the elementals from Beck and Fury.
The superhero stuff at times feels more like an afterthought with the director and the story wanting to deal with Peter's relationship misadventures rather than the villainous threat.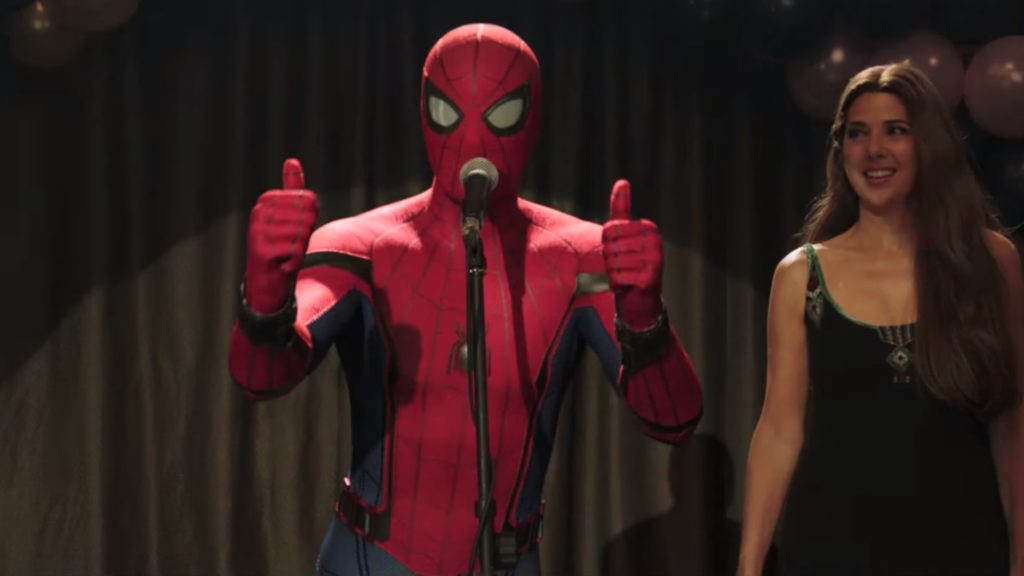 On the topic of the villainous threat – the elementals are a well-designed bunch but that's it. They're boss battles that Peter has to pass and nothing more. Having Beck show up with his Doctor Strange-esque abilities adds more flair to the fights but that's it. The quality of the action does rise when the second half of Spider-Man: Far From Home hits but it's an evolution, not an innovation so it's nothing particularly remarkable.
There is one major highlight in the film. There is this one fight late into the film which was visually sumptuous and full of that cinematic magic you hope for in a blockbuster superhero film. It puts Peter's skills to full use as well as show off how mindboggling some of his rogue's galleries abilities can be. If only it was in the entirety of the film. Couple that with an incredibly energetic score which perfectly personifies the youth of the character and there is a giddy sort of energy that is infectious especially towards the climax of the film.
Spider-Man: Homecoming was celebrated for its cast and their wonderful dynamic. With Spider-Man: Far From Home the cast feel more set in their roles and with that comes a sense of complacency with some of the characters. One or two of the characters even come across as clichéd due to them not seemingly have evolved from their previous adventure. The worst examples of this are Ned and Betty (Angourie Rice).
In this film their relationship dynamic changes and for the entire film they have the same schtick and its cringe-inducing. Between them and returning teachers Mr. Harrington (Martin Starr) and Mr. Dell (J.B. Smoove) who give painfully unfunny performances Spider-Man: Far From Home is missing a certain kind of charm that comes from compelling dialogue.
Luckily Gyllenhaal is a welcome addition to Spidey's web and he brings eccentricities to the role that are fascinating to watch. His role in Spider-Man: Far From Home will have people buzzing as his presence has implications for the wallcrawler and all those around him.
I enjoyed Spider-Man: Far From Home for all its trappings and issues. There is something so charming about the character of Peter Parker and once again Holland embodies that. Sadly this is not the film that should have closed the book on the Infinity Saga and Phase 3 of the MCU.