As the Jameson Dublin International Film Festival is in full swing around the city the  Scannain has been out and about taking to the actors and directors on the red carpet. Last Saturday was the Irish premiere of Northern Irish director Kenneth Branagh's live-action fairytale Cinderella, and the man himself was in town to talk about his film and pick up a Volta Award.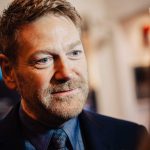 Kenneth, with the kind of extravagance that's in Cinderella what visually was your favourite scene to bring from the animation to live action?
Two things, the rush out of the palace at midnight. I was so excited for that scene, it must have taken me nine, ten months to storyboard. As well as that I wanted some parts visual effects and others live action. I was just excited to get the fun out of that. Then of course there was the ballroom scene, with all its spectacle, the extravagant dancing and the like, but also the smaller things like Kit putting his hand on the small of her back and letting the audience feel her exhilaration at this.
This story has been around for years have you modernised it in any sort of way?
There's a classical frame for it , it is live action not animation but at the core of it, the modernisation of the contemporary qualities are to do with the character Cinderella and getting to know her and her family, where she comes from, in a house filled with curiosities, books and animals. It's about a girl who wants to get to know someone before she gets into an arranged marriage type situation, so psychologically it is very now.
Was it always going to be Lily James because she's a very fierce individual in Downton Abbey?
She's passionate, strong and she has delicacy and she can seem a little fragile but she's a warm hearted, warm spirited type of girl.
Would you say she's a feminist?
She is, she's an empowered woman who speaks up for herself and she's kind and she's generous.
Now Kenneth you recently said in an interview that you're not done with Marvel, that you'd love to come back and do another film, after all you brought Thor to the big screen. Who or what would you like to bring next?
Funnily enough I didn't actually say I'd come back and do another one, but I loved doing the movie I did and of course the phenomenon of the Marvel Universe is really the scope. If they asked me back I'd love to, but so far nothing specific.
The Jameson Dublin International Film Festival continues until Sunday March 29th. Tickets and more information can be found on the festival website.