As the Jameson Dublin International Film Festival is in full swing around the city the  Scannain has been out and about taking to the actors and directors on the red carpet. Last Sunday was the Irish premiere of Gren Wells' directoral debut, the heart-warming The Road Within, starring Laois native Robert Sheehan.
Gren Wells
So Gren how difficult was it to cast Vincent and Alex, to actually get Zoe and the rest of the cast together?
So, I met with almost every young actor in Hollywood short of a couple huge names which I will not say right now just because their agents wouldn't let me without an offer and I didn't know if they could tick and so I wasn't about to rest my career on someone if I didn't know they could tick and Robbie (Sheehan) was someone I was following for a while but we were originally supposed to shoot in the Fall of 2012 and I couldn't find the guy and so I went to them in October and I said we got to push because I can't find Vincent and without a Vincent we don't have a movie. Then on November 16th Robbie Sheehan walked in the door and I remember that day because I remember saying we found our Vincent.
You were saying there that you needed someone who could tick and it can be portrayed some times in film as a humour element, how difficult was it to balance the real aspects of Tourette syndrome?
Well I didn't ask anyone to come in with ticking, no one should have that in their back-pocket, they shouldn't be like oh by the way I can do Tourettes. What I was looking for was an energy level and Robbie is very hyper and it worked out perfectly, just working with him I had a young man named Jackson Kramer who actually has Tourettes and that's how he started learning. It was very organic and it wasn't anything like show me your best Tourettes.
Another important character is Robert Patrick's character, the father because the father son story is so important. Did it take a long time to find Robert because he's a very prolific actor and brings a certain intensity to the role, so did you want that for Vincent's dad?
I did, he was working a lot so it was very hard to get him but we finally did and he was a pleasure to work with.
With Zoe's character there is a certain level of physicality to it so how difficult was it to bring that on to the screen?
Very difficult, she lost twenty pounds. We did it safely or as safely as can be with a dietician and a nutritionist, but she was starving and self admittedly cranky. Everyone was having lunch and she was drinking clay so it wasn't fun for her. She said it herself it was not a pleasurable experience but she loved the end product(the movie) so yes it was hard.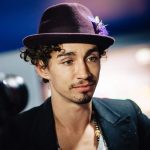 Robert Sheehan
So Robert with Vincent, how difficult was it to do the ticks without going over to that humours side of it which a lot of films do unfortunately?
 I think it was very much in the writing of it, you never got so from the page that there was a sense of laughing at, always laughing along with because the script was so strong. At the point when one character is laughing at Vincent for ticking or for not ticking then the audience are with them so it's not malevolent or anything. I think that's where it really came from.
I have to say some of the most intense scenes are with Robert Patrick, what was it like working with Robert Patrick , the Terminator?
It was kind of one part lovely two parts scary and I did that weird fanboy thing where I went, I just want to get this out of the way you are my favourite killer robot of all time and I expected a bigger reaction but he wasn't really fussed about my glowing review.
So what was it like working with Dev (Patel) and Zoe (Kravitz) who are in that same kind of place you are?
It was great, it was lovely. I think myself and Dev share a similar energy. We're both kind of springer spaniels and these two parts cater for that, also there was Zoe's energy level because she lost so much weight, so she went down to about ninety pounds so all the energies kind of balanced each other strangely. It worked quite nice.
So do you enjoy bringing films back to Ireland?
Yeah, yeah it's lovely. I was delighted to hear about Dublin Film Festival. I've been coming to this for years, trying to sneak into screenings but yeah it's really nice. Makes me very proud.
The Jameson Dublin International Film Festival continues until Sunday March 29th. Tickets and more information can be found on the festival website.