This Sunday (August 31st) sees the Eoin Colfer penned and Filmbase produced Poison Pen hit Dublin screens, in a special Ireland On Sunday screening at the Irish Film Institute.
The film follows washed-up author PC Molloy who is forced to write for April Devereaux's gossip magazine Poison Pen. He becomes caught up in a world of stars and their secrets and is soon in danger of becoming a celebrity himself. With the spotlight turning to Molloy, he struggles to keep his own secrets off the front page.
The romantic comedy stars Lochlann O Mearain (The O'Briens) alongside Aoibhinn McGinnity (Love/Hate) in the leading roles. Lauryn Canny (A Thousand Times Goodnight, Amber), Susan Loughnane (The Food Guide To Love, Love/Hate), Paul Ronan (One Hundred Mornings), Aaron Heffernan (Obama Mia, Love/Rosie) , and Mary Murray (Magdalene Sisters) come together as the supporting cast.
Tickets are onsale on the IFI website, and at the book-office. The film screens at 6pm.
Scannain was lucky enough to speak with the two leads in the film Aoibhinn McGinnity and Lochlann O Mearain.
---
How did you get involved with the film?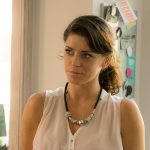 Aoibhinn: My agent sent me the script, and I just really liked it. I thought it was really funny and quirky, and I just loved how much balls all of the team had for it to be independent. It needed that fire behind it, so that it could get going, because these things are so hard. It's such a big project being a feature, it's not even a short. Everybody had so much determination, and they had really high ambition, and I really liked that attitude from the start. And then when I heard all of the names attached as well, that really helped me choose to do it. I  knew them, I knew their faces, as well as knowing some of them personally. Then I had a meeting with them. I liked the concept of three different directors, because it means that it can't go stale. It keeps things fresh, giving it a new lease of life every week, or second week, when they changed over directors. I felt that was really interesting, and it worked really well. Really it was the ambition that I was so drawn too. That and having a script that was so funny.
It's a change of direction from the TV and stage work that you've been doing recently…
That's very true. I mean everything is different. You can't really compare. Every job is just so different. And that is why I'm drawn to this industry. Not even two days are the same. But it definitely helped as well.
You play April Devereux, the editor of the titular magazine, tell us a bit about her?
She's a really strong business woman, in charge of this magazine. And  PC Molloy sees this [job that he's forced to take] as below him. We see her character evolve through their relationship, and we see her soften day to day. He thinks this whole idea of working for a gossip magazine as below him. But eventually she gets him involved and he starts to enjoy it, and then they accidentally fall in love. And then we get to see her other side. It's not that she's scary or bitchy or anything, it's just that she has authority and she knows how to use it. She's just good at her job, which is a bit intimidating and frightening to him. So they don't really get on really well [to start with]. We see her and him both soften.
Did you study any female editors to get into the role?
 Not really. It's all in the script. It's all in the lines. She's well written with regards to what she would do. We were blessed to get to film at the Image offices, and to use the actual editor's desk and room, which was stunning. It was exactly the way I would imagine someone with this much power to be working. It was really girly, beautiful, and really well run and efficient.  Whenever a set it that good it's great. It helps you get into the headspace that you need to be in.
What was it liking working with Lochlainn? 
It was great. It went really well. He is gas.He's really lovely and it was very easy to get on with him. We actually just met on set., just when we had to shoot a scene where we had fallen in love. So it was straight in no messing. Which was good, as it was better not to over think it. There was no kind of awkwardness. 
And how about the rest of the cast? You have Lauryn Canny in this….
She's gorgeous. I think she's going to be huge. She's absolutely stunning and she's so talented, and she's so young! She had her mom there with her and she's just got a really great head on her shoulders. That was a pleasure.
Poison Pen is your first leading role in a film. Is that something you'd like to do more of?
Of course, but it's hard. There's so few female roles in things, but whenever there is one with some sort of arc at all it's always something you want to do. And with so few strong females in film whenever you get one you have to put your heart and soul into it. Despite playing a strong woman previously with April you get to see her softer side too.
Poison Pen crowd-funded to get its production budget. What was filming like on such a tight budget?
Well it's set in London, and it was like "How can we get to London?". They just made it happen, they just wouldn't see any obstacle as being relevant at all. So we just ended up filming bits in London that I feel really help to bring the film up and up and up. It just made it feel more realistic.
The film is an eco friendly production. How did that work on set?
Well we had no scripts on set. No printed pages of any kind. So we had to know our role through. We also had one of those electric cars.
---
How did you get involved in Poision Pen?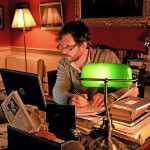 Lochlann:  I got involved at the 11th hour really. I got a phone-call from one of the producers. Which is normally the way for low budget things as they want to get their point across, to try and persuade you. They asked just to read the script. Which I did, whilst waiting in the maternity ward with my wife expecting our fourth. So I was sitting in there giggling away, thinking there's not a chance in the world that I'd be able to head off in about a week to go do this. But my wife organised it all and told me to go off and do it, because it was the kind of script that I had been waiting for. A chance to play a comic lead. It's something that I always wanted to do, and I don't really get that chance too much. You had decent likeable characters, and it was a rounded script with good plot and a moral story. And a definite ending as well. It was all there. Reading between the lines it was all there. The clash of the tweed and the synthetic fibres to a certain degree. I felt great humour in that, and I'm hoping that it comes across in the film. As well as trying to be truthful to everything, to be believable.
The film is a love story at its heart….
It's definitely a love story at its heart, so it's hard not to play love, if you're doing romance, it's hard not to play it corny. How do you play love funny? It's kind of a fine line there, but luckily we had three directors to discuss everything with us so there was no stone left unturned. It was extremely helpful to have three directors.
Had you come across the multiple director approach before?
Not on one script. On TV you could have 6 scripts and probably 3 directors that you would be shooting at the same time, but not on one story. They did split it up, with different scenes location-wise. So it was one director per day, but you still had the luxury of consulting with three minds. So that was very good.
Is it hard to get a singularity of vision with three people?
There was a lot of chatting to get to the singular vision. Each had their one technique, their own style, and the way that they move a camera to tell a joke. One director would leave a lot up to me to find the humour in it, and then anther director would have the honour worked out in the camera move. So we didn't have to do very much in certain scenes. It kept me on my toes. As you move through the story you can probably evidence the style of each. The whole crew worked very hard. They knew they were under a deadline. And they got it done. Somebody asked me beforehand, about working on this with slightly inexperience people, but when I look back through all the great directors and filmmakers their early stuff is generally their best. I don't know about actors. They don't generally get better. They can do, but often they breakthrough with a great role in one film and then they have difficulty matching that. Like the first album almost.
What was it like working on a film with a green focus?
It was hard to get a script! People were just plugging into their iPads, etc. and checking it there, but there was no printing, no massive waste of paper. You had one script and you looked after it. I quite enjoyed the whole green thing, even the little electric car. It was a lot of technology as opposed to paper. There were no disposable cups. You were allocated a cup at the start, and you were asked to recycle if possible. When I think about it now the amount of waste that goes into films. The footprint of a movie is just phenomenal, the locations, the crew and cast driving her and there, and god knows what it takes to build a set as well. And then it's just gone.
How do you think the film will be received?
Well it's already been picked up for a number of festivals so they should be extremely proud of what they've achieved. They worked really hard and they just didn't give up. It will be put to the test and it won't be treated with kid gloves as a student film when it gets out into the main. It's not going to get special student film treatment, but it'll be open to the public soon and then we'll see.
---
Eoin Colfer attained worldwide recognition in 2001, when the first book in his Artemis Fowl series was published. To date more than half of his books have reached the New York Times Bestsellers list at least once.
Poison Pen was produced by the participants on the Filmbase/Staffordshire University MSc in Digital Feature Film Production and was filmed in Dublin before transferring to London to complete the project.