Irish co-produced horror Nails, from writer/director Denis Bartok, will have its international premiere playing in the Méliès Competition at the 35th Brussels International Fantastic Film Festival (BIFFF). Liam Gavin's Irish co-produced horror A Dark Song will enjoy its Belgian premiere at the festival, playing as part of the International Competition. BIFFF runs April 4th to 16th in the Belgian capital.
Nails follows the story of Dana Milgrom, a track coach who, having survived a near-death car accident, finds herself completely paralysed and trapped inside her own body. While recovering, she becomes convinced that an evil presence, the titular Nails, exists inside her hospital room and is intent on killing her.  Believing her to be experiencing a mental breakdown, Dana's family brush away her concerns.  Becoming increasingly terrified, Dana soon realises that she may not be the only target.  Unable to leave her bed, she risks losing the ones she cares for most. Descent star Shauna Macdonald plays Dana, alongside British comedian Ross Noble (Stitches), Steve Wall (of Irish band The Stunning), Leah McNamara, and Richard Foster-King as Nails.
Bartok (producer of anthology horror Trapped Ashes) directs from his own script, which was co-written with Tom Abrams. Cinematography is by James Mather (Frank), with music by longtime Gary Numan collaborator Ade Fenton. The film has the support of the Irish Film Board, with Brendan McCarthy and John McDonnell producing for Dublin-based Fantastic Films along with Jan Doense and Herman Slagter of The Netherlands-based, genre-specific Netherhorror. Nails had its world premiere at the Audi Dublin International Film Festival on February 20th, and will be released in Ireland later this year.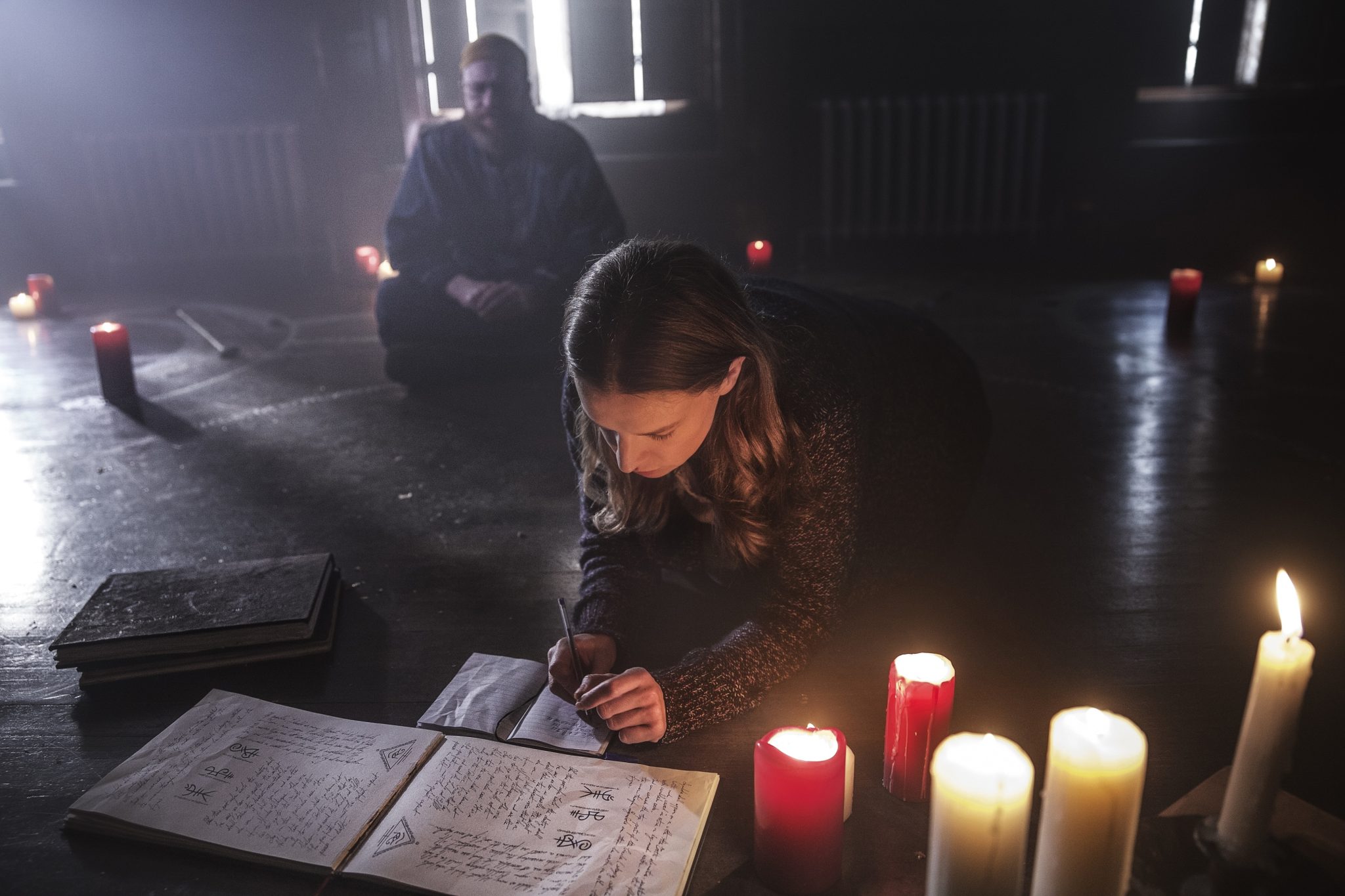 Liam Gavin's feature debut A Dark Song follows Sophia, a young woman who insists on renting an old house in the remote countryside so that she can hire an occultist. She needs him to perform an ancient invocation ritual, the Abramelin, to summon up Sophia's Guardian Angel so her wish can be granted. She wishes to talk to her murdered child, a desire that consumes her.
A Dark Song features Patrick's Day-star Catherine Walker in the lead, with Sightseers' Steve Oram as the occultist hired in to help her. Frank star Mark Huberman and Poison Pen's Susan Loughnane offer strong support. It was filmed in locations around Dublin and Wicklow in the summer of 2015. Viva cinematographer Cathal Watters shot the film, with Connor Dennison as production designer. Bowsie Workshop assisted on the practical effects. Post-production took place at Windmill Lane Pictures with editor Anna Maria O'Flanagan and Patrick's Day composer Ray Harman. David Collins and Cormac Fox produce for Samson Films, with Tim Dennison producing for UK production company Tall Man Films. Funding comes via the Irish Film Board/Bord Scannán na hÉireann and Ffilm Cymru Wales.
Each year, the BIFFF welcomes more than 60 000 spectators and invites more than 100 international guests, making it one of Europe's leading film festivals. BIFFF is one of the founding members of the European Fantastic Film Festivals Federation, a tightly knit network of 22 film festivals from 16 countries, with a global attendance of over 450 000 visitors, making it a vital economic and cultural player on the fantastic film scene.