The Edinburgh International Film Festival (EIFF) celebrates its 70th anniversary this year and has announced the line-up of films that will play as part of the 2016 Festival programme. The programme includes 161 features from 46 countries, including 10 features from Ireland.
As previously covered the festival will feature the world premiere of Niall McCann's Irish/Scottish co-production Lost in France. The film is a documentary that explores the rise of Glasgow's independent music scene from the 1990's to present day. Focusing on record label Chemikal Underground and bands such as Mogwai, Franz Ferdinand and The Delgados; the film will revisit a defining, chaotic tour early in their careers. A journey from the present to the past. And back again. Nicky Gogan produced the film for Still Films in Ireland, with Paul Welsh of Edge City Films in Scotland.
Lost in France will be joined by UK premieres for Michael Lennox' Northern Irish drama A Patch of Fog, Simon Dixon's Irish/UK thriller Tiger Raid, Paddy Breathnach's Cuban-set Spanish-language drama Viva, Fiona Tan's Irish/Dutch/German science-fiction drama History's Future, Rebecca Daly's Irish/Dutch/Luxembourg drama Mammal, Simon Fitzmaurice's heart-warming road-trip film My Name is Emily, Nils Gaup's Irish/Norwegian co-production The Last King, and Philip John's irish/Scottish co-production Moon Dogs.  There will also be screenings of Ken Wardrop's IFTA-winning documentary Mom & Me, and horror anthology film Holidays, which features a section directed by Gary Shore. The festival will also feature Bigger Than The Shining, an experimentmental film by Belfast director Mark Cousins. The film premiered at the Rotterdam Film Festival earlier this year, so this is only the second time it has ever been screened. It plays with the idea of premonition in movie history, and also looks at male rage. Mark Cousins will be on hand to discuss Bigger Than The Shining.
A Patch of Fog is a psychological thriller about a celebrated novelist and television personality who finds his reputation on the line and his life invaded by a lonely security guard when caught shoplifting. The film stars Stephen Graham (Get Santa), Conleth Hill (Salmon Fishing in the Yemen), Arsher Ali (Four Lions), and Ian McElhinney (Leap Year). A Patch of Fog is the feature debut of Lennox, who was Academy Award nominated for his short film Boogaloo and Graham last year. The screenplay,  by Michael McCartney and John Cairns, was developed through Northern Ireland Screen's New Talent Focus scheme. Robert Jones (The Hooligan Factory), Wayne Marc Godfrey (The Anomaly), and David Gilbery (X Moor) produce, with funding from the UK's The Fyzz Facility, the Northern Ireland Screen Fund supported by Invest NI and part funded by the European Regional Development Fund, and the British Film Institute.
Tiger Raid, which stars Brian Gleeson (The Stag, Standby) and Damien Molony (Clean Break), is a dark thriller featuring two mercenaries who journey across the desert while undertaking a kidnapping in Iraq. The film is adapted by Gareth Coulam Evans and Mick Donnellan from Irish writer Mick Donnellan's acclaimed play of the same name. It was produced by Dublin-based Samson Films and London's Story Films with support from Bord Scannán na hÉireann/the Irish Film Board.
The Last King is set in medieval Norway and sees two warriors trek across snow-capped mountains to bring the last remaining heir to the throne to safety. Oscar-nominated director Nils Gaup (Pathfinder) directs Jakob Oftebro (Kon-Tiki) and Kristofer Hivju (Game of Thrones), with Thorbjorn Harr (Vikings) and Pal Sverre Hagen (Kon-Tiki) co-starring. Lesley McKimm co-produces for Irish based Newgrange Pictures (My Name is Emily), with Stein B. Kvae and Finn Gjerdrum producing for Norway's Paradox Film 3 AS. The film is also co-produced by Nordisk Film and Proton Cinema+Theatre with funding from Norwegian Film Institute, Irish Film Board/Bord Scannán na hÉireann, and Eurimages.
Viva is the story of Jesus, a young man growing up in Havana, who works as a hair and make-up artist for drag acts. His secret desire is to perform on stage, but he must choose between pursuing his dream and reconnecting with his father, who is newly released from prison. The film, which is written by Irish actor and screenwriter Mark O'Halloran (Adam & Paul), stars Cuban actors Jorge Perugorría, Luis Alberto García and Héctor Medina. Director of Photography Cathal Watters (One Million Dubliners) won the IFTA for his work on the film, which also features the talents of Production Designer Paki Smith, who reunites with Breathnach having previously worked together on Man About Dog. Rebecca O'Flanagan and Rob Walpole produce for Treasure Entertainment, with funding from the Irish Film Board, Windmill Lane Pictures, RTÉ, and Treasure Entertainment. Nelson Navarro Navarro from Island Films in Cuba co-produced, with legendary actor Benecio Del Toro as acting as executive producer.
History's Future, from director and artist Fiona Tan, was co-written with film critic Jonathan Romney. It stars Irish actor and writer Mark O'Halloran (Adam & Paul) in the leading role, alongside Denis Lavant (Holy Motors), Johanna ter Steege (Spoorloos), and fellow Irishman Brian Gleeson (Standby). History's Future fuses fiction and documentary into a visual essay charting an amnesiac's odyssey into regaining memory via a Europe in turmoil. By the time his journey ends, MP (O'Halloran) has learned to survive, newly armed with an understanding of how we live today. History's Future is produced by Cormac Fox for Irish based Vico Films, Floor Onrust for the Dutch based FamilyAffair Films, and Benny Drechsel for Germany's RohFilm. It is financed with the assistance of Bord Scannán na hÉireann/the Irish Film Board, Netherlands Film Fund, Mondriaan Fund, Mitteldeutsche Medienforderung, Fonds 21, MEDIA, Amsterdam Fund for the Arts, Dommering Foundation, and the Ellipsis Foundation.
Directed by Ken Wardrop (His & Hers), Mom and Me is a creative documentary that delicately challenges the familiar love story shared between a son and his mother. It is a story that reveals comedy in the everyday and misery on some other days. Mom and Me is the second feature documentary from Irish filmmaker Ken Wardrop. His debut film His & Hers was both a critical and box office success in Ireland. The film had its World Premiere at the Sundance Film Festival, where it received the World Cinematography Award. His short documentaries have garnered awards across the world including a European Film Academy award for his documentary Undressing My Mother. Mom and Me was made with support from Bord Scannán na hÉireann/the Irish Film Board. The film's worldwide distribution rights, excluding Ireland, have been acquired by Visit Films.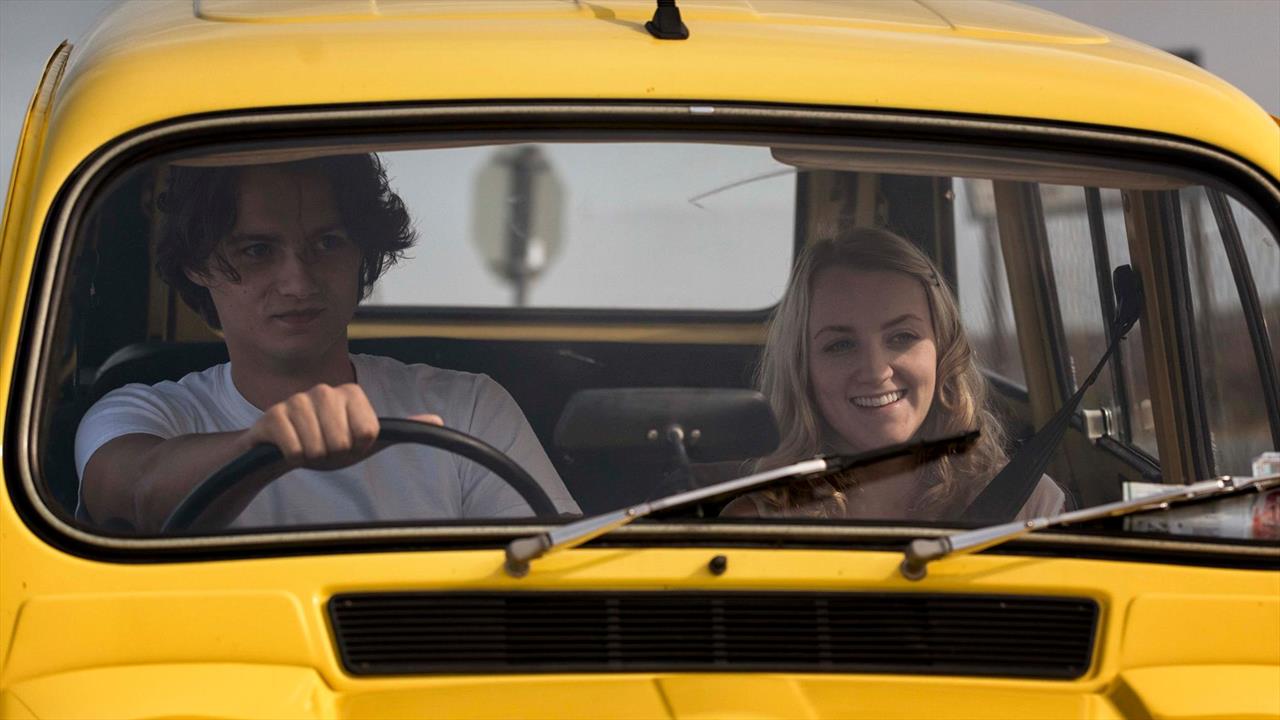 My Name is Emily is love story between two teens and a road movie. On her 16th birthday, Emily escapes from her foster home and with the help of Arden, the boy who loves her, she sets out to find her father Robert, a visionary writer locked up in a psychiatric institution. The film is written and directed by Simon Fitzmaurice, who was diagnosed with Motor Neuron Disease (ALS) in 2008. Now totally incapacitated, Simon typed the script and communicated to his cast and crew solely through the movement of his eyes and iris recognition software. Evanna Lynch stars in the lead role Evanna Lynch (Harry Potter), support from acclaimed Irish actor Michael Smiley (Kill List, A Field in England) as her father Robert, and newcomer George Webster as Arden. The film was shot entirely in Ireland and premiered at the Galway Film Fleadh, where it won the Best Cinematography Award along with Bingham Ray New Talent award for producer Kathryn Kennedy. My Name is Emily is produced by Irish companies Newgrange Pictures and Kennedy Films, the main financier being the Irish Film Board, with other finance from BAI, TV3 and the Irish tax incentive. The film was co-produced with Garagefilm International, Film Väst and Chimney Pot in Sweden and with support from SVT and with Paradox in Norway.
The second feature from Rebecca Daly (The Other Side of Sleep), Mammal is a tightly focused exploration of the troubling bond formed between two damaged people. Margaret (Rachel Griffiths) lives a determinedly quiet life in Dublin with little social life save for solitary trips to the local swimming pool. Her self-imposed isolation ends when she receives a phone call from ex-husband Matt (Michael McElhattan) telling her the son she abandoned in infancy, now a teenager, has gone missing, news which coincides with her decision to give shelter to Joe (Barry Keoghan), a homeless boy she finds beaten up outside her house. As Margaret's relationship with Joe grows more intimate it becomes uncertain whether her attraction to the boy is that of a surrogate son or a potential lover. Written by Rebecca Daly and Glenn Montgomery, the film is produced by Macdara Kelleher for Fastnet Films (Strangerland, Kisses, The Other Side of Sleep) with co-producers Calach Films in Luxembourg and Rinkel Film in The Netherlands. The film was funded by Bord Scannán na hEireann / the Irish Film Board (IFB), Luxembourg Film Fund, BAI, TV3, the Dutch Film Fund and the Dutch Production incentive.
Moon Dogs is a coming-of-age road trip story that follows Michael (Jack Parry Jones) and his step brother Thor (Christy O'Donnell) on an epic road trip south from Scotland, meeting Irish free spirit Caitlin'(Tara Lee) along the way, whose charms lead to them both falling in love with her. Moon Dogs is a Scottish-Irish co-production with Kathy Speirs of Up Helly Aa Limited, and directed by BAFTA nominated director Philip John (Being Human, Downton Abbey), written by Scottish duo Raymond Friel and Derek Boyle. The film was edited by Irish editor Tony Kearns, with all picture, sound post production and VFX taking place at EGG Post Production in Dublin. Moon Dogs is funded by the Irish Film Board, Creative Scotland, Ffilm Cymru Wales, and the Irish and UK Producer tax credits.
The 70th Edinburgh International Film Festival runs June 15th to 26th.