The 27th Galway Film Fleadh, one of Ireland's leading film festivals, ended today (July 12th) with the annual award ceremony, celebrating the best in Irish and international short and feature films that were shown over the 6 day event.
The big winner was Tomm Moore and Cartoon Saloon's Song of the Sea, which was bestowed with the Best Irish Feature Film honour. The IFTA award-winning, and Oscar nominated film follows Ben and his little sister Saoirse, the last selkie, who can transform from seals to people, and her journey to the sea, to find her voice and sing the "Song of the Sea" to save all of fairy kind from being lost forever. The beautiful Song of the Sea is currently in Irish cinemas.
Best International Film went to Margarita With A Straw, the Indian drama film directed by Shonali Bose, and starring Kalki Koechlin. Best International Feature Documentary was a tie between Armor of Light and Touch the Light. Best International First Feature went to My Skinny Sister, a Swedish film from director Sanna Lenken. Best Human Rights Feature went to Marzia, My Friend.

Best Irish Documentary went to Snackbox Films' Older Than Ireland. The film is a landmark documentary that covers a hundred years of life in Ireland as seen through the eyes of thirty centenarians. These centenarians, as the title suggests are actually older than the state in which they now live.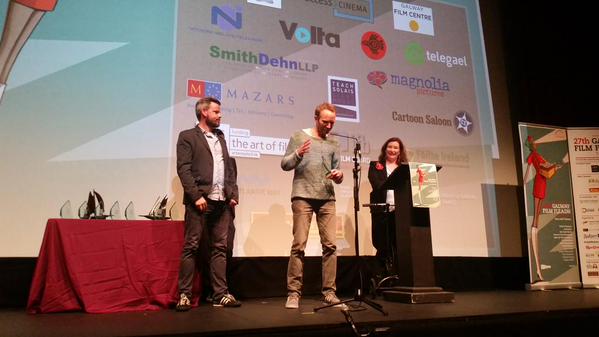 Best Irish First Feature was awarded to Mark Noonan's You're Ugly Too. The film, which stars Aiden Gillan and Lauren Kinsella, focuses on a man who is released from prison on compassionate leave to care of his niece, after the death of her mother. An odd couple of sorts, they leave the city behind to pursue what they both hope will be a fresh start in the sleepy surroundings of the Irish midlands. The two bicker and fight as they adjust to their new life together and make tentative steps towards becoming an improvised family. Earlier this year the film was selected for Screen Director Guild of Ireland Finder Series Award. It is released in Irish cinemas on July 24th.
The Bingham Ray New Talent Award, given in association with Magnolia Pictures, went to Kathryn Kennedy, producer of the Fleadh's opening night film My Name is Emily. Kennedy and company faced overwhelming odds in bringing this film, from director Simon Fitzmaurice, to life. This included a record-breaking crowd funding campaign that raised just under €120,000 in 30 days. My Name Is Emily will be distributed by Eclipse Pictures later this year. The film's DoP Seamus Deasy also picked up the award for Best Cinematography in an Irish Feature.

On the animation front The Don Quijote Award for Best Animation went to Stephen McNally's Meanwhile. The follows four people traversing a city, each lost in their own separate worlds, trapped in their memories, regrets and frustrations. Best Animated Sequence in a Short Film was awarded to Geist, written and directed by Sean Mullen, Ben Harper and Alex Sherwood. This short sees a shipwrecked fisherman take shelter in an abandoned house on a remote island, only to realise that he is not alone. The short is produced by Daniel Spencer for Giant Animation, with support from Bord Scannán na hÉireann/the Irish Film Board (IFB), RTÉ and the Arts Council under the Frameworks funding scheme. Best First Short Animation was awarded to Unhinged. The film is written and directed by Tom Caulfield. The squeaky hinge gets the oil. But when the squeak escapes the oil, its sure to get you! The film is produced by Barry O'Donoghue for Studio Okinami, and was backed under the Frameworks funding scheme.
Since 2011 the Fleadh has been recognised as a qualifying festival for the Academy Awards Short Film Category. Recipients of the James Horgan Award for Best Animation and Tiernan MacBride Award for Best Short Drama will qualify for consideration. This year the James Horgan award went to Maurice Joyce's Violet. The film is the dark cautionary tale of a young girl who despises her reflection. On the night of the school ball, tired of the abuse, Violet's reflection decides she's not going to take it anymore. The film is produced by Nuria G Blanco and Mark Hodkinson.
The Tiernan MacBride Award for Best Short Drama went to Phil Sheerin's North. The film was recently nominated for 3 Royal Television Society Awards, which honours the best student films in the UK and Ireland. The film follows Aaron, a young man isolated on a farm and fighting against his family as he struggles to be heard as he watches his mother willingly die. Rising star Barry Keoghan stars in the lead alongside Emer McCourt, with support from Janie Booth, Kate Lock, Des McAleer, and Dan Mullane.
Short film awards were handed out to Cara Holmes' Queen of the Plough for Best Short Documentary The film centres on two dedicated farmerettes battle it out on the fields of rural Ireland to win the coveted title "Queen of the Plough". Best First Short Drama went to Tristan Heanue's Today. The film is a hard hitting drama about a man who wakes up one morning in his car, disorientated, with no recollection of how he ended up parked in the middle of nowhere. The harsh reality soon comes flooding back once he gathers his thoughts. John Connors (Love/Hate, King of the Travellers) stars as Peter, a young man lost, both physically and emotionally; and he stars alongside Lalor Roddy (Grabbers, Cherrybomb), Lynn Rafferty (Love/Hate), and Denise Pattison (Jack and Ralph Plan a Murder). Today is produced by award winning producer, Paddy Slattery, for Stand Mantra Productions. The Donal Gilligan Award for Best Cinematography in a Short Film went to Tim Fleming for Hannah Quinn's My Bonnie. The film is the debut comedic drama from writer/director/producer Quinn, and is based on the play Sanctuary by Liz Quinn. The story follows two people at sea, trapped between a rock and a hard place, who must face the distance between them.
The Fleadh Pitching Award was won by GMIT student Luke Morgan, for his project Ewetopia. The One Minute Festival Award went to Luke and Roger by director Kevin O'Brien.Park Pictures and Smart Blonde Productions' I Am Jesus won the inaugural Short Film Slam.

Four guests were awarded with the Film Fleadh's highest honour, the Galway Hooker Award. These were director Mohsen Makhmalbaf, Pixar Animation's Pete Docter and Jonas Rivera, and Mícheál O Meallaigh, Commissioning Director of TG4.
Full List of Winners:
Best Irish Feature Film: Song of the Sea
Best Irish First Feature: You're Ugly Too
Best Cinematography in an Irish Feature: Seamus Deasy –My Name Is Emily

Best Irish Documentary: Older Than Ireland
James Horgan Award for Best Animation: Violet
The Don Quijote Award for Best Animation: Meanwhile
Best Animated Sequence in a Short Film: Geist
Best First Short Animation: Unhinged
The Tiernan MacBride Award for Best Short Drama:  North
Best Short Documentary: Queen of the Plough
Best First Short Drama: Today
The Donal Gilligan Award for Best Cinematography in a Short Film: Tim Fleming – My Bonnie
Best International Film: Margarita With A Straw
Best International Feature Documentary: Armor of Light and Touch the Light
Best International First Feature: My Skinny Sister
Best Human Rights Feature: Marzia, My Friend

The Bingham Ray New Talent Award: Kathryn Kennedy (Producer – My Name is Emily)
The Fleadh Pitching Award: Luke Morgan – Ewetopia.
The One Minute Festival Award – Luke and Roger
Short Film Slam: I Am Jesus
Galway Hooker Award: Mohsen Makhmalbaf, Pete Docter, Jonas Rivera, and Mícheál O Meallaigh