The Philadelphia Film Society has announced the line-up for the 24th Philadelphia Film Festival, and it's filled with Irish films. The festival, which runs from October 22nd to November 1st, will play host to gala screenings of Lenny Abrahamson's Room, Yoros Lanthimos' The Lobster, and John Crowley's Brooklyn, while Corin Hardy's The Hallow and Stephen Fingleton's The Survivalist compete for the Archie Award for Best First Feature. Last year that prize went to Miroslav Slaboshpitsky's extraordinary sign-language film The Tribe.

Lenny Abrahamson's eagerly awaited Room will have its European Premiere. Emma O'Donoghue is adapting the story from her own best-selling novel, which is told from the perspective of a five-year-old boy, Jack, who is being held captive in a small room along with his mother. To him the room is his world, but his mother knows different having been held there for 7 years.
The film stars Brie Larson (Short Term 12, The Spectacular Now), Jacob Tremblay (The Smurfs 2, Somnia), Joan Allen (The Bourne Supremacy, Nixon) and William H. Macy (Shameless, Magnolia). Also joining the cast are Sean Bridgers (Rectify), Tom McCamus (The Samaritan) and Megan Park (What If). Room is an Element Pictures and No Trace Camping production, in association with Telefilm Canada, Film4, and the Irish Film Board.
Brooklyn is set in the 1950s, and sees a young woman move from a small town in Ireland to Brooklyn, where she has the opportunity for work, for a future and for love. The film is an adaptation of Colm Tóibín's best-selling novel by the equally best-selling British author Nick Hornby.
Intermission director John Crowley has gathered an all-star Irish and British cast for the film, that features Saoirse Ronan, Domhnall Gleeson, Emory Cohen, Jim Broadbent, and Julie Walters. Brooklyn is an Irish/British co-production from Wildgaze Films, Finola Dwyer Productions, Parallel Films and Item 7. Brooklyn was co-financed by Bord Scannán na hÉireann/the Irish Film Board.
Yorgos Lanthimos's critically acclaimed Irish co-production The Lobster is a love story set in the near future where single people, according to the rules of The City, are arrested and transferred to The Hotel.  There they are obliged to find a matching mate in 45 days.  If they fail, they are transformed into an animal of their choosing and released into The Woods.  A desperate Man escapes from The Hotel to The Woods where The Loners live and falls in love, although it is against their rules.
The film is the English language debut of Greek director Lanthimos, and stars Colin Farrell and Rachel Weisz with a supporting cast including Léa Seydoux, Ben Whishaw, John C.Reilly, Olivia Colman and Ashley Jensen. The Lobster is written by Yorgos Lanthimos and Efthimis Filippou and produced by Ed Guiney, Lee Magiday, Ceci Dempsey and Yorgos Lanthimos. Executive Producers are Andrew Lowe, Tessa Ross and Sam Lavender with Isabel Davis as the lead executive for the BFI Film Fund. The film was developed by Element and Irish finance for the film came from the Irish Film Board with Rory Gilmartin as the lead executive for the IFB.
Irish co-produced horror film The Hallow, directed by Corin Hardy, follows a London-based conservationist who moves to Ireland with his wife and baby, to survey an area of ancient forest believed by the superstitious locals to be hallowed ground. He unwittingly disturbs a horde of terrifying beings and must fight to protect his family.
The film stars Joseph Mawle (Ripper Street), Bojana Novakovic (Edge of Darkness), Michael McElhatton (Game of Thrones) and Michael Smiley (The World's End). The Hallow was produced by Occupant Entertainment and Fantastic Films. It was funded by Prescience, Altus Media, Hyperion and Bord Scannán na hÉireann/the Irish Film Board.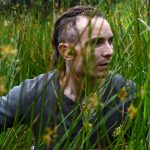 The Survivalist is a dystopian thriller set in a time of starvation, where a lone man lives off a small plot of land hidden deep in forest, protecting his crop from intruders with his shotgun and improvised traps. But the long years alone have taken their toll on him, and he is beginning to lose his grip on reality.
The Survivalist stars Irish actors Martin McCann ('71), Andrew Simpson (Good Vibrations), and Olwen Fouere (This Must be the Place), as well as Mia Goth (Nymphomaniac). Derry native Fingleton was shortlisted for Oscar with his most recent short film SLR, and developed the script through Northern Ireland Screen's New Talent Focus scheme. Wayne Marc Godfrey, Robert Jones and David Gilbery produced and financed the film through The Fyzz Facility, with support from NI Screen and the BFI.
The Philadelphia Film Festival is held at various venues throughout the Greater Philadelphia Area. The festival features more than 200 films screenings with over 50 filmmakers and industry guests, playing to more than 35,000 visitors. Charlie Kaufman's stop-motion animation existential comedy Anomalisa opens the festival, with Michael Moore's documentary Where to Invade Next the closing night gala.