Pat Collins' Irish-language biopic Song of Granite has been selected as Ireland's official entry for Best Foreign Language Film at the 90th Academy Awards.
The biopic charts the rise of traditional Irish folk singer Joe Heaney, and how the songs of his west of Ireland childhood helped shape his complex character.  Co-written by Collins, Eoghan Mac Giolla Bhríde, and Sharon Whooley, the film had its world premiere at this year's SXSW Film Festival. Enigmatic and complex, Joe Heaney was one of the greats of traditional Irish singing (sean nós). Shaped by the myths, fables, and songs of his upbringing in the west of Ireland, his emergence as a gifted artist came at a personal cost.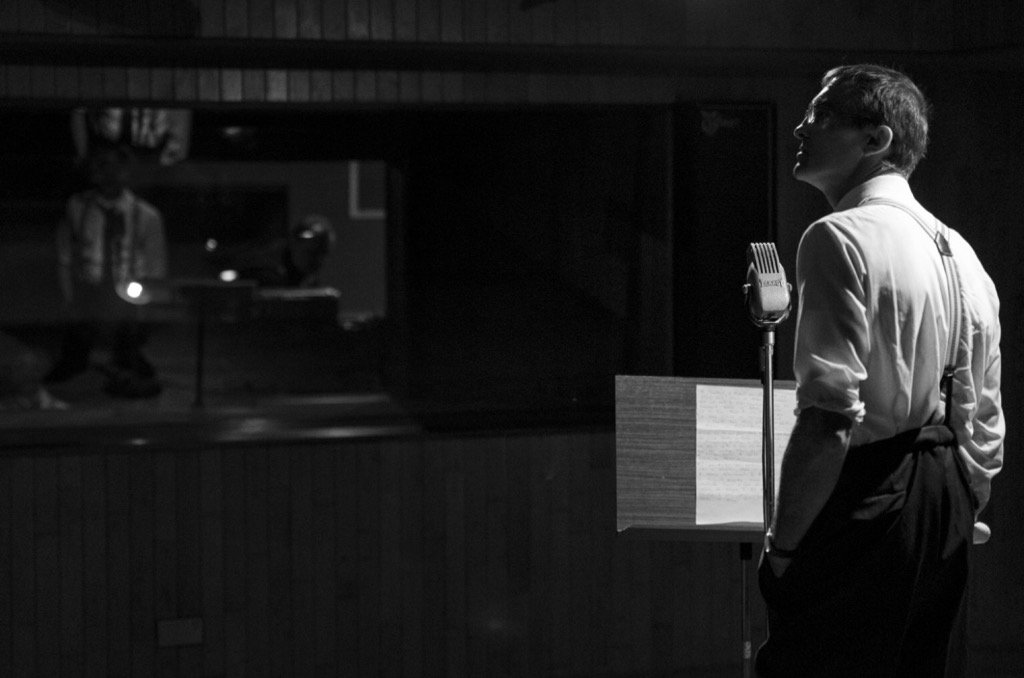 Macdara Ó Fátharta, Michael O'Chonfhlaola, and Colm Seoighe portray Heaney at various stages in his life. Collins penned the script with Eoghan Mac Giolla Bhride and Sharon Whooley. Cinematographer Richard Kendrick shot the film for black-and-white and it is edited by long-time Collins collaborator Tadhg O'Sullivan.
Song Of Granite was produced by Alan Maher and Jessie Fisk of Marcie Films with Martin Paul-Hus of Amerique Film with funding from the Irish Film Board, SODEC, Broadcasting Authority of Ireland, Telefilm Canada, and TG4.
The Irish entry for Best Foreign Language Film is selected by a panel of the Irish and Film Television Academy after submissions are made during the year. After having no nominee in 2016, 2017 has proven a strong year for Irish-language features, with two other contenders: Tom Collins' Aithrí/Penance, and Michael Fanning's Rocky Ros Muc. All three films had their Irish premieres at the Galway Film Fleadh earlier this year. Two years ago Paddy Breathnach's Viva was shortlisted to 9 but narrowly missed out on a nomination.
The Irish Academy is delighted that this hauntingly beautiful and lyrical film from Pat Collins will represent Ireland in the Oscar Foreign Language contest  – with Richard Kendrick's masterful cinematography, Ireland's picturesque landscape and unique culture of song and story takes centre stage, as the story of legendary singer Joe Heaney is skilfully brought to life – a story that will resonate with many immigrants worldwide from diverse cultural backgrounds.
Áine Moriarty, CEO – IFTA
Joe Heaney, the subject of this film, was a great teacher and advocate for the Irish traditional singing and taught singing to students all over America. He remains one of the great traditional singers.  I think he would have liked the notion of a film with sean nós singing at its core representing Ireland in an international competition like the Oscars.
Pat Collins, Director and co-writer
We are so proud that Song of Granite has been selected as the Irish entry for the Foreign Language Oscar. The film's journey to date has been a real labour of love and it makes us all so happy to receive this very special recognition.
Alan Maher and Jessie Fisk, Producers – Marcie Films
Wildcard Distribution will release Song of Granite in Irish cinemas on November 24th.
On January 5th, 2018, the Academy of Motion Picture Arts and Sciences (AMPAS) will announce the shortlist of films that have been nominated from all of the international entries to compete for the Oscar for Best Foreign Language Film. On January 23rd the final 5 nominations will be announced alongside all of the other award nominees.
The 90th Academy Awards will take place in Hollywood on March 4th, 2018.