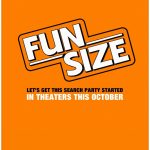 Paramount have sent us over the first trailer for their new comedy Fun Size, starring Victoria Justice.
The film sees Justice as a young girl whose big plan for a night out is ruined when she is forced to bring her weird little brother trick-or-treating. But when she decides to go to the party anyway and her brother goes missing all kinds of hell breaks loose.
The film is the directoral debut of The OC co-creator Josh Schwartz, and stars Chelsea Handler and Johnny Knoxville in supporting roles.
Fun Size is out in Ireland and the UK on October 31st.
[youtube http://www.youtube.com/watch?v=BtJSkH2lns0?wmode=transparent&autohide=1&egm=0&hd=1&iv_load_policy=3&modestbranding=1&rel=0&showinfo=0&showsearch=0&w=500&h=281]