Ain't It Cool News has managed to catch a glimpse at the firs poster for the new Muppet movie, The Greatest Muppet Movie Ever Made, that is heading our way this November. The shot is not the best but does show the very Hangover-esque styling of the poster. Forget brat-pack, or frat-pack…meet the puppet-pack.
The movie follows Walter, the biggest Muppet fan on the planet, attempting to round up the old crew and get them back together after their retirement from the Muppet Show, in order to save their old studio from destruction by the villain Tex Richman.
The film is directed by James Bobin with a script by Jason Segel and Nicholas Stoller. In addition to all your favourite Jim Henson creations the film also stars the real-life actors Segel, Amy Adams and Chris Cooper.
The Greatest Muppet Movie Ever Made will be released November 23rd.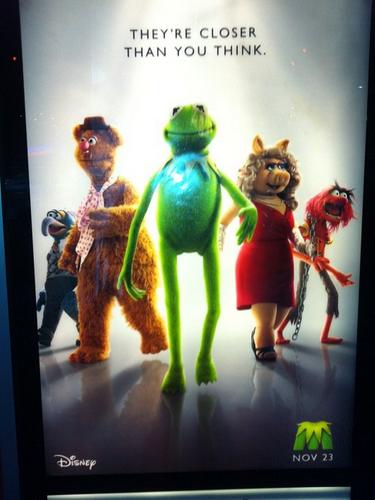 Synopsis:
"The Greatest Muppet Movie Ever Made is about Gary, Mary, and Walter (a man, his girlfriend, and the man's life-long nondescript, brown puppet best friend) getting the old Muppet gang – now retired entertainers known for the same Muppet show we know them from – together to save the TV studio that the original show was shot in. A villain, Tex Richman, bent on drilling for oil underneath the studio, is due to take over the studio in weeks, and the only way to stop him? Putting on a show that draws ten million viewers."