The impressive visuals, the energetic music and the colourful cast of characters in Sing will stay with you long after the credits roll.
Out next week in cinemas across Ireland (Jan 27th -Previews Jan 21-22) is the animated comedy Sing. Starring Matthew McConaughey, Reese Witherspoon, Scarlett Johansson, Taron Egerton and Tori Kelly Sing follows the story of an out of luck theatre owner called Buster Moon (McConaughey) who starts a singing competition to hopefully drum up revenue for the theatre.
The competition draws a lot of attention from animals all across the city due to the incredible prize of $100,000. Unfortunately, this was a typo as Buster only has $1,000 nevertheless Buster and his trusty secretary go ahead with the competition because he may still have a way to get the money together.
Among the many animals that audition for the prize money are several notable talents who all have fun, but formulaic stories. There's Johnny (Egerton) a gorilla who hopes to leave his life of crime to pursue singing, Meena (Kelly) a young shy elephant who needs to battle her stage fright to show the world her voice, Ash (Johansson) a porcupine who wants the money to fund her rock career and Rosita a pig(Witherspoon) who takes care of 25 piglets and a workaholic husband who doesn't appreciate her. She longs to break the monotony of her life and see's the competition as a way to achieve that.
Apart from these characters, there are also two wildcard characters played by comedians Nick Kroll and Seth McFarlane They play Gunter a European pig and Mike a street performing mouse respectively. Gunter is a part of the competition to enhance Rosita's performance and Mike is a Frank Sinatra style singer who has a major chip on his shoulder.
The major selling points for Sing are the performances and the characters. They fill this world so stupendously that they make up for the less than original story. My favourite character, in particular, was Johnny played by one of my favourite actors around right now Mr Taron Egerton. Like all the other characters his storyline is clíche ridden but Egerton and the majority of the cast perform remarkably well, helping audiences get past that screenplay hurdle.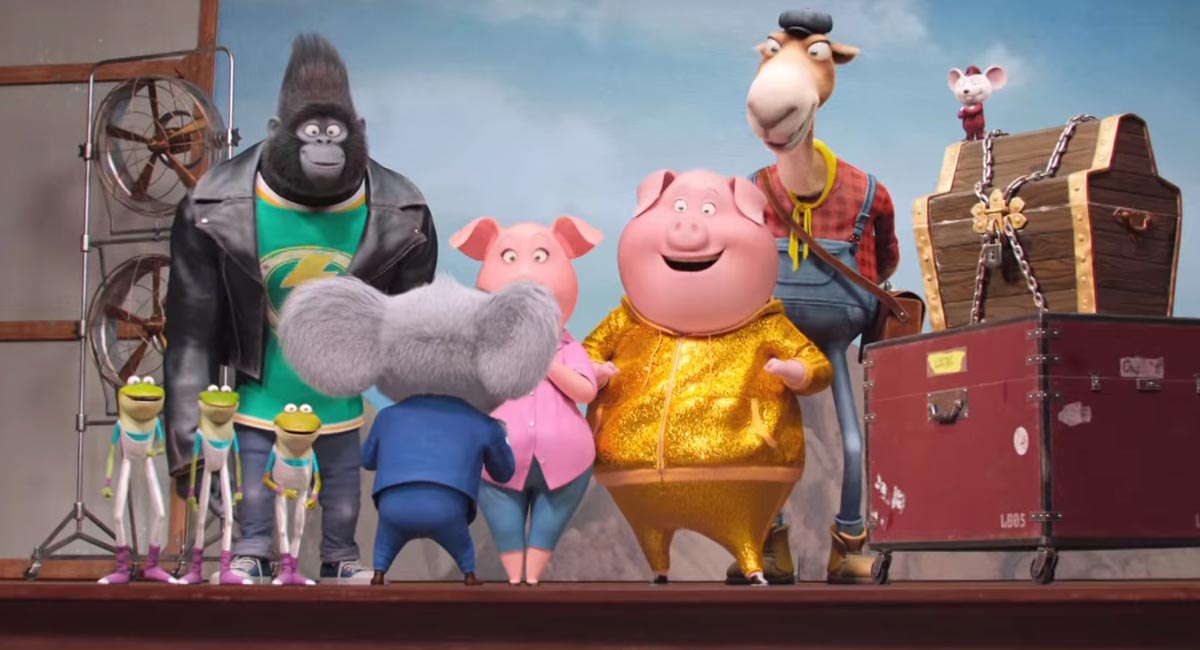 There are a few blemishes, McFarlane and McConaughey at times come off as one note. McFarlane being too harsh and annoying and McConaughey too upbeat and optimistic. It felt like they weren't trying as much as their co-stars.
On the visual and audio side of the film, Sing excels. The animation is bright and vibrant, no two characters look the same, each character has a unique look all their own and when the song choreography kicks in the visuals pop and grab your attention. Complimenting the gorgeous animation is an even more impressive soundtrack. Each character is given several songs to show off their vocal skills and that's what hooked me in the end. The songs, though the majority are covers, are wonderful to watch especially when they are used to further push the story of Sing.
Sing could have been overly formulaic and average with such an unoriginal premise but thanks to the impressive visuals, the energetic music and the colourful cast of characters given fantastic life by the cast it'll stay with you long after the credits roll. Be sure and bring your whole family to Sing, you'll all have a blast.