Ireland, both North and South of the border will be well represented at the 2015 London Film Festival, which announced its line-up this morning. Lenny Abrahamson's Room and Jerzy Skolimowski's Polish/Irish co-production 11 Minutes play in competition at the festival. They are joined by the Northern Irish films High-Rise, by Ben Wheatley, documentary I Am Belfast, by Mark Cousins, and The Survivalist, by Stephen Fingleton; as well as Gala screenings for John Crowley's Brooklyn and Yorgos Lanthimos's The Lobster. Three Irish short films will also feature at the festival, which runs October 7th to 18th.
11 Minutes stars Richard Dormer (Good Vibrations, '71, Game of Thrones) in the lead role of a film director. It follows the same 11 minutes in the lives of several different characters; young and old, prosperous and destitute. Some story elements surprisingly intertwine, others follow their own intricate rhythm. Some characters are shown just as they are about to make crucial life changing decisions, others are idly passing time, caught in the midst of their day?to?day routines. What they all have in common is an enigmatic sighting of the elusive dark spot, seen in the sky earlier that day, and the tragic chain of events that will seal their fate. What really caused it? Did all of them deserve it? Could any of them avoid it? What is the fabric of life? These lingering questions constitute the film's underlying theme.
11 Minutes stars an ensemble of other Polish actors including Agata Buzek, Beata Tyszkiewicz and Mateusz Ko?ciukiewicz. It filmed in Dublin and is produced by Andrew Lowe and Ed Guiney of Element Pictures and Ewa Piaskowska of Skopia Film. It was financed by Bord Scannán na hÉireann/the Irish Film Board, Eurimages, the Polish Film Institute, TVP, HBO Poland, Orange and Skopia Film. The film premieres at the prestigious Venice Film Festival next month, before playing at London, and the Toronto and Busan Film Festivals in September.
Brooklyn is set in the 1950s, and sees a young woman move from a small town in Ireland to Brooklyn, where she has the opportunity for work, for a future and for love. The film is an adaptation of Colm Tóibín's best-selling novel by the equally best-selling British author Nick Hornby.
Intermission director John Crowley has gathered an all-star Irish and British cast for the film, that features Saoirse Ronan, Domhnall Gleeson, Emory Cohen, Jim Broadbent, and Julie Walters. Brooklyn is an Irish/British co-production from Wildgaze Films, Finola Dwyer Productions, Parallel Films and Item 7. Brooklyn was co-financed by Bord Scannán na hÉireann/the Irish Film Board.
High-Rise centres on a new residential tower built on the eve of Thatcher's England, at the site of what will soon become the world's financial hub. Designed as a luxurious solution to the problems of the city, it is a world apart. Enter Robert Laing, a young doctor seduced by the high-rise and its creator, the visionary architect Anthony Royal. Laing discovers a world of complex loyalties, and also strikes up a relationship with Royal's devoted aide Charlotte. But rot has set in beneath the flawless surface. Sensing discord amongst the tenants, Laing meets Wilder, a charismatic provocateur bent on inciting the situation. Wilder initiates Laing into the hidden life of the high-rise and Laing is shocked at what he sees. As the residents break into tribal factions, Laing finds himself in the middle of mounting violence. Violence that he also finds emerging in himself.
Filmed in Bangor, and directed by Ben Wheatley from a screenplay by his regular collaborator Amy Jump, High-Rise is an adaptation of JG Ballard's classic British thriller, starring Tom Hiddleston in the lead. He is joined by Jeremy Irons, Sienna Miller, Luke Evans, and Elisabeth Moss. The film is produced by Jeremy Thomas through his production company Recorded Picture Company, with funding from the Northern Ireland Screen Fund, supported by Invest NI and part funded by the European Regional Development Fund.
I Am Belfast .tells the story of the Northern Ireland capital in a whole new light, through the eyes of a 10,000 year old woman. The film is told in documentary style, with Helena Bereen acting as the 10,000 year old tour guide.
A collaborative effort I Am Belfast features cinematography from the award-winning Chungking Express framer Christopher Doyle, with a score by David Holmes, the Belfast born composer and producer whose film soundtracks include Out of Sight, Ocean's 11 and Hunger. I Am Belfast is a co-production between Hopscotch Films and Canderblinks Films, funded by the BFI, Creative Scotland, Northern Ireland Screen, and Hopscotch Films.
Yorgos Lanthimos's critically acclaimed Irish co-production The Lobster is a love story set in the near future where single people, according to the rules of The City, are arrested and transferred to The Hotel.  There they are obliged to find a matching mate in 45 days.  If they fail, they are transformed into an animal of their choosing and released into The Woods.  A desperate Man escapes from The Hotel to The Woods where The Loners live and falls in love, although it is against their rules.
The film is the English language debut of Greek director Lanthimos, and stars Colin Farrell and Rachel Weisz with a supporting cast including Léa Seydoux, Ben Whishaw, John C.Reilly, Olivia Colman and Ashley Jensen. The Lobster is written by Yorgos Lanthimos and Efthimis Filippou and produced by Ed Guiney, Lee Magiday, Ceci Dempsey and Yorgos Lanthimos. Executive Producers are Andrew Lowe, Tessa Ross and Sam Lavender with Isabel Davis as the lead executive for the BFI Film Fund. The film was developed by Element and Irish finance for the film came from the Irish Film Board with Rory Gilmartin as the lead executive for the IFB.
Lenny Abrahamson's eagerly awaited Room will have its European Premiere. Emma O'Donoghue is adapting the story from her own best-selling novel, which is told from the perspective of a five-year-old boy, Jack, who is being held captive in a small room along with his mother. To him the room is his world, but his mother knows different having been held there for 7 years.
The film stars Brie Larson (Short Term 12, The Spectacular Now), Jacob Tremblay (The Smurfs 2, Somnia), Joan Allen (The Bourne Supremacy, Nixon) and William H. Macy (Shameless, Magnolia). Also joining the cast are Sean Bridgers (Rectify), Tom McCamus (The Samaritan) and Megan Park (What If). Room is an Element Pictures and No Trace Camping production, in association with Telefilm Canada, Film4, and the Irish Film Board.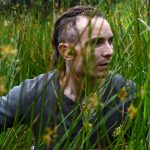 The Survivalist is a dystopian thriller set in a time of starvation, where a lone man lives off a small plot of land hidden deep in forest, protecting his crop from intruders with his shotgun and improvised traps. But the long years alone have taken their toll on him, and he is beginning to lose his grip on reality.
The Survivalist stars Irish actors Martin McCann ('71), Andrew Simpson (Good Vibrations), and Olwen Fouere (This Must be the Place), as well as Mia Goth (Nymphomaniac). Derry native Fingleton was shortlisted for Oscar with his most recent short film SLR, and developed the script through Northern Ireland Screen's New Talent Focus scheme. Wayne Marc Godfrey, Robert Jones and David Gilbery produced and financed the film through The Fyzz Facility, with support from NI Screen and the BFI.
On the short Irish film front Jenny Brady's Bone plays as part of the Dream Worlds and Nightmare Visions strand. The film focuses on the relationship of inter-species image-creation and language investigated in the photographic studio where human technicians seek to communicate and control their canine subjects. Vivienne Dick's Red Moon Rising plays the Girls at Play strand. Sumptuous nature is artificially created from the female imagination as if the Garden of Eden was made for the pleasure of women only. The female inhabitants perform to a soundtrack that is radically classical or vice-versa. Leevi Lemmetty's Irish/Finish co-production The Red Herring plays the Animated Shorts for Younger Audiences strand, and asks the simple question, are these penguins hungry or greedy?
Irish guests at the festival will include Brooklyn director John Crowley and Room director Lenny Abrahamson, as well as actors Colin Farrell, Michael Fassbender, and Saoirse Ronan; and writer Colm Toíbín.
Overall 241 films from 57 countries will play at 16 cinemas in the British capital over the 12 days from October 7th to 18th. More information can be found on the BFI website.