Matt Damon as RFK? Yeah I can get behind that. It seems that the Bourne star is set to portray Kennedy the younger in a biopic from Seabiscuit director Gary Ross.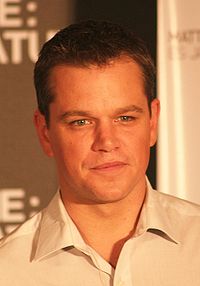 The story, which is being adapted from Evan Thomas' biography His Life by Eastern Promises screenwriter Steven Knight, focuses on the two sides of Kennedy's personality, the so called 'Good Bobby' and 'Bad Bobby'. This should be iteresting as Kennedy, always a man of strong faith, was never far away from a conspiracy or two.
Damon makes perfect sense to portray the ill-fated Senator, whose last onscreen appearance came by way of Emilio Estevez's rather good 2006 drama Bobby. Ross knows how to tell a good story, with Seabiscuit nominated for seven Oscars, so the pairing with Damon should prove fruitful.
If you can't wait for the expected 2011 release then might I suggest you catch Damon playing two other real-life heroes as Francois Pienaar in Clint Eastwood's Invictus, out now, and Roy Miller in the forthcoming Paul Greengrass helmed Green Zone, due out March 12th.