Rogue One: A Star Wars Story, the first in a planned Star Wars anthology series will hit Irish screens this Friday and we're here to let you know if it's worth your time to travel back to a galaxy far, far way.
Starring Felicity Jones, Diego Luna, Alan Tudyk, Donnie Yen, Jiang Wen, and Riz Ahmed the story of Rogue One: A Star Wars Story follows the journey of Jyn Erso (Jones). She is conscripted into the rebellion due to her connections to the construction of a superweapon by the Empire. Along the way she forms a ragtag team of misfits that will have a legendary impact on the galaxy, they all live in.
What works so well for Rogue One is the characters, from the rebellious Jyn to the calm and collected Chirrut Îmwe (Yen) and the broken but dangerous Saw Gerrerra, played by Forest Whitaker, this new film is filled with some of the most fascinating characters that have been a part of the Star Wars Universe. Their motivations, their rapport it all feels genuine and honest, these are all fractured individuals brought together to make a stronger whole. On the acting side each character is brought to remarkable life by their respective actor, there are several noteworthy mentions here: Alan Tudyk is now my favourite droid, K-2SO gives some of the best dialogue in the film, the relationship between Chirrut Îmwe and his brother in arms Baze Malbus (Wen) is wonderfully realised because of the charm these two actors bring.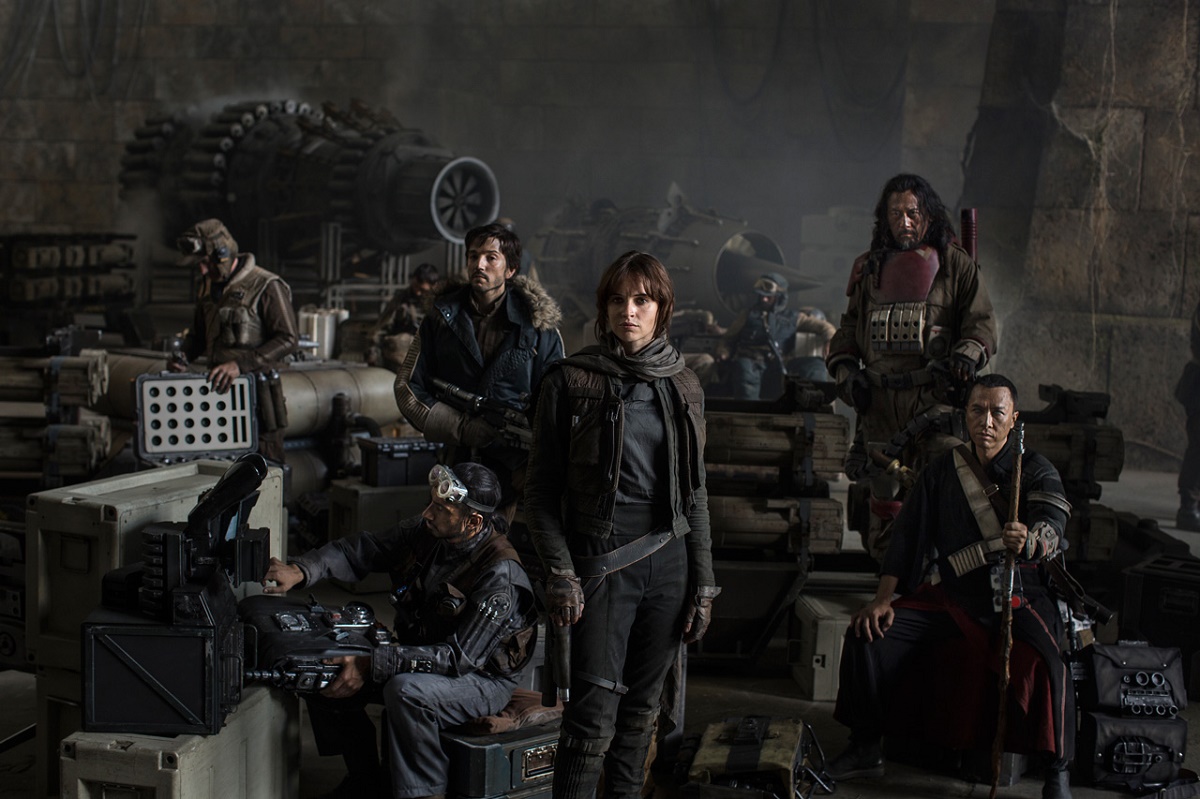 On top of our compelling heroes Rogue One has an impressive villain in the shape of Ben Mendelsohn's Director Krennic. He is an odious creature that is the poster child for the Empire who has some of the most fan service filled scenes in the whole film. One in particular interaction had me trembling with glee.
It's not all sparkling kyber crystals, though; Rogue One is at its best when it showcases the new elements it brings into the Star Wars cannon, the planets, the races, and the characters. There are times when the film gives subtle, and not so subtle, nods to the original trilogy and these range from charmingly brilliant to face palm inducing annoyances. It almost got to the point of Ghostbusters where nods to the original film took me out of Rogue One. Luckily Rogue One establishes a strong enough identity to stop itself falling into this hole.
One of the people that deserve's a lot of credit for all these elements is, of course, Gareth Edwards who had the unenvious job to create a new perspective on an already well-established universe and he succeeded in my eyes. With the impressive direction and cinematography that he learned on films like Godzilla and Monsters, he brings his distinct flavour to the Star Wars Universe. Several scenes are visually bewitching, and they are accompanied by a powerful score which is emotionally arresting.
Rogue One: A Star Wars Story is a mixture of familiar and new elements that culminates in a visceral and emotional story that brought me to tears. Head to your local cinema and may the force be with you.