The New Music is a new Irish feature film currently in post-production. The film aims to shine a light on Young Onset Parkinson's Disease, a rare and little known condition which affects people under fifty.
Young Parkinson's Ireland, which was set up in 2016, suspect that there may be at least 500 undiagnosed sufferers of Young Onset Parkinson's in the country. Sufferers who may be reluctant to come forward due to a self or socially imposed stigma as Parkinson's Disease has been traditionally seen as a "old person's" disease.
The film, which is written and directed by Italian native Chiara Viale, follows the struggles of Adrian, a young gifted musician , who leaves home and heads to Dublin in an attempt to deal with the news of his diagnosis. Despite this debilitating condition, Adrian (played by Dublin-born actor Cilléin McEvoy) joins a punk band as a keyboard player and rediscovers his life through music and friendship.
Filming was completed at the end of 2017 and the production team have launched a crowd-funding campaign to reach out to the public to help them fund the post-production expenses of the film – editing, sound, music, marketing and festival entries. 20% of all funds raised will go directly to Young Parkinson's Ireland in addition to all future income from the film.
Scannain caught up with Viale to talk about about her background in film and her motivations for making The New Music
How did you originally get involved in Filmmaking?
I started writing when I was very young and I have always been passionate about cinema. After finishing my BA in English in foreign language and literature I moved to Ireland and joined the Dublin Filmmakers Collective where I developed my first scripts and had my first on-set experiences. At the same time, I started developing my own independent projects: in 2016 I produced, wrote and directed my first short film Be Frank which was nominated for the Rising Star award at the Underground Cinema Awards in 2017. Also in 2017 I produced, wrote and directed the short Clown and produced the short Clear The Air  which are currently in post production.
And what brought you to Ireland?
I've been in love with Ireland since I first visited as a teenager. After secondary school I spent a year in Dublin working as an au-pair to improve my English. I had always entertained the thought of coming back to Ireland and I finally moved to Dublin in 2015. I am in love with the creative atmosphere that can breath in this country and the extraordinary people I met along the way. I don't believe my dreams and aspirations could find a better place than Ireland to become a reality.
Where did the core idea for The New Music originate?
My approach to writing is strongly related to feelings and emotions and more often than not the concepts of my stories are born through an image, which conveys a certain feeling. The New Music is no exception: I imagined a character who is lying to himself and the people he cares about and although he knows that these lies can ruin everything he has and loves, he can't stop. Telling the truth is simply too hard for him to handle, because it would force him to face his own fear.
I envisioned a character with an incurable illness which he hides from everyone and that is eating away at him from the inside. Then I created a starting environment for him that would completely clash with the situation he finds himself in and I imagined something to cure his fear and give him a new prospective on life. This is a film about friendship and it shows that help can often come from people who are not necessarily trying to understand, but who show a way out of suffering by simply being a good, reliable influence.
I wanted to create a story with believable characters dealing with issues that everyone experiences sooner or later in life. I wanted to paint a picture of Dublin exactly as it is right now, and how it is to live in a shared house where everyone forgets to buy toilet paper or to get lost using the Dublin map. I wanted to tell the story of all the people who are trying to make art and music here while coping with our money-controlled society.
What is your connection to Young Parkinson's , why did you choose this particular condition?

Adrian is a pianist and his talent is expressed through the use of his hands. I wanted his illness to target his ability to play and after a short research, I discovered Young Onset Parkinson's, a rare form of Parkinson's that affects people under the age of 50. Parkinson's is widely considered a disease that affects the elderly, and I was surprised to learn that lots of young people all over the word are suffering from it.
At this early stage I decided that The New Music had to be about this illness and it could contribute to raise awareness and shine a light on this condition.
Together with Philip Kidd (Producer, Director of Photography, Editor) we decided to contact the Parkinson's Association of Ireland, who put us in touch with Young Parkinson's Ireland, with whom we've been working with ever since. Representatives of Young Parkinson's Ireland read and approved the script at pre-production stage and we are currently developing the film in association and close contact with them. At the end of 2017 we started a crowdfunding campaign to cover the post-production expenses of The New Music, 20% of which is being donated to Young Parkinson's Ireland. Furthermore, we will donate any future income of the film to this association and use the film for charity purposes.
I also have a very close personal experience with rare diseases as my father passed away in 2013 after having MSA (Multiple System Atrophy) a rare neurological disease for which, like Parkinson's, there is no ultimate cure. In this script I dealt with feelings that my family and I experienced first hand. I also attempted to give my interpretation of what someone afflicted by an incurable disease might feel, and how the ensuing feelings and behaviours impact everyone around them. I hope that The New Music will have the power to bring people together and create a space where these issues can be discussed, as well encourage a conversation around both living and dealing with rare diseases.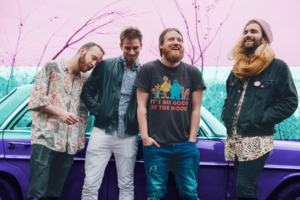 So obviously music plays a huge part in the film, can you tell me more about that?
The second constitutive element of my writing has always been music. I consider it a huge source of inspiration and The New Music is fulfilling my dream of writing a story that revolves around music from beginning to end.
In the last few years I've been influenced a lot by punk music as a genre but mostly in terms of lifestyle and attitude. The film itself was produced with a strong DIY mindset and the narrative arc of the main character freely represents my own discovery of punk music as a form of liberation and a way to fully express myself artistically. During the writing process I've been influenced by bands such as Bomb The Music Industry! , The Smith Street Band, Fugazi, Black Flag, Bad Brains, The Menzingers and Bangers.
Music is the passion shared by all the main characters of the story and it permeates every scene. It firstly represents the desperation felt by Adrian, then it slowly becomes what carries him through the darkness towards the light and a new version of himself. The film shows two types of music that are usually considered opposites: classical and punk. Both play a huge roles in the film and find a way to merge together as the two diametrically different spheres of Adrian's life find a meeting point. Grand pianos, dusty rehearsal rooms, microphones and wires, music shops and gigs; everything in this film is about music and the love that each character has for it in their own way.
The film features two original songs composed by Zachary Stephenson of Munky and we are currently putting together a soundtrack made of both classical and punk music, featuring mostly unsigned independent artists such as Bangers, Müg (UK) , Antillectual( Netherlands) and Checkpoint, Forgotten Soldier and Declan Byrne who are all from Ireland. Shit Present ( UK) and Irish act Givamanakick are in talks about coming on board.
What are your cinematic influences? I'd imagine Italian cinema plays a big part?
I grew up without a TV because my parents were against having one in the house, but we used to have a VHS player attached to a monitor, strictly used to watch films together. Both my parents loved cinema, and I remember watching italian classics of directors such as De Sica, Rossellini, Scola and Tornatore. I also watched cinema classics with my grandparents. I became an avid reader at a young age and soon I started writing my own stories for my friends to read. I took inspiration from books, comics, Japanese cartoons that I would watch with my friends and music. One of my first dream jobs was to write for music videos.
It took a few more years for me to develop a proper taste for cinema, but to this day the vital element of a film to me is still storytelling. I love those films that tell a story the same way as I wish I did, that put an accent on the psychological development of characters and can capture me emotionally. Directors such as Krzysztof Kieślowski, Anton Corbijn, Gus Van Sant, Nicolas Winding Refn, Tony Richardson, Jeff Nichols and Ben Wheatley have been a major influence on me both narratively and aesthetically.
Are there any Irish filmmakers at the moment that you are interested in?
I love Jim Sheridan's films and Martin McDonagh as a filmmaker (and playwright). I also really enjoyed the productions made by Cartoon Saloon. There are a good number of Irish films that I watched through the years and that really stuck with me, such as: Inside I'm Dancing, I Went Down, The Commitments, The Wind That Shakes The Barley, Breakfast On Pluto and Once. I am looking forward to Mark O'Rowe's The Delinquent Season.
Look out for the trailer for The New Music which is out in the coming weeks. You can follow the cast and crew on their social media channels below and most importantly if you want to donate to the cause just click here.
Follow the film's progress on Facebook, Instagram, Twitter, and YouTube.