The details of the programme for the upcoming Edinburgh International Film Festival (EIFF), taking place next month between 21 June to 2 July, have been announced. This year's Festival will showcase a total of 151 features from 46 countries including: 17 World Premieres, 12 International Premieres, 9 European Premieres and 69 UK Premieres. Two Irish films will play in competition at the festival, Maudie (International Feature) and The Farthest (Best Documentary); while Halal Daddy will have its World Premiere. Pilgrimage, It's Not Yet Dark and The King's Choice will have their UK Premieres, while Northern Irish drama Bad Day for the Cut will enjoy its Scottish Premiere.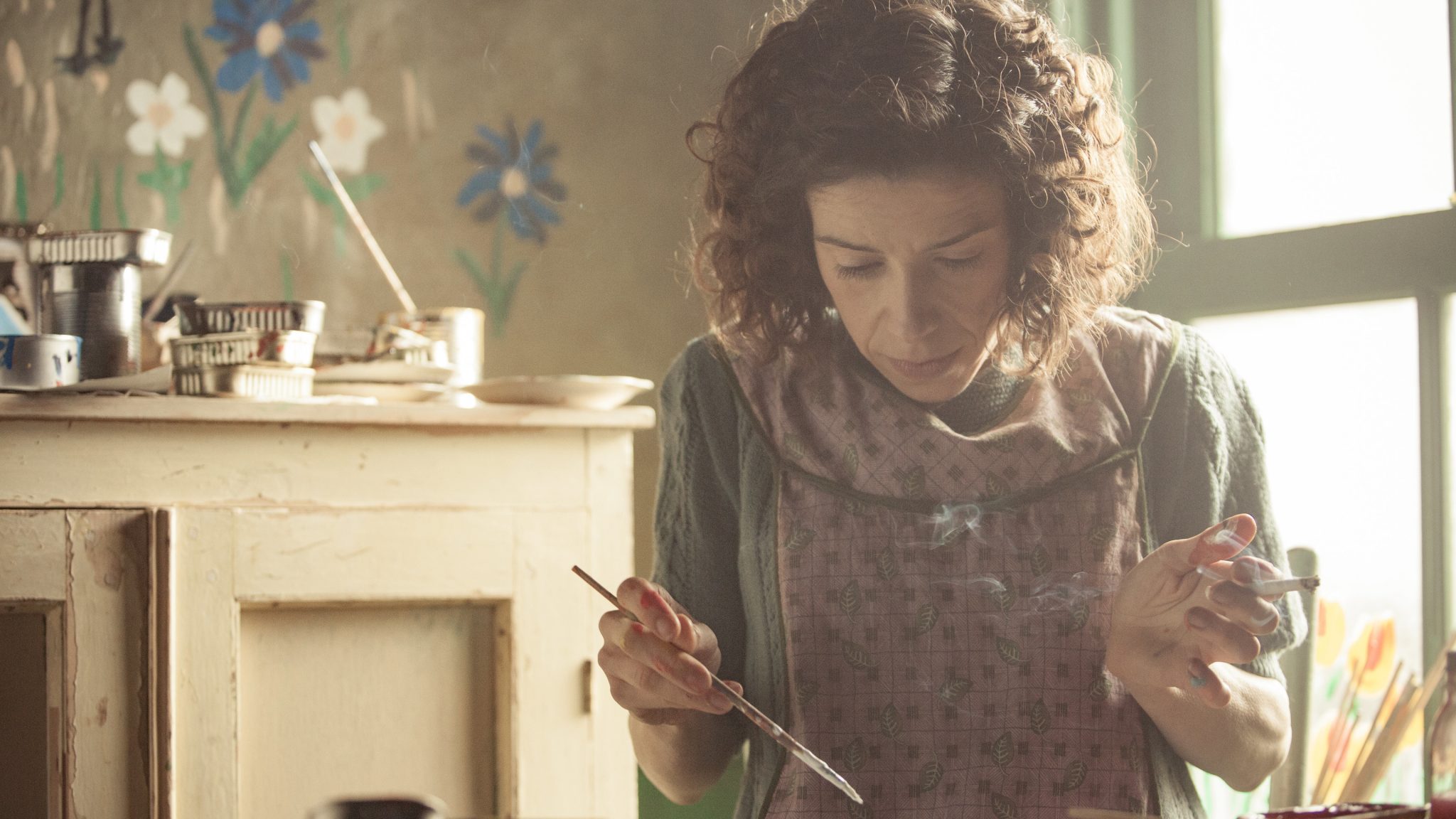 Maudie  is based on the life of Nova Scotia folk artist, Maud Lewis, and is an unlikely romance in which the reclusive Everett Lewis (Ethan Hawke) hires a fragile yet determined woman named Maudie (Sally Hawkins) to be his housekeeper. Maudie, bright-eyed but hunched with crippled hands, yearns to be independent, to live away from her protective family. She also yearns, passionately, to create art. Unexpectedly, Everett finds himself falling in love. Maudie charts Everett's efforts to protect himself from being hurt, Maudie's deep and abiding love for this difficult man and her surprising rise to fame as a folk painter.
Maudie is directed by Song for a Raggy Boy director Walsh and written by Sherry White (Crackie, Relative Happiness).The film shot in Canada with Guy Godfree as cinematographer. Post-production took place in Windmill Lane, with Stephen O'Connell as editor. Susan Mullen of Parallel Film Productions produces, alongside Small Shack Productions, and Painted House Films. Financing comes from the Irish Film Board/Bord Scannán na hÉireann, Mongrel Media, Telefilm Canada, Newfoundland Film Development Corporation, Ontario Media Development Corporation, The Harold Greenberg Fund, and Corner Piece Capital.
Written and directed by multiple-IFTA-award-winning editor Reynolds, The Farthest is a two-hour film that documents the story of NASA's Voyager mission, which began 40 years ago this August, and the vision that propelled them farther than anyone could ever have hoped. Originally approved to travel only to Saturn and Jupiter, the spacecraft took advantage of a once-in-176-year planetary alignment and used gravity-assisted slingshot trajectories to extend the missions, with Voyager 2 also visiting Uranus and Neptune. The two spacecraft, equipped with less computing power than a modern mobile phone, sent back unprecedented images and data from all four outer planets and their many spectacular moons. Four decades later, Voyager 1 has travelled more than 12 billion miles and Voyager 2 more than 10 billion, and both nuclear-powered spacecraft continue to send back data. In 2012, Voyager 1, which is travelling at more than 320 million miles per year, became the first human-made object to enter interstellar space – leaving our solar system behind and ushering humanity into the interstellar age.
With the participation of more than 20 of the original and current mission scientists, engineers and team members, the film tells the captivating tale of one of humanity's greatest achievements in exploration. From the aluminium foil from the local market that was added at the last minute to protect the craft from radiation to the near disasters at launch to the emergency manoeuvres to fix a crucial frozen instrument platform, viewers get a sense of how difficult – and rewarding – space exploration can be. The Farthest was produced by John Murray and Clare Stronge for Crossing the Line Films. Ian Benjamin Kenny provided the CGI for the film, as well as the stunning poster that you can see above. Tony Cranstoun edited, with cinematography from Kate McCullough, music from Ray Harman, and Steve Fanagan of Screen Scene/Ardmore Sound as re-recording mixer, sound designer and supervising sound editor. It was executively produced by John Rubin, Sean B. Carroll and Dennis Liu for HHMI Tangled Bank Studios, and will air on the US TV network PBS later this year. Finacing came from the Irish Film Board, Tangled Bank Studios LLC, BBC, ZDF/Arte, RTÉ, SVT, and via the Irish Section 481 tax-break.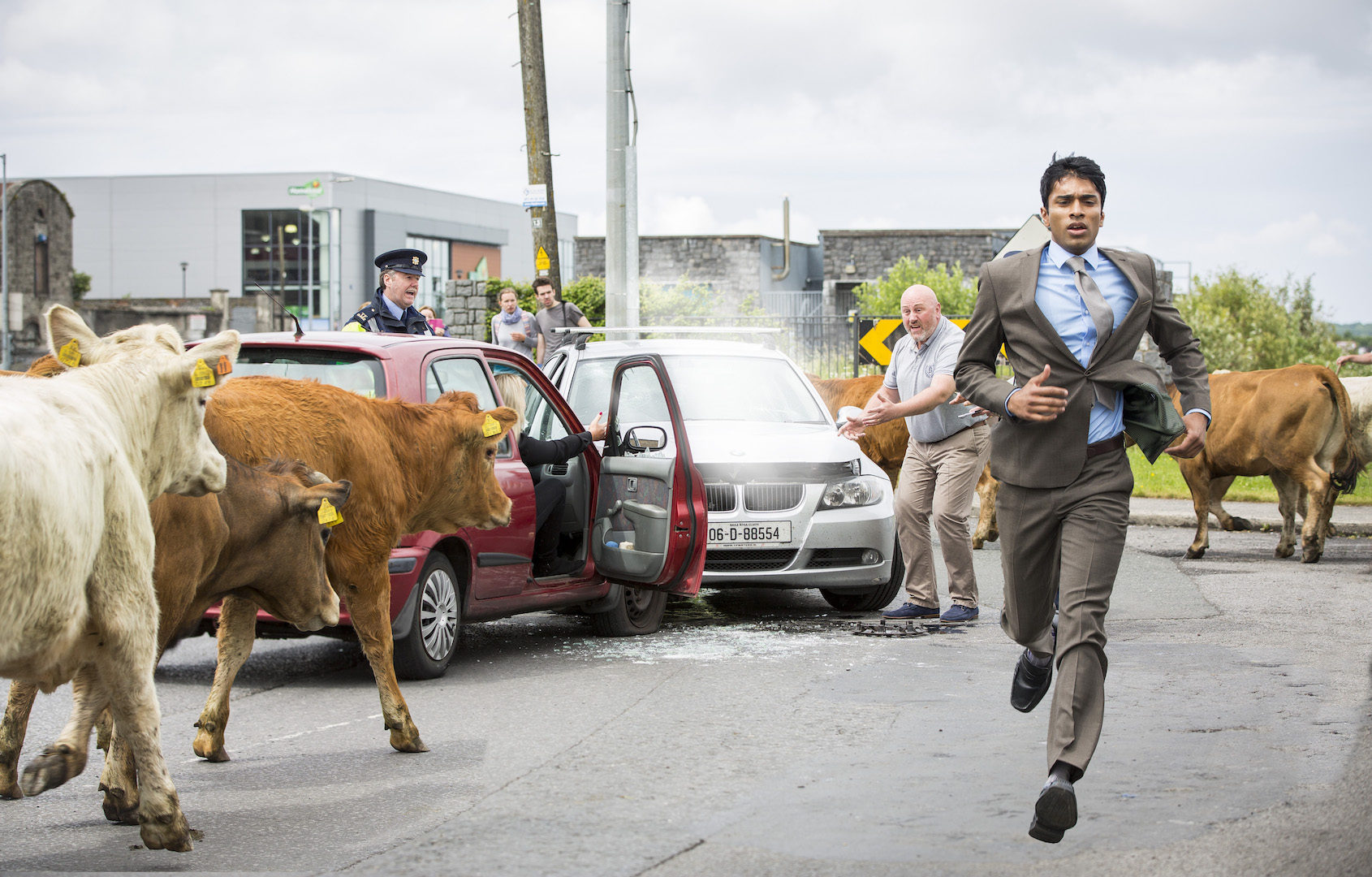 Inspired by true events, Halal Daddy is a culture-clash comedy about Ireland's first Halal meat factory, and tells the story of young British Muslim Raghdan Aziz's struggle to manage a rundown abattoir in the West of Ireland while dealing with racist fathers, stoned buddies, gay Germans, and a furious ex-girlfriend.
Halal Daddy is directed by Sligo native Conor McDermottroe, who co-wrote the script with Viva screenwriter Mark O'Halloran., with Mel Griffith (Ricky: Three's a Crowd) as director of photography, Conor Dennison (A Dark Song) as  production designer, and Kerry Gooding (Game Of Thrones) as costume designer.  The film is produced by Ailish McElmeel for Deadpan Pictures in Ireland, and Hermann Florin for Benrae Florin Films in Germany.. The film is co-financed by Eurimages and Koch Media with support from the Irish Film Board/Bord Scannán na hÉireann.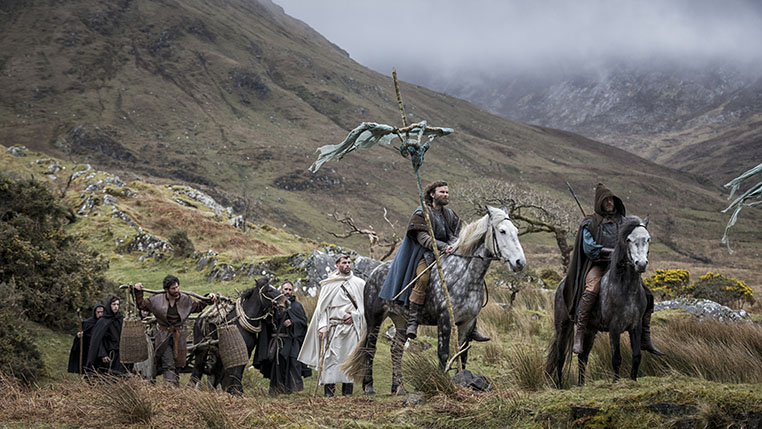 Brendan Muldowney's Pilgrimage is set in Ireland in 1209 and sees a small group of monks begin a reluctant pilgrimage across an island torn between centuries of tribal warfare and the growing power of Norman invaders. Escorting their monastery's holiest relic to Rome, the monks' progress is seen through the eyes of a pious young novice and a mute lay-brother with a violent past. As the true material, political and religious significance of the bejewelled relic becomes dangerously apparent, their path to the east coast becomes increasingly fraught with danger. The monks belatedly realise that in this wild land of ancient superstitions, the faith that binds them together may ultimately lead to their destruction.
An all-star cast is led by the new Spider-Man Tom Holland as a novice monk. He is joined by The Hobbit's Richard Armitage as a misanthropic knight and Walking Dead and Punisher star Jon Berthal as a mute brother with a violent past. Local talent includes John Lynch (The Fall), Hugh O'Conor (The Stag), Ruaidhri Conroy (Jack Taylor), Tristan McConnell (Vikings), and Lochlann O'Mearain (Poison Pen). The film was written by Jamie Hannigan, with Muldowney's Love Eternal cinematographer Tom Comerford returning to work with the director once again. It is an Irish/Belgian co-production with Conor Barry and John Keville of Dublin-based Savage Productions and Benoit Roland of Wrong Men North as producers. Financing comes from the Irish Film Board, Creative Europe, Broadcasting Authority Of Ireland, Wallimages, and the Wallonia Cultural Fund. XYZ Films is executive producing.
Frankie Fenton's It's Not Yet Dark is the story Simon Fitzmaurice, a talented Irish filmmaker who is living with motor neurone disease. He was diagnosed at the age of 34, after his short film premiered at the Sundance Film Festival. His wife was expecting their third child and they were left shocked and reeling. Simon refused to give up and started to work on the script for a feature film, My Name is Emily. Now, five years later, the father of five children, he is completely physically incapacitated.
The film is narrated by Colin Farrell, using extracts from Simon's best-selling memoir. It sees the audience follow Simon as he embarks on the direction of his first feature film through the use of the last physical attribute he has control over – his eyes. It's Not Yet Dark is produced by Kathryn Kennedy for Kennedy Films and Lesley McKimm of Newgrange Pictures, it was captured by Fenton and cinematographer Kate McCullough, with Dermot Diskin editing at Windmill Lane, and support from the Irish Film Board.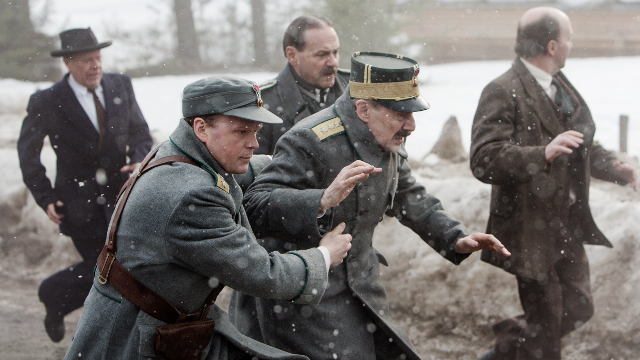 Erik Poppe's Norwegian/Irish co-production The King's Choice is based on a true story. On the 9th of April 1940, German troops invade Oslo. The king of Norway is faced with a choice, which will change his nation forever. This is a film about real events, which turned a brave man into the people's king.
The King's Choice, which was written by Harald Rosenløw-Eeg and Jan Trygve Røyneland, stars Jesper Christensen, Anders Baasmo Christiansen, and Tuva Novotny. Recently appointed Irish Film Board project coordinator Lesley McKimm co-produced for Newgrange Pictures, alongside Finn Gjerdrum, Stein Kvae, Jackie Larkin, Henrik Zein, Malene Ehlers, and Madeleine Ekman. The film received backing from the Irish Film Board, Windmill Lane Pictures, Norsk Filminstitutt, Copenhagen Film Fund, Film i Väst, Film3, Eurimages, Svensk Filminstitutt, Nordisk Film & TV Fond, Coficine, Jesper Christensen, Nordisk Film, Paradox Rettigheter, Beta Film, Danmark Radio, Nordisk, Norsk Rikskringkasting, and Svensk Television.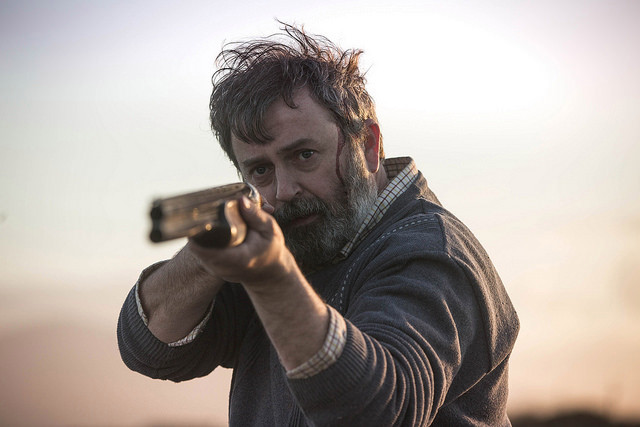 Chris Baugh's debut feature, Bad Day for the Cut, is the story of Donal, a middle-aged Irish farmer still lives at home his mother, content with a simple life. However, when she is savagely murdered Donal sets off for Belfast looking for answers – and revenge. What he finds is a world of violence and brutality that he can't understand and a secret about his family that will shake him to his core.
Bad Day for the Cut stars Nigel O'Neill (The Secret, Game of Thrones) as Donal, alongside Susan Lynch (Happy Valley, Monroe), Stuart Graham (The Frankenstein Chronicles, The Secret) and rising stars Jozef Pawlowski (Jack Strong), and Anna Pro'chniak (Warsaw 44). The screenplay, written by Baugh and Brendan Mullin, was developed through Northern Ireland Screen's New Talent Focus scheme with Lottery funding from the Arts Council of Northern Ireland. Mullin produces alongside Katy Jackson (A Patch of Fog, The Survivalist).
Inaugurated in 1947, the same year as the Edinburgh International Festival, Edinburgh International Film Festival is the world's longest continually-running film festival. The 2017 festival takes place 21 June to 2 July.