One of our most anticipated films of 2016 is The Stag director John Butler's newest comedy drama, Handsome Devil, which takes place in a privileged boys' boarding school in Ireland.
In Handsome Devil, two very different boys are forced to share a room together at their rugby-mad boarding school. Ned's an effete, sensitive musician and Conor the star outhalf on the rugby team. Over the course of the school year, the boundaries between them are eroded as they become friends. Two teachers fight for the souls of the boys, Moe Dunford playing the rugby coach Pascal and Andrew Scott playing Mr Sherry, an inspirational English teacher. Each has their own agenda.
The project reunites Butler and Andrew Scott, who starred in Butler's debut feature film The Stag, with lead roles for Moe Dunford (2015's EFP Shooting Star and winner of this year's Best Actor IFTA for Patrick's Day) and Michael McElhatton (Game of Thrones). The young cast is led by Fionn O'Shea and Nick Galitzine (one of the 2015 Screen Stars of Tommorrow), with support from Ruairi O'Connor, Jay Duffy, Mark Lavery, and Jamie Hallahan. The film also features cameo performances from Ardal O'Hanlon, Amy Huberman, Norma Sheahan, Mark Doherty, and Hugh O'Conor.
Principal photography wrapped on the film in September, after shooting around Dublin and Cork. Post-production is taking place at Windmill Lane Pictures with The Stag editor John O'Connor. Rebecca O'Flanagan and Rob Walpole of Treasure Entertainment are producing, reuniting with Butler.  Key crew include DOP Cathal Watters who has shot two of Treasure's previous projects, Dare to be Wild and Viva; production designer Ferdia Murphy, costume designer Kathy Strachan and sound recordist Hugh Fox, all of whom worked with Butler on The Stag. Casting was by Louise Kiely.
Handsome Devil is about examining binary definitions we're taught at school: team / individual, weak / strong, gay / straight, teacher / pupil. Schools always bang on about team-work but sometimes it's much braver and better to speak in your own voice. And sometimes children end up teaching the adults.
John Butler – Director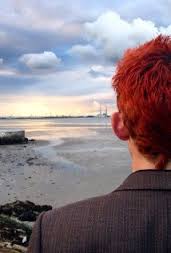 Director: John Butler
Writer: John Butler
Producers: Rebecca O'Flanagan, Robert Walpole
Cinematographer: Cathal Watters
Actors: Nick Galitzine, Fionn O'Shea, Moe Dunford, Andrew Scott, Jay Duffy, Michael McElhatton
Ned and Conor are forced to share a bedroom at their boarding school. The loner and the star athlete at this rugby-mad school form an unlikely friendship until it's tested by the authorities. Set in a fee-paying private school, Handsome Devil is a coming-of-age story that pokes fun at Ireland's rugby culture.