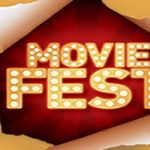 Celebrate Dublin for once again Movies.ie is bringing Movie Fest to Dublin. Running over two days at Cineworld Cinema, Parnell Street the event will showcase footage from upcoming films, interviews with filmmakers and stars, and of course 6 brand new films which will be shown weeks before their release dates.
Premium Rush, Jurassic Park screenwriter David Koepp's fifth movie, which features Joseph Gordon-Levitt and Michael Shannon has been announced as the first film. Last year's festival featuring first screenings for Drive, Cowboys & Aliens, 30 Minutes Or Less, The Change-Up, and Fright Night you know you can expect a treat.
The festival takes place on September 8th and 9th, with day tickets costing €25. The ticket allows access to three movies played on the day, plus studio presentations with trailers and preview footage. With footage from such notable studios as Universal, 20th Century Fox, Paramount, Disney, Marvel, Sony Pictures, Eclipse, Element, E-One, Momentum Pictures, and Warner Brothers, and Comic-Con footage never before seen by Irish eyes you'd be a fool to miss out.
Tickets for both days are on sale now direct from Cineworld's box office or at the below links:
Saturday, September 8th
Sunday, September 9th