European Film Promotion (EFP) will support 14 films at this year's Busan International Film Festival (October 1st to 10th) in South Korea, as part of their Opening Doors programme. Three of the films come from Ireland, with Polish/Irish co-production 11 Minutes, UK/Irish co-production The Hallow, and the Cuban set Irish produced Viva representing.
11 Minutes, which is backed by the Irish Film Board and Element Pictures, stars Richard Dormer (Good Vibrations, '71, Game of Thrones) in the lead role of a film director. It follows the same 11 minutes in the lives of several different characters; young and old, prosperous and destitute. Some story elements surprisingly intertwine, others follow their own intricate rhythm. Some characters are shown just as they are about to make crucial life changing decisions, others are idly passing time, caught in the midst of their day?to?day routines. What they all have in common is an enigmatic sighting of the elusive dark spot, seen in the sky earlier that day, and the tragic chain of events that will seal their fate. What really caused it? Did all of them deserve it? Could any of them avoid it? What is the fabric of life? These lingering questions constitute the film's underlying theme.
11 Minutes is directed by Jerzy Skolimowski (Essential Killing), and stars an ensemble of other Polish actors including Agata Buzek, Beata Tyszkiewicz and Mateusz Ko?ciukiewicz. It is produced by Ewa Piaskowska of Skopia Film and co-produced by Andrew Lowe and Ed Guiney of Element Pictures.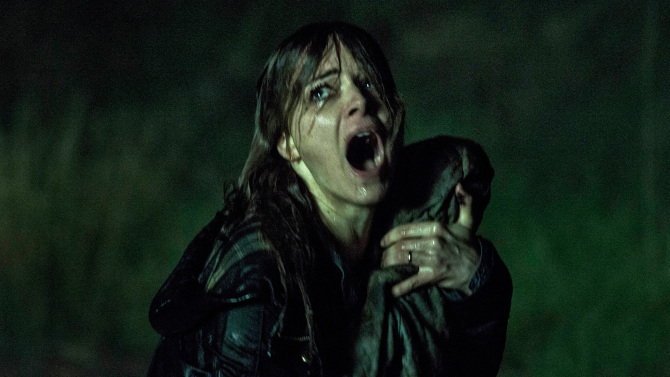 The Hallow, directed by Corin Hardy, follows a London-based conservationist who moves to Ireland with his wife and baby, to survey an area of ancient forest believed by the superstitious locals to be hallowed ground. He unwittingly disturbs a horde of terrifying beings and must fight to protect his family.
The film stars Joseph Mawle (Ripper Street), Bojana Novakovic (Edge of Darkness), Michael McElhatton (Game of Thrones) and Michael Smiley (The World's End). The Hallow was produced by Occupant Entertainment and Fantastic Films. It was funded by Prescience, Altus Media, Hyperion and Bord Scannán na hÉireann/the Irish Film Board.
Paddy Breathnach's Viva, which was primarily filmed in Cuba with some Irish shooting, is the story of Jesus, a young man growing up in Havana, who works as a hair and make-up artist for drag acts. His secret desire is to perform on stage, but he must choose between pursuing his dream and reconnecting with his father, who is newly released from prison.
Héctor Medina stars in the lead, alongside writer Mark O' Halloran (Adam and Paul), as well as Jorge Perugorría (Strawberries and Chocolate) and Luis Alberto García (Che). Cathal Watters (One Million Dubliners) is Director of Photography on the film, while Production Designer Paki Smith reunites with Breathnach, having previously worked together on Man About Dog. Rebecca O'Flanagan and Robert Walpole produce for Treasure Entertainment, with funding from Bord Scannán na hÉireann/the Irish Film Board, Windmill Lane Pictures, RTÉ, and Treasue Entertainment.
This will be the 18th year that EFP has supported cultural exchange between European filmmakers and Korean audiences as well as helping European films find their way onto Asia's screens. It will also see the films represented at the Asian Film Market, which coincides with the festival.
The full list of participants is as below:
11 Minutes (Poland, Ireland)
Director: Jerzy Smolinski
The Hallow (UK, Ireland)
Director: Corin Hardy
Viva (Ireland)
Director: Paddy Breathnach
Cafard (Belgium, France, Netherlands)
Director: Jan Bultheel
Grozny Blues (Switzerland)
Director: Nicola Bellucci
Horizon (Iceland)
Director: Fridrik Thór Fridriksson
Flocking (Sweden)
Director: Beata Gårdeler
Summer Camp (Spain, USA)
Director: Alberto Marini
The High Sun (Croatia, Slovenia, Serbia)
Director: Dalibor Matanic
Babai (Kosovo, Macedonia, Germany, France)
Director: Visar Morina
Raven The Little Rascal 2 (Germany)
Director: Ute von Münchow-Pohl
The Weather Inside (Germany)
Director: Isabelle Stever
Banat (Italy, Bulgaria, Macedonia, Romania)*
Director: Adriano Valerio
Panama (Serbia)
Director: Pavle Vu?kovi?